After moving away from the territory two years ago, artist River Huston is back to share the latest works she's painted while living in a quaint mountain town in central Mexico.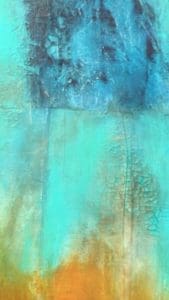 Titled "immortal remains," Huston's art exhibition opens Saturday at the sevenminusseven gallery on St. Thomas. She's brought more than 125 pieces from Mexico, including small canvases, works on paper and recycled plastic pieces.
Those who have visited Oceana Restaurant in Frenchtown are likely familiar with Huston's large, colorful paintings that hang in its art gallery. Huston describes her work as "my beautiful brokenness," and said the textures in her pieces are often comparable to distressed wood furniture.
Clay Jones, founder and director of sevenminusseven, said people will take notice of Huston's growth as an artist.
"She is at the height of her skill and she's flawless in her execution of the style that she's chosen," Jones said. "It's really art at its highest level."
Jones is referring to abstract impressionism, a style in which artists don't create objective representations but express themselves through the use of colors and texture in seemingly spontaneous ways.
"The artist creates the art rather than recreate it – all based on what's inside him or her. That's what makes abstract impressionism so important and so interesting to look at," Jones said.
For Huston, who has been painting for 35 years, blending impressionism and abstract is the key to getting complex colors and textures that engage people. Found materials like coffee grounds and concrete add to the layers of her highly textured works.
"I find my paintings both beautiful and transformative and I think of them as my TVs. I'll hang them near my bedside and watch them all day and notice the way the light plays onto to them and the colors – I just love it," Huston said.
Huston has recently branched out into a new, less traditional medium. With no recycling services available in her town, she's started melting and ironing plastic together and painting it.
Before moving to San Miguel De Allende in central Mexico two years ago, Huston called the Virgin Islands home from 2009 to 2014.
Being HIV-positive keeps Huston from working full-time, so Mexico became a more affordable option than the Virgin Islands as her illness began to worsen a few years ago.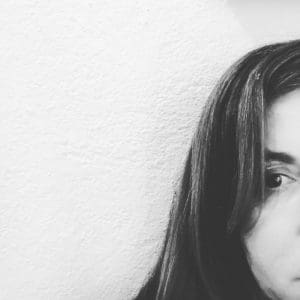 "More than anything, living in the Virgin Islands gave me time to just paint eight, 10 or 12 hours a day regularly," Huston said.
Merging education and activism, Huston has traveled the world to share her story and teach others, especially women, about safe sex and the power of sexuality. In the last 25 years, she's spoken in India, Japan, Switzerland, South Africa, Canada, the U.S. Virgin Islands and every state in the United States.
"We're sexual beings by nature, but unfortunately most societies are patriarchal and women are sexually wounded on a regular basis and don't get a chance to understand their own sexuality," Huston said.
Sharing her own journey to empowerment has been more about making people laugh about life's hardships and less about the struggle with her illness, Huston said, adding that her HIV is usually the last thing she mentions.
During her time on-island, Huston spent two years as a codirector of the Alternative Arts Alliance In The Virgin Islands and taught outreach classes in the community. She also was a resident artist at sevenminusseven art gallery.
Jones encouraged Huston to show her work at Oceana Restaurant on St. Thomas while she was living on-island. To her surprise, every piece sold during that show and so did all her work when she exhibited in New York City after that.
"My illness made me unafraid when it comes to art, since I always feel like I have nothing else to lose," Huston said.
Huston has shown her work at gallery and museum exhibits in New York, New Jersey, Pennsylvania and the USVI, as well as at her performances, which range from international conferences to rural churches in the U.S. south. A talented writer and poet, Huston is the author of three books of poetry and currently blogs at thebody.com and ontheedge.com.
The exhibit's opening reception is Saturday from 7 to 11 p.m. Showings after the opening will be available by appointment only for around two weeks until a to-be-determined closing show. To arrange a showing, call 340-643-2260.
Directions to sevenminusseven: From downtown Charlotte Amalie, head towards the airport and the University of the Virgin Islands. Stay straight and after passing the turnoff for the airport you will pass Community Motors on the right, make a right turn at the signs for Caribbean Battery and Broadband VI. Make another right turn after Boyne's Gas into a warehouse complex. Make an immediate left turn after Cyclone Fencing and Le Bleu. The exhibit is in the last warehouse bay.