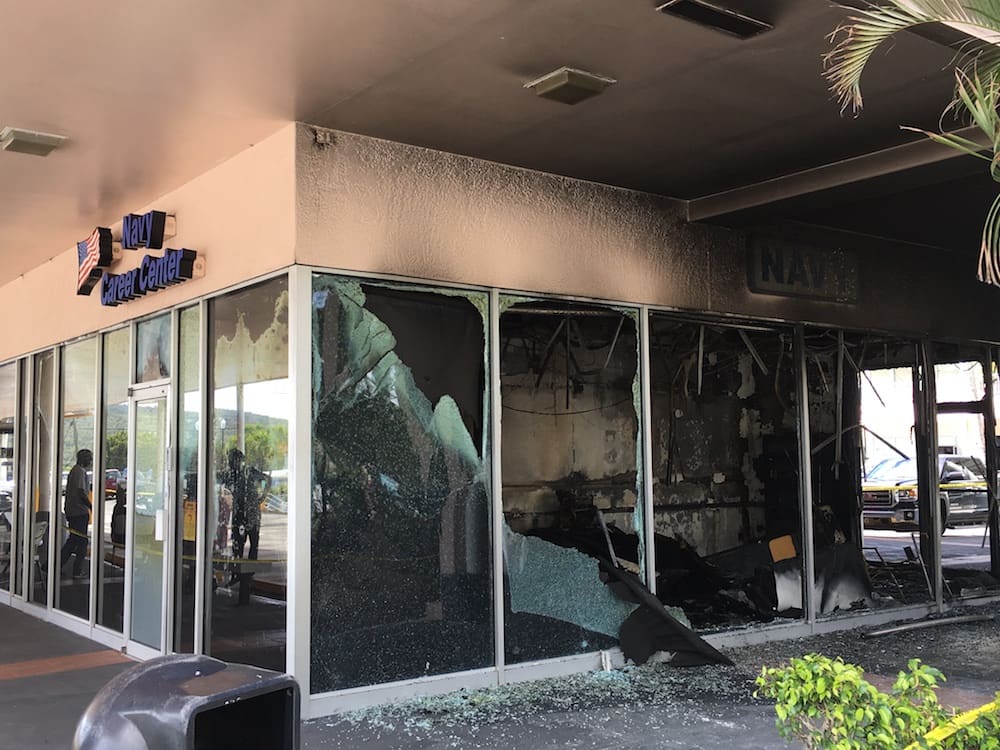 The Navy, Army and Air Force recruiters office in Nisky Shopping Center on St.Thomas were firebombed Tuesday, along with several other federal government offices on St. Thomas.
As of Tuesday evening there had been no reports of any injuries resulting from the fires. A suspect was in custody, according to law enforcement sources who spoke off the record. Asked for confirmation, the U.S. Attorney's Office said they had no information for public release Tuesday.
Speaking off the record, law enforcement officials named a foreign national as the suspect who was arrested, but officials have not confirmed the reported suspect's identity. Sources say the individual asserts his innocence and alleges his vehicle was stolen but was not reported to police.
According to Government House, the V.I. Fire Service reports it responded at 1:43 a.m. to reported fires at the Ron de Lugo Federal Building and United States Courthouse, and at the United States Coast Guard Building, which houses the Marine Safety Detachment.
Firefighters extinguished a blaze that was burning palm trees, plant boxes, an area of lawn at the Federal Building and another fire on area of lawn at the Coast Guard building. Both situations were under control within 10 minutes, Fire Service officials reported to Government House.
While still at the original fire scenes, firefighters were alerted by a 911 emergency call reporting a third blaze, this one at the U.S. Navy Recruiting Station at Nisky Center. Two fire service units arrived to find the office engulfed in flames, which required 30 minutes to bring under control. The recruiting office, its files, equipment, and furnishings, were destroyed, as can be seen in photos of the scene.
The U.S. Coast Guard Investigative Service, Federal Bureau of Investigation, V.I. Police Department and V.I. Fire Service Arson Prevention and Investigation Unit are among the initial agencies involved in investigating the incidents.