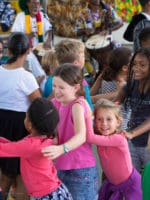 In celebrating African and Caribbean Black History Month on Wednesday, Feb. 22, the children of the V.I. Montessori School and Peter Gruber International Academy again enjoyed a cultural experience that has taken place at the school for over 12 years.
Every year, the children enjoy an afternoon of cultural "edutainment" with the amazing African drumming of the Echo People, which is a local group with lead vocalist and drummer Ital Anthony. The drummers performed Caribbean folksongs, and the children jumped right in and enjoyed the dances.
The St. Thomas Heritage Dancers also performed the quadrille, a folk dance created in these islands during slavery, which combines the steps and creativity of their African ancestors with European dances such as the waltz and polka.
The program started at 1 p.m. and was open to the community.