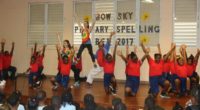 About 250 students in schools on St. Thomas and St. John recently danced their way to good health in the hit stage production "My Plate! The New Food Guide Musical" that promotes healthy nutrition and exercise at schools across the country.
The spectacular showcase, which has been praised by First Lady Michelle Obama, was put on by Helen Butleroff Leahy, former Rockette, professional Broadway choreographer, dancer and registered dietician, along with Roumel Reaux, Broadway performer and choreographer. It was presented at three schools including Julius E. Sprauve, Lockhart Elementary and Bowsky Elementary, Feb. 13-15. Ninety students from each school participated as dancers in the Veggie Rock, YMCA and Fruit Rap Basketball segments of the show.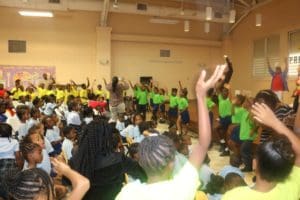 While this was the third time the production came to Virgin Islands schools, and with additional funding this year, it was introduced to students at the three schools.
The show opens with two young women, played by professional acrobats Julia Karis and Christina Durst, who fell asleep with stomach aches — the result of consuming too much junk food. As they slept, they were swept up into an epic dream with a rapping angel, dancing students, a cow, acrobats, puppetry and others, who were encouraging them to make healthier food choices. The angel, played by Reaux, narrated the production.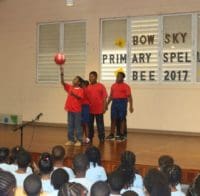 In the dream, Julia and Christina, along with the audience, learned about the right portion sizes students and adults should eat, the best type of milk to drink (1 percent), as well as the importance of physical exercise and other healthy habits students should adopt. In the end, they awoke feel better and vowing to make healthier food choices in the future.
Leahy says she plans to expand the production to other schools in the district as well as to schools on St. Croix as additional funding is received.