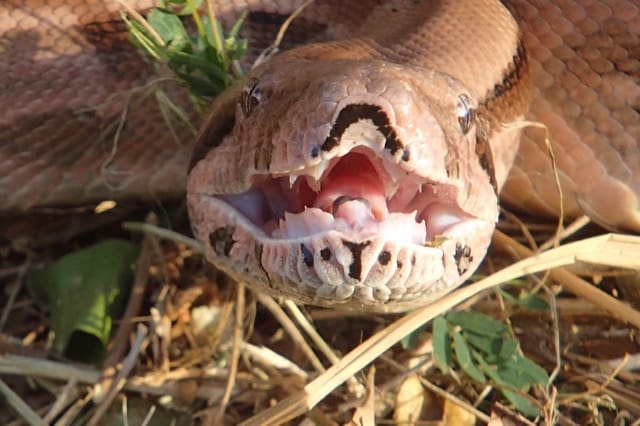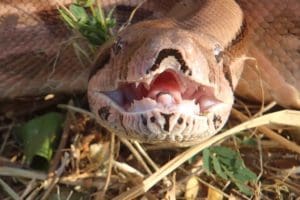 St. Croix can no longer claim to be a snake-free island! Since 2004, more than 40 snakes of various sizes have been spotted and captured by local biologist William Coles. In 2016 alone, he caught 30 red tail boa constrictors.
Coles, whose day job is chief of Fish and Wildlife at the V.I. Department of Planning and Natural Resources, has become St. Croix's unofficial snake handler with support from the V.I. Police Department and the V.I. National Guard.
The number of snakes on the loose is increasing. Between 2004 and 2014, only four snakes were found and captured on St. Croix. In 2014, one snake was caught. and in 2015 the number increased to four. Then in 2016, the number exploded to a whopping total of 30 writhing reptiles. The sizes ranged from a foot long to 13 feet and weighing around 80 pounds.
Coles believes the closing of the Hovensa refinery and the exodus of workers may explain why the number of snakes exploded in 2016. Because is illegal to transport snakes, juvenile boas that had been smuggled to the island in socks were released in the wild when the owners relocated. And larger snakes may have been set free when they became too big and too dangerous.
The reptiles found on St. Croix have been red tail boas, except two rat snakes discovered in shipping containers in 2004 and 2006. They have been located in abandoned tires, trees and even one wrapped around a door handle inside the Frederiksted police station.
Most were found on the west end of the island, but also in Estate Upper Love, the Concordia housing community and around Salt River. Coles said one snake, captured on the northwest end of the island, was carried to the east end to show children, but it escaped and was never found.
The red tail snakes are not venomous, Coles said, but they have a nasty bite that can lead to infection. They climb as well as slither on the ground and are attracted to food sources such as rodents, birds and small dogs and cats.
"They can be really dangerous," Coles said.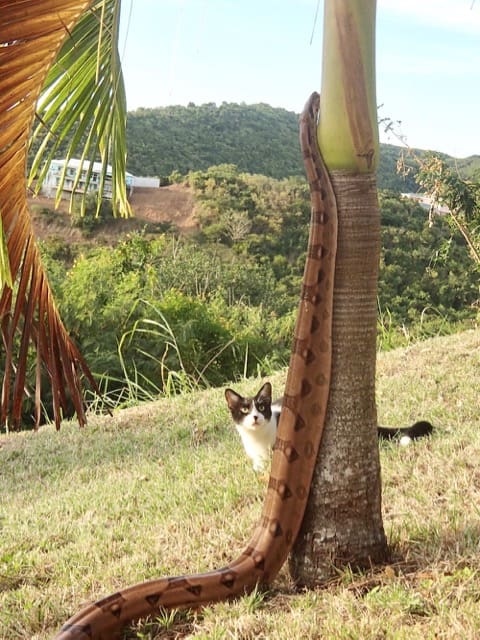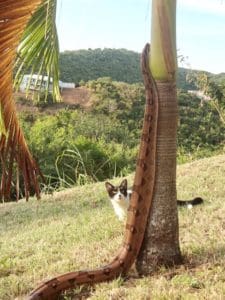 Some of the smaller snakes were born in the wild, but most were released by owners. Not knowing the origin of the reptile means that the next one found could be poisonous, Coles said.
"They have all been boas, but maybe not the next one," he said.
Coles carries in his car a seven-foot snake tong, needle proof gloves and a long stick to prod the grass and bush.
Out of necessity, the snakes have been humanely euthanized. The alternative was to send them to the mainland, but Coles was unable to find anyone willing to take them. Many communities are dealing with reptile infestations of their own.
Mongoose imported to St. Croix to rid sugar cane fields of rats and rodents have now become prey of the red boa. The tree climbing boas, no longer victims, swing down and snatch the mongoose from the ground.
Coles does not know if the number of snakes in the wild has peaked but said it will take the community to deal with them and avoid a plague such as Florida has seen in recent years.
Red boas grow about six inches a year, Coles said, so some of the smaller trapped snakes were born on the island. Boas are parthenogenic, meaning a female can reproduce without a male, which adds to the problem of estimating numbers, he added.
If a snake is seen, it should be reported immediately to 911. The ideal shelter for a reptile is thick bush, rock piles, broken rock walls, hillsides with holes, crevasses under trees, tall grass, junk and garbage piles – also ideal habitats for snakes' prey.
To discourage reptiles from taking up residence, Coles recommends keeping vegetation cut back and clear around trees and under hedges. Lumber, roofing material and tires that can create a shady haven should be removed.
Coles also recommends patching holes in houses, garages and sheds since snakes will seek cool interior areas in the summer and warm spaces when it's cold.
Other steps include:
Removing food sources such as mice, rats, chickens and pigeons.
Filling gaps under concrete and stones with dirt and removing old tires.
Sealing holes in screens and screen doors.
"If we do all this stuff, it should improve our conditions on the island too," Coles said.