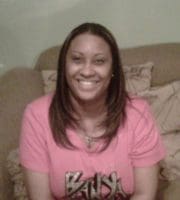 Krystelle A. Phillips, also known as "Krys," died on Friday, Feb. 3, in Brooklyn, New York.
The viewing will be held at 9 a.m. followed by a church service at 10 a.m., Wednesday, March 1, at Lutheran Church of the Reformation. Interment will be at Eastern Cemetery in Smith Bay with a repast immediately following at the church.
She is survived by her daughter, Kadyrah Payne; grandchildren: Shawn Martin and Kaleah Dessables; mother, Joan Phillips; brothers: Julien Phillips Jr., Kyle Phillips and Kellen Phillips; sisters: Janice Phillips, Knielle Phillips-Thomas and Taetia Phillips-Dorsett; aunt, Radiant Burner; uncle, Edward Phillips Sr., aunt-in-law, Eureka Phillips; uncle-in-law, Aubrey Haynes Sr.; nieces and nephews: Shanee Mizell, K-Jani Woolcock, Knea Thomas, K'nesha Thomas, Samaury Thomas, Jalen Dorsett, Thalia Dorsett, Jaylen Phillips and Caden Phillips; the Burner and Phillips families; special cousin, Donna Henderson; special friends: Sheimein Paul, Arleen Chandler and Claudette Joseph-Lattin; and many other friends and family too numerous to mention.
Professional funeral services are entrusted to Turnbull's Funeral Home.