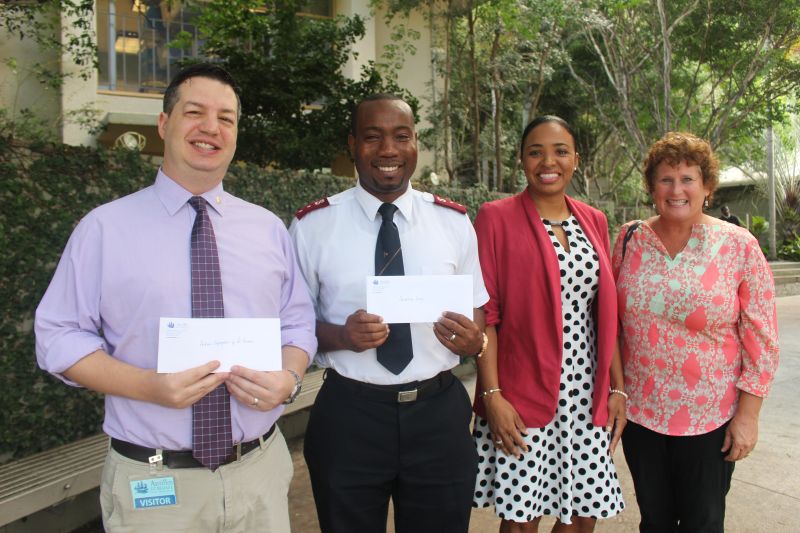 School-wide celebrations honoring the life and work of Dr. Martin Luther King Jr. gave Antilles students the chance on Friday, Jan. 13, to speak about their dreams, describe the impact his legacy has had on their lives and, in the spirit of service, make donations to local organizations that greatly help the Virgin Islands community.
At the Middle and Upper School, students included in a morning program a "Day of Giving" presentation that awarded checks ranging from $200-$1,148 to representatives from the Hebrew Congregation of St. Thomas, Charlotte Kimelman Cancer Society and the Salvation Army.
Funds had been raised by the students throughout the year through various initiatives. Their various projects are listed bleow.
The program also included a student reading of excerpts from Dr. King's famous "I Have a Dream" speech and a discussion of the impact that his legacy has had on their lives.
"Dr. King strived for what he believed in, but he did it in a way where it wasn't to get revenge for something or to get back at someone for what people did to African Americans or people of color. He strived for consolation; he strived for compromise that shows we can be together and not be of the same race," Sherdé Nicholas, an Antilles junior, said Friday.
Speaking to the students, Antilles' Head of School Liz Morrison added that the ideals of caring for the local community and providing service to others should always be a part of the Antilles experience.
"If, in our lives, we can speak as eloquently as Dr. King did, fight against injustice with as much passion and conviction as he did, and live with the integrity, authenticity and altruism that Dr. King did, we would certainly be in a position to change the world," Morrison said.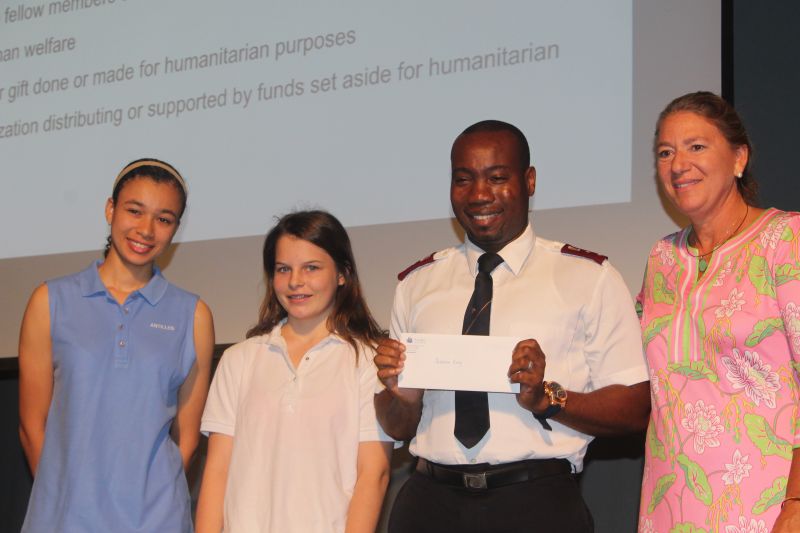 "Our world needs you to be empathetic and kind and our environment needs you to be good stewards. That means caring for things outside of yourself and your community and giving of yourself with no expectation of getting something in return. You practice this when you reach out to a fellow student who is alone or having a difficult time, when you clean up a beach, when you donate toys and clothes for children, and when you raise money for organizations as you did this fall," she said.
Antilles Early Learning Center and Lower School students also honored Dr. King during morning programs by featuring performances led by longtime Antilles music teacher Verna Araujo. Along with choral readings of Dr. King's "I Have a Dream Speech," first graders also spoke to younger students about their dreams for the world, which ranged from eliminating homelessness to preserving the environment.
The "Day of Giving" efforts that were also recognized included:
-Middle School Student Council-sponsored Pink for the Cure, which raised funds totaling $1,148 to give to the Charlotte Kimelman Cancer
-During the 2016 Giving Tree Drive, sponsored by Middle School Student Council, students from across the campus donated more than 100 children's gifts to give to the Family Resource Center.
-Antilles School Chapter of National Junior Honor Society spearheaded efforts that gave the Salvation Army $382.50.
-Antilles School Chapters of the National Junior Honor Society and the National Honor Society collaborated to hold a school-wide Thanksgiving food drive. Together, the Antilles community donated over 1,000 non-perishable food items to the Salvation Army.
-The Antilles School Chapter of National Junior Honor Society raised $550 and Upper School Student Council raised $600 to purchase camera equipment, including a Canon Powershot, two Canon Rebels, a zoom lens and a green screen, to support the Arts at Antilles.
-Upper School Student Council spearheaded raised $317 to give to Bethlehem House.
-Interact Club recently raised $504 sponsoring Dress for a Cause, which it used to purchase supplies to create kits of essential items for the homeless.
-The International Thespian Society worked to raise $200 to give to the Hebrew Congregation.