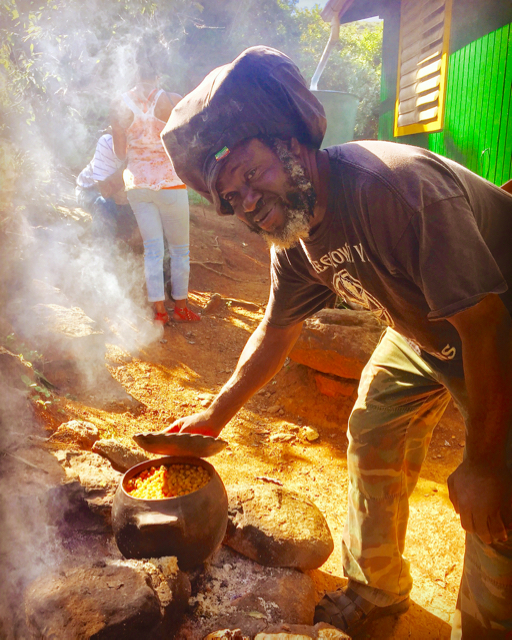 A strong breeze cooled hundreds of fairgoers Saturday on St. Thomas's West End as they lined up to buy fresh veggie food and produce during the 20th annual Bordeaux Farmers Rastafari Agricultural and Cultural Vegan Food Fair.
Organized by the Bordeaux farm collective We Grow Food Inc., the annual fair draws hundreds with its prepared vegan food, live entertainment and cooking workshops.
Drummers, traditional dancers, poets and reggae artists took to the stage throughout the day on Saturday. Many more acts and workshops are scheduled for today. (See Full List of Sunday Events Below)
As a local farming community, We Grow Food Inc. works to increase local agriculture and to teach the public about the importance of eating fresh, healthy food.
Each year the organization honors one member as farmer of the year for his or her "dedication as a farmer in the development and promotion of good health through agriculture."
The 2017 award was given to Daniel "Ras Nashamba I" Crabbe, who farms a small plot of land near the fairground, on which he grows dozens of fruits and vegetables. Despite having an impressive farm, he's most known for his well-flavored vegan soups.
On Saturday Ras Nashamba I prepared and served his well-loved pumpkin and red bean soups from his home. Throughout the day a long line led to the doorstep of his freshly painted green home with yellow, red and black accents, all four of which are official Rastafarian colors.
"I'm happy and proud to receive this honor," Ras Nashamba I said. "This shows that people want good organic food, but that they don't just love the food – they also love the man and his family behind the food."
Ras Nashamba I said he hopes the popular fair and his food help spur more support for local agriculture, adding that We Grow Food Inc. is always looking to recruit new young farmers.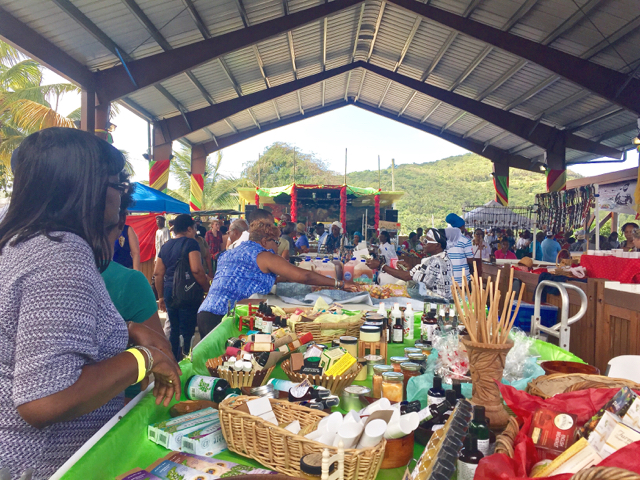 Inspired to farm by his grandmother and father, Ras Nashamba I's 21 year-old-son Jermane Alexander, who has his own farm in Bordeaux, said he's learned a lot from his accomplished father and his go-getter attitude.
"My dad is always pushing on something day and night," Alexander explained. "When he won Farmer of the Year, there was a lot of pressure, since I had to help repaint his house for the event and do a lot of cleaning."
Those who have attended the fair before might have been wondering what happened to the old vendor shanties that were alongside the main event space. Last year the buildings were taken town to build a retention wall to prevent erosion being swept down from the hill above.
Another one of We Grow Food Inc.'s goals is to promote good health through nutritious eating.
Ras Bobby, "The Herbalist," addressed the crowd about his belief in the power of herbs and spices as effective homeopathic medicine. He urged all to start their days drinking ginger or ginseng tea, since both are high in iron.
In addition to live entertainment and speakers, the fair also featured well-attended instructional workshops on topics such as composting and calabash art.
With a sorrel iced tea in hand, St. Thomas resident Danielle Berry said she came to the fair for the natural fruit drinks, flavored popcorns and produce. After visiting booths, she left the fair with a bounty of pineapple, bananas and cucumbers ready to do some healthy cooking.
Sunday Music and Speaker Program
– 10 a.m. to 11:00, DJ Dilli Fingas
– 11 – 11:10, Opening Blessings/Rastafari Creed
– 11:10 to 11:20, WGFI Vice President Imani
– 11:20 to 11:40, Hydroponics Presentation
– 11:40 to 11:55, WAPA/Energy
– 11:55 to 12:10, p.m., Carlos Robles, Commissioner, Department of Agriculture
– 12:10 to 12:20, DJ Dilli Fingas
– 12:20 to 12:50, Zumba Presentation
– 12:30, Farm Tours
– 12:50 to 1:10, Allen Haynes (The Rub Man)
– 1 p.m., Composting & Gardening
– 1:10 to 1:25, Ulla Muller Dancers
– 1:25 to 1:45, Cleo (Mind, Body, Spirit Present)
– 1:45 to 2:15, Konyah's Poetry Korner
– 2:15 to 2:35, Africultural Fashion Show
– 2:35 to 3:15, Echo People
– 3:15 to 3:25, Bambula Dancers
– 3:25 to 3:40, Communitiy Africultural Dancers
– 3:40 to 4:40, Pan Roun de Neck
– 4:40 to 5, DJ Dilli Fingas
– 5 to 6, Unity Band
– 6 to 7:15, Jah SoulJah Band
– 7:15 to 7:30, Raggamuffin
– 7:30 to 7:50, Ambassadah 7
– 7:45 to 8:15, Ganjenero
– 8:10 to 8:20, DJ Dilli Fingas
– 8:20 to 8:40, Simplicity
– 8:40 to 9:10, Empress I
– 9:10 to 9:50, Empress Ruth
– 9:50 to 10, DJ Dilli Fingas
– 10 p.m., Ickarus
Sunday Activities
– 10 to 6 p.m., Vicky Palmer Youth and Family Activity Center, planting, clay art, frame art, coloring, jewelry making and face painting stations
– 11 to 12:30 p.m., Garden Crafts with The Art Exchange
– 1 to 2:30 p.m., Crochet for Beginners with Montez Teferi
– 1 to 2:30 p.m., Make n Take Broom Making Studio at Mr. Todman's booth
– 2:30 to 3:30 p.m., Fine Artist/WoodWorker Talk @ Afreekan Southwell booth
– 3:30 to 4 p.m., West African Bantaba Drum Circle with Dembaya Arts Conservatory Facilitated by Kaisha L Arnold
– 4:30 to 6:00 p.m., Basket Weaving with Roots Alive Cultural Arts Facilitated by Sistah Irieah Maria Aurora Stiles