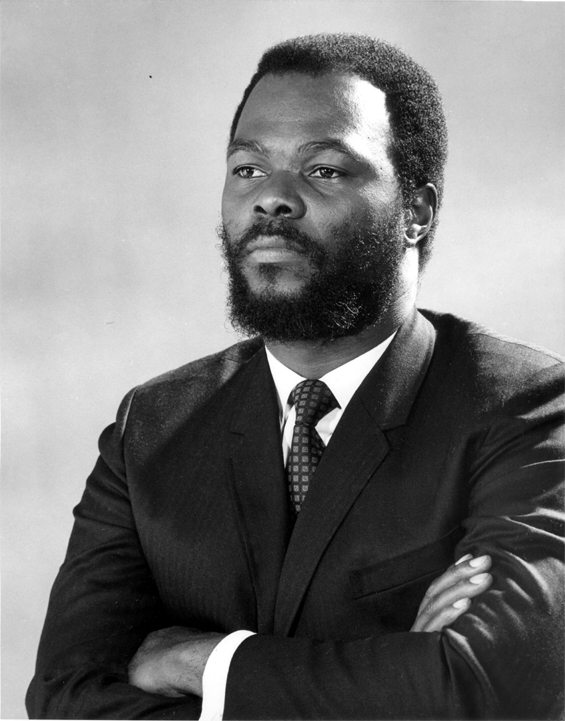 Long-time racial equality activist and libertarian firebrand Roy Innis, a native of St. Croix, reportedly died Sunday after a long life and many years on the national and international stage passionately pushing for what he believed was right.
Innis died in Manhattan from complications from Parkinson's disease, according to a statement from the Congress of Racial Equality.
He served for decades in CORE, a major U.S. civil rights advocacy organization founded in 1942, raised several children, and passionately promoted his beliefs.
Born June 6, 1934, on St. Croix, Roy Emile Alfredo Innis was the son of Alexander and Georgianna Thomas Innis. He was 6 years old when his father, a police officer, died.
In 1947 Innis moved to the U.S. mainland, following his mother, who was sending for her children as money became available. Moving from the racially tolerant and predominantly black Virgin Islands to Harlem in New York City was a tremendous shock, family members told the Source in 2004.
Innis attended Stuyvesant High School in New York City. In 1950, at age 16, he lied about his age and joined the U.S. Army. After two years, his superiors discovered his real age, and he was honorably discharged. He returned to New York, where he earned his high school diploma and later majored in chemistry at City College of New York. He then worked as a researcher for Vicks Chemical Co.
In 2004, his son Kimathi Innis told the Source his father had 10 children, some of whom have passed away. Roy, Alexander, Lydia, Cedric, Patricia, Corinne, Kwame, Niger, Kimathi and Mugabe. Niger Roy Innis currently serves as CORE's national spokesman.
Influenced by his third wife, civil rights activist Doris Funnye, Innis joined the Congress of Racial Equality, a black civil rights group, in 1963. He quickly realized he could make a difference in the organization. He served as CORE's national chair and chief executive officer from 1968 until he died.
His black nationalist viewpoint converged with conservative ideas and received wide play in conservative magazines such as The National Review and U.S. News & World Report. Innis explained black nationalism in Life magazine as "the philosophy of self-determination, the philosophy of an oppressed people."
"One solution to such oppression is assimilation – in essence, the loss of one's self … That won't work for us. We have to devise a philosophy applicable to our own dilemma. We must rehabilitate blacks as people. We must control the institutions in our areas," Innis told Life magazine.
"Integration should not be an end in itself," Innis said in a U.S. News & World Report interview. "It should be a means to an end – toward true equality and justice. But if it's obvious that integration is not achieving those ends, then you seek other means."
An advocate of community power, Innis told the magazine after the 1968 presidential election: "[President] Nixon should support the concept of community control of schools, welfare, sanitation, fire, police, health and hospitals and all other vital institutions operating in the so-called ghettos."
Innis's view of school desegregation coincided with both his desire for community control and the philosophy of segregationists.
"I say let us create two districts – one predominantly white and one predominantly black – where you now have one district," he was quoted as saying in U.S. News & World Report. "Each district will create its own board to manage the school system. Each will hire a superintendent. Each will be autonomous and truly equal."
Innis remained in the public eye throughout the early 1990s. Innis lost two sons to gun violence, which led him to support gun rights for personal protection. In a 1991 Wall Street Journal commentary, "Gun Control Sprouts From Racist Soil," he argued that banning handguns would keep weapons out of the hands of black families in high-crime areas who needed them for protection. In an interview with Robert Santiago for Emerge magazine, he said that "CORE is the only group with the courage to admit the obvious – that black folks, minority folks, folks in high-crime areas need to arm themselves legally."
Innis continued to be an important voice on the U.S. civil rights scene. He was among a group of prominent African-American leaders called to the White House as consultants after the Los Angeles riots of 1992. He commented in an interview with Emerge magazine that CORE's agenda for the future involves battling the sources and effects of crime within the black community: "CORE and Roy Innis were the first to jump on the question of black crime … Our No. 1 problem today is black crime. If the white man goes away tonight, we still have black crime."
Not one to back away from a fight, in 1998 Innis twice got into physical scuffles on television. He pushed Rev. Al Sharpton to the ground on the set of the Morton Downey Jr. show, during a discussion of the discredited Tawana Brawley rape allegations, after Sharpton called him a "bigot." And on the Geraldo Rivera show, he went after racist, white supremacist John Metzger, of the White Aryan Resistance Youth after Metzger insulted him. Rivera said at the time that he approved, and "if there ever was a case of deserved violence, this was it," according to the New York Times.
All his life, Innis continued to be drawn to conservative and libertarian ideals and causes and according to the New York Times, in 2005, he threw his support behind President George W. Bush's nominee to the Supreme Court Samuel Alito Jr. Although conservative, he was a member of the Democratic Party for much of his early life and in 1993, he unsuccessfully challenged David Dinkins, New York City's first African-American mayor, in the New York City Democratic Party mayoral primary. In 1998, Innis left the Democratic Party and joined the Libertarian Party. In recent years, Innis and son Niger have been favorites on the conservative talk circuit.