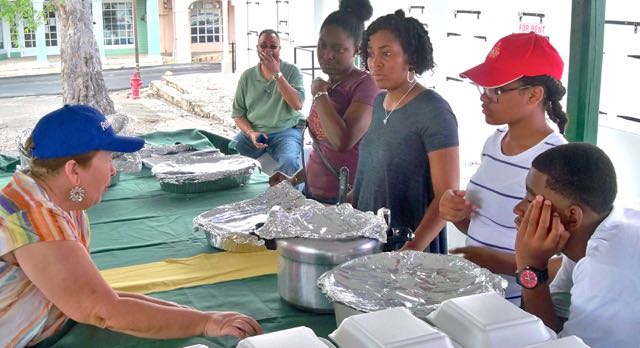 The Rotary Club of St. Croix brought Christmas cheer to the homeless in Christiansted on Monday, Christmas Second Day. At noon, club members and community volunteers began distributing free meals at the Christian "Shan" Hendricks Market on Company Street, an annual tradition in its 11th year.
Those who were hungry had the choice of taking a hot meal there or grabbing a lunch bag to go. And there were choices within the choice. One could have turkey, pork or chicken sandwiches.
Milagros Romero, community activist for the club, and her niece Alaejah Concepcion, made a family affair of helping the homeless. Concepcion, a 10th-grader at Central High School, filled the lunch bags that her aunt was handing out.
This is not the first time that the niece has helped out. She was with the club last weekend when it held a Christmas Party for the disabled at Limerick Park. Club secretary Liz Goggins said about 40 people attended that event.
The club's spreading of Christmas cheer continues when members of the Rotary and its EarlyAct Club of Juanita Gardine School will distribute Christmas cards to patients at the Herbert Grigg Home and also donate supplies to staff members.
Goggins said number of meals served was probably down this year at the market because of the rain that fell right at the beginning of lunch hour. Only about three dozen meals had been served by 1 p.m. and usually 80 to 100 meals are served at the event.
Sandra Gerard-Leung, club president, said nothing goes to waste. She said she would deliver the meals to distribute them if necessary.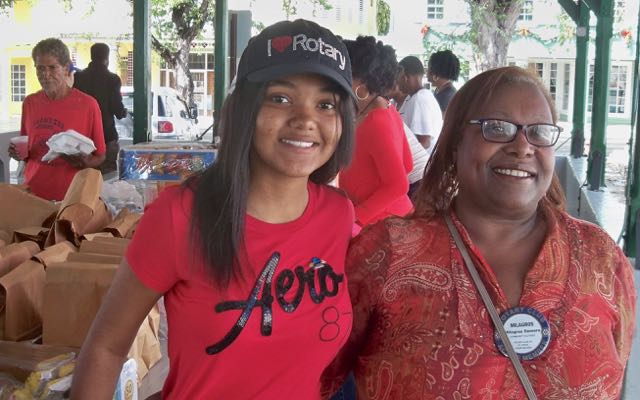 Rotary Club of St. Croix was assisted in its effort Monday by two staff members from Virgin Islands Behavioral Services and four student volunteers.
Also helping out the club for the first time were its two newest and youngest members – Jewel Cumberbatch and Kai Nielsen.
The annual serving of food to the homeless was started by club member Bonnie Messer who passed away in 2006.