For the third year in a row, the Grille at Mahogany Run Golf Course has successfully raised thousands of dollars through its "Think Pink" breast cancer awareness campaign that supports the territory's breast cancer patients with the cost of treatment.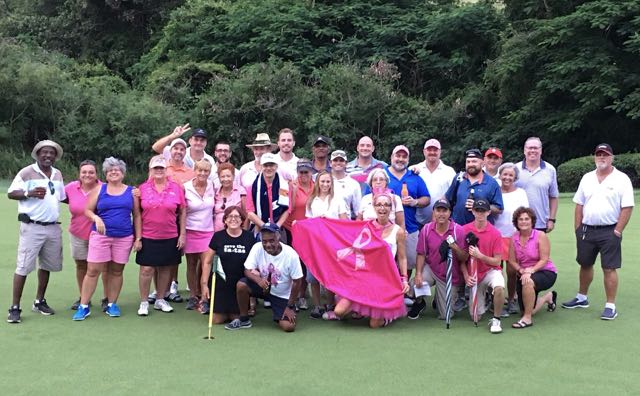 During its month-long campaign in October, the restaurant held a series of events that raised more than $40,000 with a majority of the proceeds going to Cancer Support VI.
The St. John Cancer Fund will receive $5,000 of that total after receiving $2,500 last year in vouchers for mammograms at St. Thomas Radiology Associates. Those funds will be earmarked for people who have breast cancer.
"Even though the three fundraising events take place on St. Thomas, a number of businesses and restaurants donate from St. John, so we wanted to send a big message to them that they're getting a return on their investment," said Barb Michaud, a breast cancer survivor who helped conceive and organize the campaign.
Michaud said this year's campaign exceeded her expectations, as the goal was to raise $30,000 after raising more than $24,000 last year.
The restaurant raises part of that money by donating $1 from select lunch and brunch items, $3 from "Drink Pink" themed cocktails and $3 from certain dinner specials, as well as from raffle tickets for gift certificates from local businesses.
"By supporting this fundraising event, you can really know that you're making a difference, since a large percentage of Virgin Islanders are uninsured," Michaud explained. "Cancer Support VI helped me finance my own treatment and I'm very grateful for that."
The Mahogany Run Golf Course is also involved in the fundraising campaign through the Chip In For Pink golf event. This year the nine-hole scramble drew a couple dozen participants.
Making unique art was also part of the fundraising effort. During the Sip and Dip: Bubbles and Paint Party, artist Jen Papatoros painted women's breasts, which were then brushed along a canvas.
"Many eyebrows were raised the first year we did this event but all of the women found the artistic process to be very empowering," Michaud said.
At the end of October, the restaurant held a wine tasting that featured wines made by female winemakers. Around a 130 people attended the event, which included a silent auction.
Michaud said, "It's more than just raising funds for patients. It's also about raising awareness about breast cancer and letting people know they should get mammograms."
The fundraiser's success wouldn't be possible without the support of numerous sponsors in the community, Michaud stressed.
"We have an enormous amount of sponsors and we never would have reached the goal without them," Michaud said. "It goes to show that even though we live in a small community there are many people here who want to help and do good."
"Our community is amazing, giving and generous – even in our moments of darkness, we find light," Michaud said.
Breast cancer patients that need assistance paying for their treatment can reach out to Charlene Keho, director of fundraising for Cancer Support VI, at
340-715-5806 or kehoec@icmcvi.com.
A number of sponsors made this year's fundraising campaign possible, including Keyot, International Capital & Management Co., Auven Therapeutics, Drive Green VI, Theodore Tunick & Co., Curreri & Co. Realtors, Moe's Fresh Market, Kellerhals, Ferguson Kroblin PLLC, GC Investment Management, Quantico Consulting Services, CRMVI (Caribbean Refrigeration & Mechanical), Caribbean Auto Group, Virgin Island Orthopedics & Sports Medicine, The Paint Depot, Alpine Securities, Caribbean Food Service, XIIID 13D Research, Topa Properties, Suzanne Mabe Real Estate, Pro Solar Systems, Bellows International, Galtere Inc., Brisa Max Holdings, Cornerstone Insurance Services, Baker Magras & Associates, Prior Family Foundation, East End Flower Shop and Sea Glass Properties.