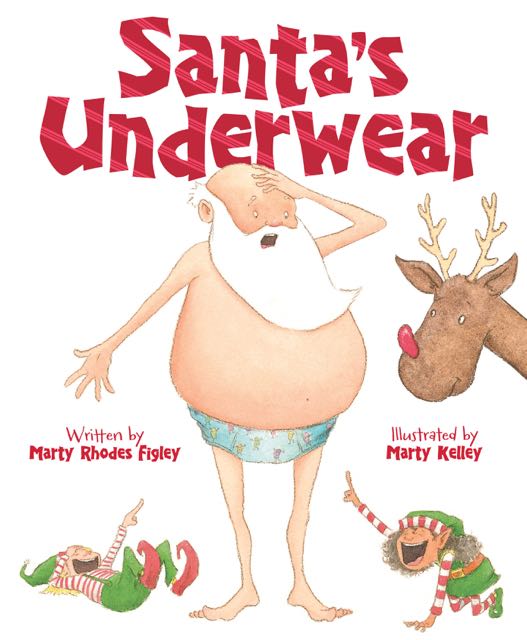 "Santa's Underwear" by Marty Rhodes Figley, illustrated by Marty Kelley
c.2016, Sleeping Bear Press $16.99 32 pages
Your new Christmas outfit is absolutely perfect. It's just the right mix of red and green for the holidays, with a little thread of gold for sparkle. The top part fits, the bottom part fits, you even got new shoes.
Santa's also got a special outfit for the holidays, but in the book "Santa's Underwear" by Marty Rhodes Figley, illustrated by Marty Kelley, what's under there is missing.
Christmas Eve had arrived and there was no time to waste. Santa had to get ready, and he needed to do it quick if he was going to be on time to deliver toys to all the boys and girls of the world.
He'd shined his boots and his favorite belt buckle. Mrs. Claus gave him a nutritious dinner and, while that gave him energy, Santa was dreaming of the cookies and milk the children would leave for him. He brushed his teeth, took a bubble bath and polished his beard with special gloss until it shined like a hillside of snow.
The elves brought him a mirror and Santa looked awesome! He was ready! And it was time to put on his "special Christmas clothes."
Now, when you get dressed, you know what you need to start with? Well, Santa slid open the drawer that held his warmest, most favorite, magical undies but (uh-oh!) Santa's "long … wooly" underwear was missing!
Once upon a time, they were red, but now they were faded. They used to fit like a glove, but these days, they sagged. They'd been patched and sewn a dozen times, but Santa loved those undies. He couldn't imagine flying through the air in an open sleigh without them. His underwear sure kept him warm.
Oh, but he looked for them! He searched every drawer in his bedroom. He looked in the dirty laundry, just in case. They weren't beneath the bed or between the sofa cushions. The elves tried to tell him that his pink boxers from Valentine's Day would work, but that was "too … cutesy." The shamrock jammies weren't "Christmassy," and his Easter briefs were too brief. Santa needed his red wooly undies!
What if he lost them forever?
You might have your lucky socks. Your child may have a stuffed animal he needs to keep close. And in "Santa's Underwear," the Big Guy can't find the one thing nobody should be without.
Let's face it – underwear is funny, especially if you're a little kid and especially when it's underwear belonging to a guy like Santa. Children, therefore, will get a kick out of the preposterousness of Figley's story but the fun doesn't stop with the tale: the illustrator's artwork is hilarious. When you're reading this story, be sure to pay close attention to the elves. Their goofiness can't be missed.
And it won't keep just for Christmas, either. Your 4-to-8-year-old will want to see this book in March and July and September, as well as the holiday season. They'll see London, they'll see France, "Santa's Underwear" will make them dance.
__
The Bookworm is Terri Schlichenmeyer. Terri has been reading since she was 3 years old and never goes anywhere without a book. Her self-syndicated book reviews appear in more than 260 newspapers.