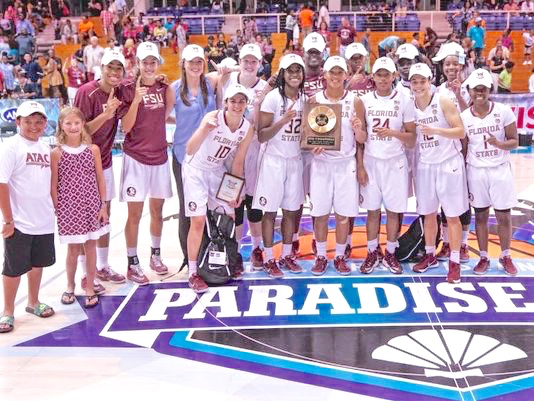 Sweeping through their divisions with three straight wins each, Kansas State University and nationally ranked Florida State took home both Paradise Jam women's tournament titles Saturday at the University of the Virgin Islands Sports and Fitness Center.
The women's tournament is broken up into two divisions, Reef and Island, and gives the teams a chance to play three games in round robin style.
After blowing out its first two opponents, Florida State was challenged by Michigan, but with a 23-14 run in the fourth quarter of Saturday's championship game, Florida State went on to win 76-62 over the Wolverines to win the Reef Division.
The Seminoles also picked up wins over Gonzaga and Winthrop, who placed third and fourth respectively.
In the final game, Florida State's Shakayla Thomas had a double-double with 19 points and 11 rebounds, followed by teammate Imani Wright, also with 19 points. For the Wolverines, Danielle Williams had 18 points, while Hallie Thome followed with 13.
Kansas State also went undefeated in the Island Division, with wins over North Carolina State, Louisiana State and, for the championship, the University of Texas El Paso. With the 61-40 win Saturday, Kansas State also remains 6-0 for the season, keeping its perfect record.
The Island Division all-tournament team included Kansas State's Wesemann and Breanna Lewis, LSU's Chloe Jackson and Raigyne Moncrief, and North Carolina State's Jennifer Mathurin.
The Reef Division all-tournament team included Florida State's Leticia Romero and Thomas, Michigan's Thome and teammate Katlelyn Flaherty, along with Gonzaga's Jill Barta.
Island Division Final standings are:
Kansas State (3-0)
LSU (2-1)
NC State (1-2)
UTEP (0-3)
Reef Division Final Standings are:
Florida State (3-0)
Michigan (2-1)
Gonzaga (1-2)
Winthrop (0-3)