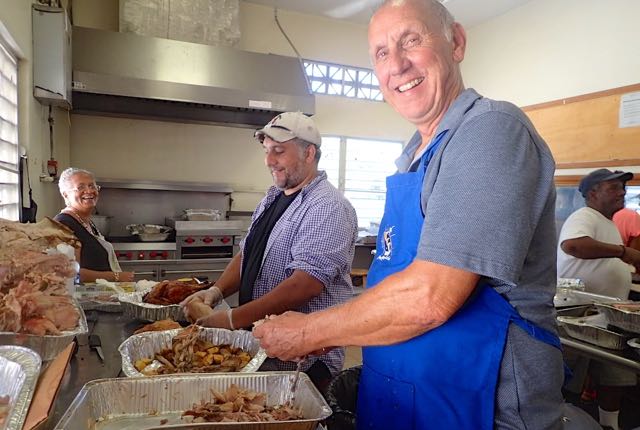 From sunrise to noon on Thanksgiving Day, up to 50 volunteers crowded into the two small kitchens at St. Mary's Catholic School to package around 900 dinners for delivery and then served several hundred walk-ins a sit down dinner.
"This is it. This is my idea of the best Thanksgiving," said Rikki Nelthropp, one of the organizers.
Since Nelthropp is Irish and Thanksgiving is not a tradition in her native land, she said she doesn't miss having a big dinner and said that later in the day she will just relax with a few friends.
Around noon, 70 turkeys and numerous hams had been carved and boxed with mashed potatoes and gravy, macaroni and cheese, vegetables and dessert.
Also by noon, volunteers were on the road delivering hundreds of packaged dinners to Hospice, Bethlehem House, the Sisters of Charity and Sunny Isle Housing.
V.I. National Guard Adj. Gen. Deborah Howell and fellow Rotarian Dorothy McIntosh picked up 100 dinners to be delivered to Rotary West. Their fellow Rotarians handed out meals in Frederiksted town and several locations known to be in need.
"We haven't totally eliminated hunger and nobody should go hungry any day – especially today," Howell said.
Mary Schubert has been donating her time and carving turkeys and hams in the St. Mary's kitchen for more than 30 years. She said it is "good exercise" and she "loves to help." Schubert doesn't celebrate Thanksgiving because she is Irish, she said, and instead would go to work at Hotel on the Cay after she put away her knives.
Dennis Curtin and Jamie Leonard carved and deboned 15 turkeys and 10 hams in four hours. Curtin has been manning the carving station for 10 years and Leonard, a chef, showed up unannounced with his knife set and was put to work immediately.
At one point late in the morning, organizers worried they may not have enough to feed an estimated 1,300 people, because they ran out of turkeys. But then another six birds and two trays of mashed potatoes were delivered.
"I've never seen the dining room this full," said Leonor Finch, a major organizer since 1993. Food shows up unexpectedly every year, she added.
Nothing goes to waste, Finch said. Leftovers of food or cash are donated to charities that feed the needy – Lighthouse Mission, Catholic Charities and My Brother's Table – after the Thanksgiving event.
Shortly after noon, Finch and several volunteers finished cleaning up the kitchen and moved into the serving area to begin the second phase. Already a long line had formed and plates were being heaped with mounds of home cooked food and handed to those waiting.
Finch said she stays until everybody has been fed and the kitchens are clean. Eventually she goes home about 3 p.m. "when everything is clean," and puts her feet up and eats a bowl of chili.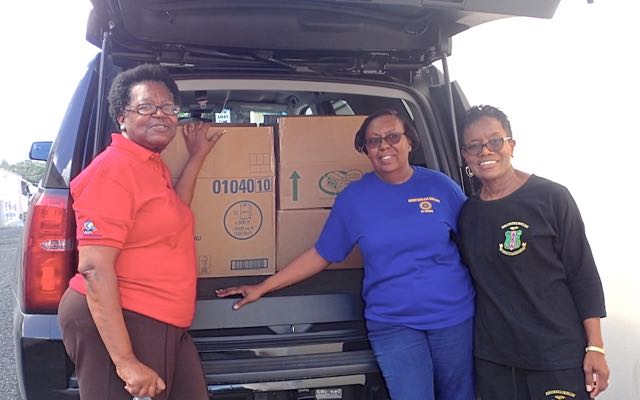 The idea for the Thanksgiving luncheon was conceptualized by Pedro Guillion, a Sacred Heart Chapel parishioner, in 1990.
For the first two years, the meal was served from a shed on the east side of the chapel. In 1993, the event outgrew the shed and was moved to St. Mary's cafeteria.
The first dinner consisted of three turkeys, two hams and a $60 donation to feed 135 people. This year, around 1,100 meals were served, Nelthropp said.