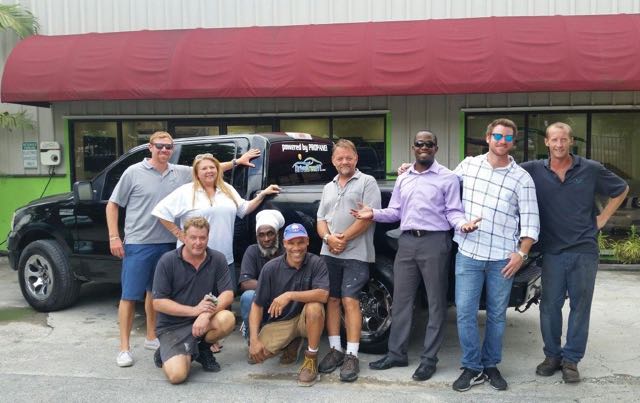 When Adrien Austin read that domestic violence tends to spike after Carnival and puts strain on the Family Resource Center, he wanted to know what he could do to help. He found out the center was in need of a truck, so he looked for a used one and then outfitted it with an alternative fuel system to help cut down on gas costs.
Based on St. Thomas, the FRC is a nonprofit agency that works to end family violence in the Virgin Islands by offering counseling programs and shelter for victims of domestic abuse. It's budget is small, although the needs of the community are great, so donations help expand the center's capacity.
Vernon Araujo, director of development for the FRC, said the truck has come in handy with picking up gifted items like furniture and food. Before receiving the truck, Araujo would have to borrow one from a friend, which limited the amount of pickups that could be done and made scheduling tricky.
"We have four buildings and sometimes we do need to replace beds and sofas, so having a vehicle that can haul these donated items is crucial to our operation," Araujo explained.
Austin is a managing partner at Drive Green VI, a fleet management company that specializes in the research and development of alternative transportation technology that's suited to the Caribbean. The company's high-tech auto shop retrofitted the truck to run on propane gas in addition to regular fuel, which it can switch back and forth between.
According to the U.S. Department of Energy, interest in propane as an alternative transportation fuel stems mainly from its domestic availability, high-energy density, clean-burning qualities and its relatively low cost. Compared to conventional gasoline, propane emits fewer greenhouse gases, which are the driving force behind manmade climate change.
Retrofitting a vehicle to run on propane is a minimally invasive process that basically requires adding a specialty tank that can hold liquid propane, Austin said. And it's fairly inexpensive: The cost of adding the propane fuel system to a vehicle with eight cylinders or less is around $3,000.
Araujo said that the 2007 Ford F-150 has a 20-gallon tank that he fills up once a week at Antilles Gas in the Sub Base area of St. Thomas, which is currently the only propane fueling station on the island.
For the month of October, he said he spent about half of what he would have without the propane conversion. Instead of the $80 it would take to fill the truck with regular gas, it now costs around $45 max.
"It's really great for our purposes because we drive a lot of miles since we pick up items all over the island, including in Water Bay and Fortuna," Araujo said. "Plus there's also a fuel rebate we can cash in on when we do our taxes."
To create an incentive for people to convert their cars to run on the cleaner and less expensive fuel, the federal government offers an alternative fuel tax rebate, which is set at 36-cents per gallon for 2016.
Propane is around $2 a gallon before the rebate, making it about 70 cents to a dollar below the current cost for regular fuel in the territory.
Austin said switching to autogas – the common name for liquid propane gas – is especially beneficial for large utility vehicles and for people who drive their cars for work on a daily basis.
"Electric cars are great for your average daily driver when range isn't an issue. But for people who drive a lot every day, autogas makes more sense, so you won't have to charge the car, and it offers significant fuel savings," Austin said.
A number of school districts and municipalities across North America have already converted their buses to run on propane to cut down on fuel costs. Austin said that someone could lease a fleet of vehicles from Drive Green VI, which could then convert the vehicles to run on propane and service them too.
With that logic, safari truck drivers, waste haulers and the V.I. Police Department could save a great deal by converting their vehicles to run on propane.
"Some of the island's safari trucks are only getting about four miles per gallon and they have 40 gallon tanks, so they are likely spending around $20,000 to $25,000 on fuel per year. By switching to autogas, the system could pay for itself in less than a year with what the drivers will save."
Drive Green VI also recently started dealing the Nissan Leaf, an all-electric vehicle with a range up of up to 107 miles. The company is selling 10 Leafs that are arriving soon and has trained technicians to service them.
But Austin is aware that change takes time and he's careful not to force alternative fuels on people though he does hope the tide is turning.
"Our goal is to educate and encourage people to switch to alternative energy, since not only is it affordable, but it's also the right thing to do for the environment. We exploit beauty here for tourism, but we do little to protect it," Austin said.
Over the last month and a half, the decal on the FRC truck's back window, which reads "Powered by Propane," has piqued some curiosity.
"Since I started driving the truck, a lot of people have been asking questions about converting their cars to propane," Araujo said. "Hopefully this starts the conversation about introducing cleaner fuel to the territory to help protect the environment – you shouldn't have to roll up your windows at a stoplight to avoid all the fumes in paradise."
For more information on Drive Green VI, visit www.drivegreenvi.com or call (340) 693-6014.