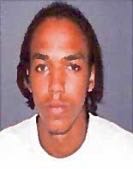 Cymari Fredericks, 21, a suspect in a 2014 St. Thomas murder, was arrested Saturday in North Carolina on information provided by the National Crime Information Center, the V.I. Police Department reported.
Fredericks was arrested by the Kings Mountain, N.C., Sheriff's warrant squad on a warrant issued Aug. 30 by a St. Thomas Superior Court judge.
Fredericks is accused of first-degree murder, aiding and abetting, reckless endangerment, first-degree assault, unauthorized use of a firearm during a crime, and brandishing, exhibiting or using a deadly weapon.
He is wanted in connection with a shooting that took place in on St. Thomas on Oct. 19, 2014, at the Blitz Night Club for the murder of Shacoi Benjamin.
Fredericks was residing in North Carolina, where his landlord found out he was wanted for murder and reported to the police. The N.C. police department ran his name on the NCIC database and confirmed his identity, and he was detained.
Fredericks is being held without bail and was remanded to the Gaston County Jail, N.C.
In announcing the arrest, the V.I. Police Department said it will continue to bring criminals to justice locally and nationally through NCIC and with the continued support of the community.
"The Criminal Investigation Bureau and the Homicide Task force are actively moving on all cases and requesting your assistance in solving crime in the territory as the VIPD continues to make more arrest curbing crime," the police news release said.
The police urged anyone with information about a crime to call the Criminal Investigation bureau on St Croix at 340-778-2211 or the Homicide Task Force on St. Thomas at 340-774-2211, the 911 call center, or the anonymous tip service, Crime Stoppers VI, at 1-800-222-8477.