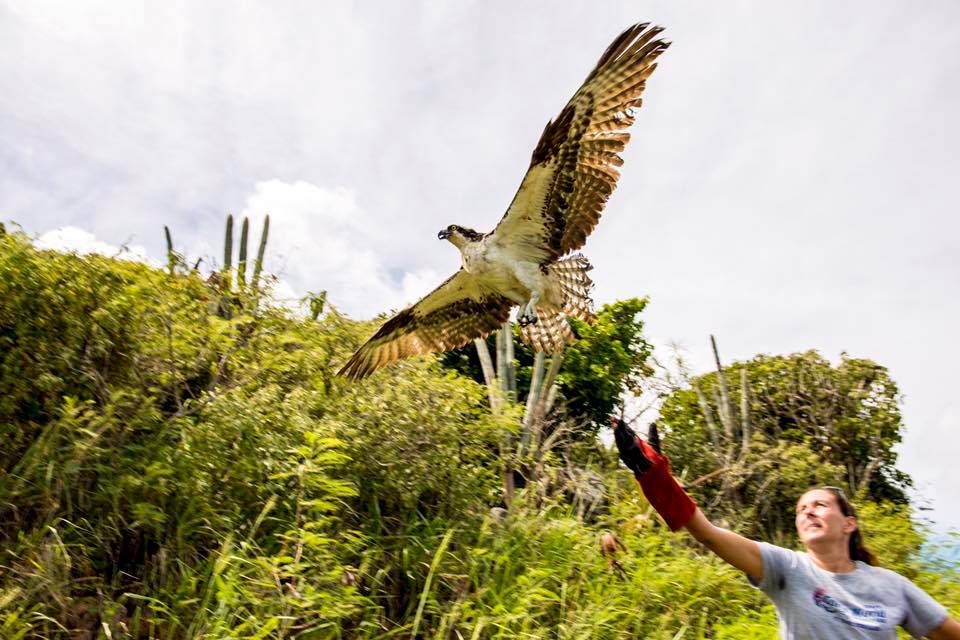 Lee Kellar, Coral World general curator, has announced that the Ocean Park has rehabilitated and released another osprey. Kellar said, "On Sept. 20, 2016, a concerned citizen contacted Coral World regarding an injured bird on the Sub Base tennis courts. Veterinary technician Erica Palmer responded to the call and retrieved a female osprey and brought her to Coral World Ocean Park."
Palmer said, "We gave the osprey a thorough evaluation and determined that she had been impaled by something through the left chest and into the lungs. We found no foreign bodies, so we don't know if she might have been shot with a BB and it came out later or whether she was impaled by something else." Coral World staff named the osprey Osyka (which means young eagle). She received several weeks of care that included fluids, antibiotics,and specialized feedings administered four times per day.
"The osprey is one of the most widespread birds of prey and can be found on every continent except Antarctica," Palmer said. According to National Geographic, ospreys are superb fishers and eat little else – fish make up some 99 percent of their diet – so they are found near ponds and coastal waterways. They hunt by diving to the water's surface from 30 to 100 feet in the air. They have gripping pads on their feet to help them pluck fish from the water with their curved claws and carry for great distances.
"Coral World has been conducting and funding marine animal rehabilitation since it reopened in 1997 as part of its mission to educate, to inspire appreciation for the Caribbean marine environment, and to participate in conservation efforts," said Kellar.
Osyka was released on Monday, Oct. 17, along the north shore of St Thomas. She flew strongly and was monitored for two hours before flying out of site.