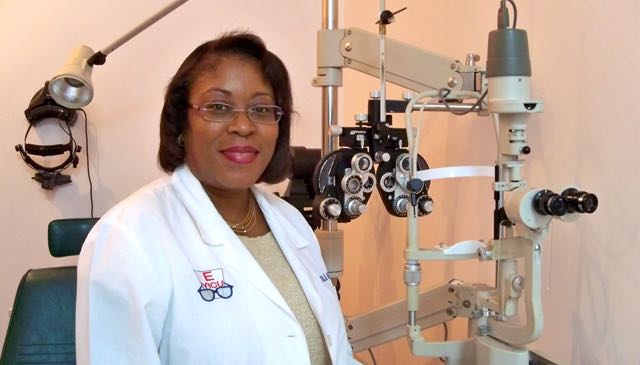 Optometrist Lisa E. Adams said it is inevitable that eyes weaken and that vision changes as people age. She recommends yearly vision screenings beginning as early as the age of 5.
As an optometrist, Adams gives eye exams, diagnoses and manages disease, and prescribes contact lenses and glasses. She can also prescribe medicine for minor eye ailments.
School teachers are generally the first to detect a vision problem with children as they may be having difficulty reading the blackboard, Adams said.
Vision benchmarks for people with normal vision are around 40 when people find it harder to read small print and around 60 is when cataracts start to grow.
Adams said she is seeing more children who have myopia or near sightedness, where they can only see up close, because of playing hand held video games and too much time spent on the computer.
Parents always tell her they try to get their children away from those devices that cause eye strain, she said, adding that she is seeing more patients with eyestrain from computer use in general.
Adams suggests that people who are having a hard time reading small print to see an optometrist for an exam and not just buy magnifying glasses over the counter.
"People should at least come in and get an exam to get the correct magnification number," Adams said. "They tend to over magnify with more power and the eyes can get weaker from over magnification."
She added that as people age, they can't focus as quickly as they once did.
Around the age of 60 cataracts start to appear as a cloudy spot on the lens of the eye. She said it is very prevalent in the tropics because sun tends to make them grow. She said adults and children should all wear sunglasses.
In the Virgin Islands a lot of people have hypertension that affects the vascular system causing vessels in the eyes to weaken and leak blood that could cause loss of vision, Adams explained. Diabetes is another prevalent systemic disease locally that can cause eye problems.
"Anything that isn't good for your health isn't good for your eyes either," Adams said. "To me our eyes are the most important part of our bodies and we have to take care of them properly."
Two signs of eye problems are blurry and cloudy vision, Adams said.
"If something doesn't feel right, come in for an investigation," Adams said. "It has to be taken seriously. There shouldn't be any hesitation to come in for an exam. We're here and pride ourselves in being very affordable."
At Sterling Optical they have consistently offered a complete exam, single vision lens and frames for $99. "We want to be able to serve everyone," Adams said.
Adams and her husband are big believers in giving back to the community and helping students with post high school educations. They started years ago giving out four scholarships valued at $1,500. Last year 13 students were given scholarships. "Education is very important to us," Adams said.
Adams was born and raised on St. Croix and attended St. Patrick's Elementary School and graduated from St. Joseph's High School. She has a bachelor's of science from Fairleigh Dickinson University and Pennsylvania College of Optometry. In 1994 Adams earned her Doctor of Optometry degree from Pennsylvania College of Optometry.
She is on the National Board of Optometry and is a clinical examiner and supervising examiner for administration of the board exam. And she was the first native Virgin Islander and woman appointed by Gov. Charles Turnbull in 2004 to the U.S. Virgin Islands Board of Optometry.
Since 1997 Adams and her husband, Joel Mahepath, have owned and operated Sterling Optical on St. Thomas and St. Croix. She said their stores have received lifetime achievement awards from the Sterling Optical Company and has been one of the top stores since they began serving the Virgin Islands.
The St. Croix office is in the Golden Rock Shopping Center and the St. Thomas office is in Lockhart Mall. To make an appointment on St. Croix call 340-718-8880 and on St. Thomas the number is 340-774-8500.