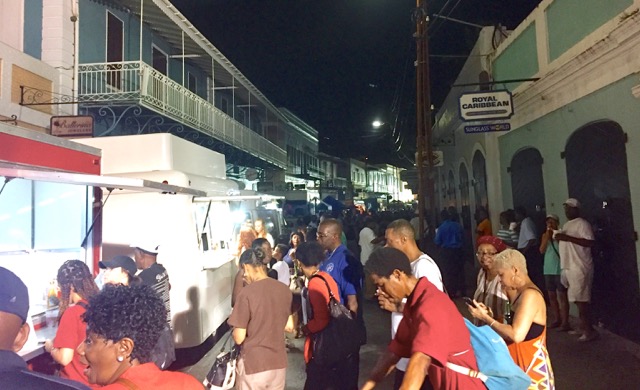 On Friday evening, food trucks serving local eats, ice cream and shaved iced lined Main Street in Charlotte Amalie for Downtown Revitalization Inc.'s third St. Thomas Eats: A Food Truck Fête.
While pedestrians are usually scarce during the evening in downtown, the event enlivened the city by drawing hundreds of people with local food and live entertainment. The on and off drizzly weather appeared to have little effect on the turnout.
For Dorothy Maguire Isaacs, the event's coordinator and Downtown Revitalization Inc. board member, the affair is about creating a more vibrant downtown.
"The whole objective is to get people to want to come downtown, particularly in the evening," Isaacs said. "We want people to know that Main Street doesn't just roll up the sidewalks at 5 o'clock every day."
Isaacs said that when she was a young girl people used to enjoy the town and she hopes these events bring that bustling city atmosphere back. Jazz in the Park and Art on the Town events have been similarly successful recurring downtown events that Downtown Revitalization Inc. has helped organize.
With more than 15 food trucks participating, the event grows larger each time it is held, so additional lighting, waterfront parking and portable bathrooms have been added. The first food truck fête was held last September with the second one happening in January of this year.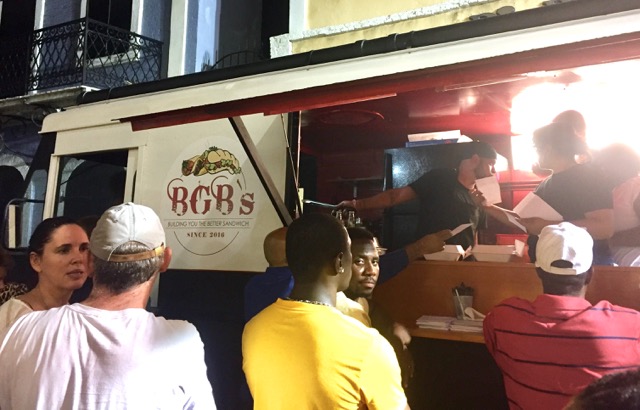 "There's been a very popular demand that we have this event," Isaacs explained. "The vendors are excited and people look forward to checking out the cuisine."
A new truck called BGB's made its premiere on Friday evening. With the tagline "Building You the Better Sandwich Since 2016," the food truck is a family business that took a year's worth of planning to come to fruition.
"We love people and we want them all to have a good experience, so we're happy to bring something different and homemade to the island," owner Suiapa Berry said, adding that her family's goal is to someday open a brick and mortar restaurant.
Quinn Farrell approved of the new truck's chicken sandwich and remarked that the event makes him want to spend more time downtown.
Another St. Thomas resident, Leo Sibilly, said he came since it's important to him to show his support for the revitalization of downtown.
"Events like this help us come together as a community to share ideas about how to make downtown full of energy like it once was," Sibilly said.
A number of stores were open late to participate in the event and take advantage of the increased evening foot traffic.
"We hope people see that downtown is safe and that it can be a very fun family evening for all to enjoy," Isaacs said.
"Perhaps more organizations will sponsor evening events to make Charlotte Amalie livelier and some people might even want to start living closer to downtown." Isaacs added that it's difficult for one group to hold all of these types of events.
Isaacs continued, "We feel like we're setting an example for what's possible and as long as we have safety, more people will want to go out downtown. The more people there are, the more police there will be – there is always safety in numbers."
For many visitors and local residents alike, downtown's image as unsafe discourages them from walking around there once it gets dark.
Osbert Liburd, owner of a truck called Mr. Yum O's that sells ice cream, said the event is "a chance for me to showcase what my business has to offer and it's a chance to bring everyone out to Main Street during a time when they'll feel safe to be here."
Coinciding with the food truck event, Gallery St. Thomas premiered an exhibition by painters Ronni Harris and Teri Jones.