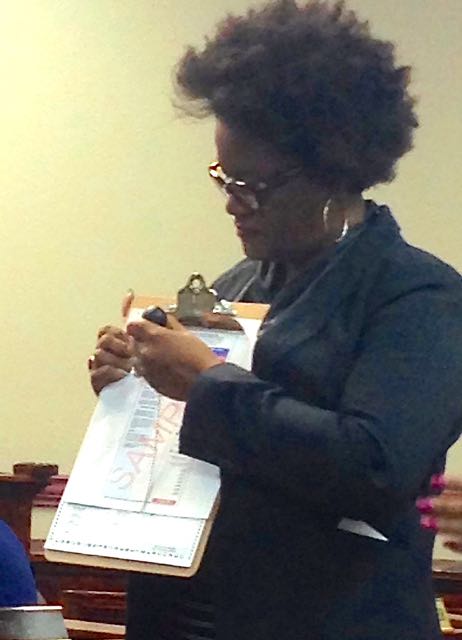 The chairwoman of the St. Croix Elections Board and the Elections supervisor told members of the Senate Rules and Judiciary Committee on Friday they are ready for the Nov. 8 general election. Representatives from the St. Thomas district board were also invited to testify but no one attended.
In addition to disclosing preparations and plans, Elections Supervisor Caroline Fawkes and St. Croix Board Chairwoman Lilliana Belardo de O'Neal admitted they were not following in the law, in at least one instance, but voted as a joint board to simplify the balloting process.
According to Committee Chairman Kenneth Gittens and Sen. Nereida "Nellie" Rivera-O'Reilly, the V.I. Code calls for separate ballots to be used in the general election: one for the delegate contest, another for senatorial candidates and a third to elect members of various boards – such as Elections and Education.
Fawkes said the law should to be updated to take into consideration the new voting equipment and other technology. Belardo de O'Neal agreed and said the last time there were three ballots was in 2012 and voters were frustrated and confused by the process.
"Three separate ballots is going backwards to the worse experience the board has ever had," Belardo de O'Neal said.
Gittens pointed out there was not enough time to change the law before the election and insisted that "whatever the Code calls for, we need to do."
It was not clear whether or not new ballots will be printed before Nov. 8.
According to Fawkes, planning an election takes two years. She said ballots, staffing and supplies currently are being prepared in anticipation of a turnout of 70 percent of registered voters. Currently St. Croix has 22,034 voters, St. Thomas, 21,950 and 1,784 on St. John, according to Fawkes.
Fewer than 20 percent of registered voters participated in the August primary. Fawkes attributed the low number to a one-party primary instead of the usual three.
Fawkes and Belardo de O'Neal were asked about perceived difficulties with the upcoming election process.
Belardo de O'Neal said the board has had problems in the past with candidates who appear to be campaigning in the voting area.
This year, the Legislature enacted a law prohibiting campaign supporters within 200 feet of the voting area.
Fawkes said she disagreed with it but will enforce the new law.
Sen. Novelle Francis said the law should be repealed since it part of the culture.
Gittens said as long as it is the law, it must be enforced.
Francis asked about the possibility of hacking into the Elections system, and Fawkes said it was not possible since the voting system is not connected to the internet and passwords for the database are changed every 90 days.
Preparations for the election have included attempts to make polling sites ADA compliant. According to Belardo de O'Neal, although the Education commissioner responded to a letter to upgrade the schools, the necessary changes have not been made. As a result, the Board of Elections will spend funds on building wheelchair ramps and renting portable toilets. According to Belardo de O'Neal, almost $45,000 will be spent on the election.
Gittens recommended getting a list of all ADA-compliant government buildings from V.I. Property and Procurement to review for future polling places. The U.S. Department of Justice has said all 25 polling stations are inaccessible, he added.
St. Croix polling sites are:
Alexander Henderson, Claude O. Markoe, Eulalie Rivera, Ricardo Richards, Lew Muckle and Juanita Gardine elementary schools, as well as the St. Croix Educational Complex, St. Dunstan's School and the D.C. Canegata Recreation Center.
St. Thomas polls are:
Gladys Abraham Elementary School, Addelita Cancryn Junior High, Winston Raymo Recreational Center, Oswald Harris Community Center, Bertha Boschulte Middle School, Charlotte Amalie High School, Turnbull Regional Library and Joseph Gomez School.
St. John polling sites are:
Julius Sprauve School and Calabash Boom Community Center.
Fawkes also listed a several deadlines:
– The last day residents can register to vote or change an address or party affiliation is Oct. 9 and all three Elections offices will be open Saturdays until then;
– Early voters can cast their ballots between Oct. 22 – Oct. 31 at the Elections offices;
– Absentee ballots can be picked up anytime, by anyone, but the voter must give a reason.
Attending the meeting were Gittens, Francis, Rivera-O'Reilly, Sens. Jean Forde and Janet Millin-Young, who attended via Skype.