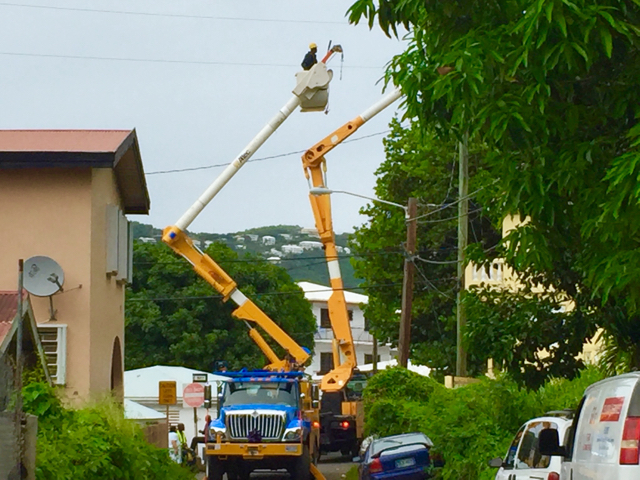 An unidentified man was killed Sunday afternoon in Frenchtown after apparently coming into contact with a WAPA primary electrical line while trimming tree branches in the yard of a private home.
A police investigation is continuing into the incident, which occurred around 4 p.m. on an Estate Honduras roadway which leads to the Sand Fill.
People at the scene, who spoke on the condition of anonymity, said the man was apparently working for the homeowner. While pruning the branches of a mango tree, a branch snapped, made contact with the energized primary power line and resulted in the man being electrocuted.
A second man, who was also trimming branches on the same tree, was apparently not injured.
Personnel from the medical examiner's office were seen lowering the victim's limp body from the branches of the tree, where he slumped over after being hit with the jolt of electricity.
WAPA spokesman Jean Greaux Jr. referred all questions about the incident to the V.I. Police Department, citing the ongoing investigation. Top officials of WAPA were on the scene of the incident, as were line department crews to make repairs and restore power.
Feeder 10A, which serves the Frenchtown community, lost power following the incident but most of the feeder was restored shortly thereafter. Line crews and a pair of bucket trucks from WAPA remained in the general area of the incident well after sunset, working to restore full power to a small number of affected residents.