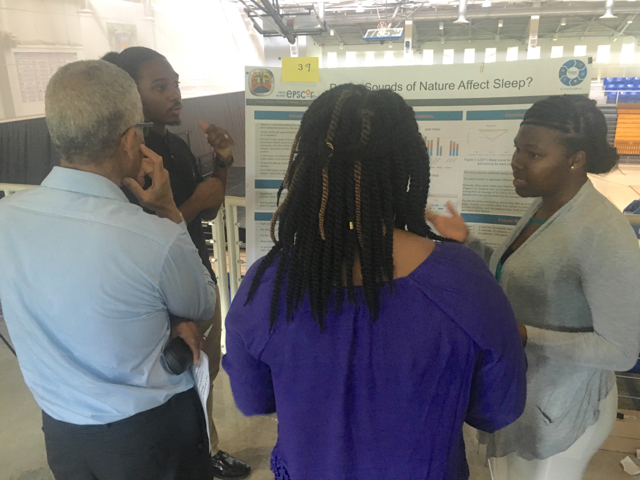 Eight UVI students were exposed to many new gadgets, including a 3D printer, medical wearable devices, and microcomputers small enough to fit in one's hand, through a four week summer program called the Internet of Things.
The program was sponsored by the Virgin Islands Experimental Program to Stimulate Competitive Research (VI-EPSCoR.)
The three groups of undergraduate students presented their research projects Friday morning at the UVI Summer Research Symposium in the Sports and Fitness Center on the St. Thomas Campus.
Internet of Things was a pilot program created by UVI Provost Dr. Camille McKayle and Michael A. Smith, a visiting expert on Internet of Things and academic research director with Intel Corporation. It featured multiple components of traditional learning used to expose young students to emerging technology.
"We introduced the technology to the students and they devised their own ways to use them to study things of their own interest and issues pertinent to the Virgin Islands," Smith explained.
This free-rein approach led to a variety in the focus of each researching team.
One set of students focused on making scientific research more attainable by creating an application that records frogs and analyzes the sound waves collected to determine the species of frogs in their surroundings and approximately how many of each are present. The goal of the project was to help local scientists chart where specific frog species are located throughout the U.S. and British Virgin Islands by incorporating data from local citizens.
Another group aimed to help local scientists in collecting dats of local bird colonies. They utilized image-processing software to analyze pigments of feathers in photographs to differentiate the species shown and calculate the approximate number of each species present. These photos would be taken by a drone to eliminate the intrusion of the scientists into the birds' habitats.
The third group of students utilized two medical wearable devices to monitor the impact of music on sleep. Their goal was to discover a way to help improve the quality of one's sleep, especially for college students.
The students expressed gratitude for the opportunity to utilize their creativity and be exposed to the world of research as undergraduates because it allows them to fine-tune their goals following graduation.
"We were given the tools and were allowed to let our research juices flow instead of just assisting a mentor with the work they have already started," explained Shanice James, a biology major entering her third year of study at UVI. "At first, I wasn't interested in research, but now I'm glad I was placed into this program because it was eye opening. After this program, I am inspired to pursue an MD-PhD, so I can further my medical career through research opportunities, when before the program, I had no interest in research at all."
"The program opened my eyes to the world of research and how many ways you can go about solving the world's problems," said Joseph Charles, applied mathematics major and rising sophomore at UVI.
Those interested in these projects and their continued progress will have the opportunity to view their presentations this September at the UVI Fall Research Symposium.
Smith and EPSCoR plan to host Internet of Things again next summer, but with more participants and more resources in order to have a greater variety of projects.
Smith aims to continue to bring the latest technology and information to UVI by inviting other researchers to the university to create a series of lectures and seminars in the field of technology in the spring semester of 2017.
In the meantime, the technology that Smith brought will be donated to EPSCoR for the continued use of the students as they further their research during the school year as well as the UVI marine science department in appreciation of its close partnership with the program.
Students applied for a summer research opportunity through the Emerging Caribbean Scientist (ECS) program at UVI. After being interviewed, applicants were placed into programs based on their strengths and interests.
Anyone taking credits at UVI can apply for internships through ECS, and EPSCoR offers programs for community members to take part in assisting research taking place at the university.
VI-EPSCoR promotes multidisciplinary research and educational programs, such as the Internet of Things, to further develop the knowledge and resources of science and technology in the territory. People interested in being involved with the projects can send email to ndrayton@uvi.edu or call 340-693-1422 for the St. Thomas office or at 340-692-4003 for St. Croix.