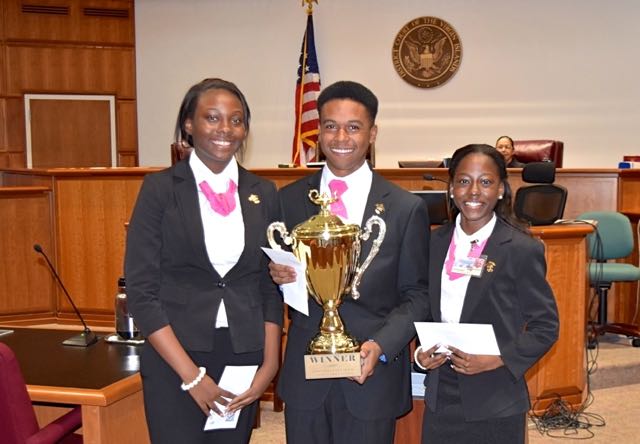 After a final day of oral arguments at the 22nd annual V.I. High School Moot Court Competition on Thursday, a team from St. Thomas's Ivanna Eudora Kean High School emerged as the winners.
The winning team, which made arguments on behalf of the appellants in a hypothetical V.I. Supreme Court case involving same sex marriage, consisted of Sherkquan Henry, Micaiah Bully and Harmonie Hanley.
The team was coached by teacher advisors Ilive Peltier and Kendra Vicars, and attorney advisors Amanda Warner, Gregory Adam Thorp, Carl Williams and Melanie Turnbull.
Henry also won the final round's Best Oralist award after stiff completion from St. Croix district winner Aliyah Allick of Good Hope Country Day School. Henry ended up taking the prize after besting Allick by just one point.
The appellant team from Good Hope Country Day School earned second place in the final round. Team members Allick, Yuryssa Lewis and Parisa Bradshaw were coached by teacher advisor Nancy Thatcher and attorney advisors Pamela Colon and Michael Rogers.
Third place was awarded to the appellee team from St. Croix Educational Complex High School, comprising Aaron Nickie, Shideya Parilla and Amani Christopher. The team was coached by teacher advisors Natasha Liburd, Florence Marsh and Norda Munoz, and attorney advisors Carole Grant and Akeel St. Jean.
Fourth place went to the appellant team from Charlotte Amalie High School of Rae'Niqua Victorine, K'Mari McClean and Asel Mustafa. The team was coached by teacher advisor Iambakisye Richardson and attorney advisors Douglas Sprotte and Alvincent Hutson II.
Eight schools participated in the competition this year with a total of 14 teams. The participating schools from St. Croix were Good Hope Country Day, St. Croix Central High, St. Croix Educational Complex High, St. Croix Seventh-day Adventist and St. Joseph Catholic High. The participating schools from St. Thomas were Charlotte Amalie High, Ivanna Eudora Kean High and St. Thomas Seventh-day Adventist School.
During the first two days of competition, each team presented its arguments to a three-judge panel comprising local attorneys who selected the top two teams from each district. On the final day of competition, the district winners presented their arguments before a panel comprising Justice Maria M. Cabret of the Supreme Court of the Virgin Islands, Magistrate Judge Jessica Gallivan of V.I. Superior Court and Magistrate Judge George W. Cannon of V.I. District Court.
This year students were presented with a challenging hypothetical case involving a legal action for declaratory relief brought by Virgin Islanders asserting that the right to marry is a fundamental right inherent in the liberty of the person and applicable to Virgin Islanders under the 14th Amendment to the U.S. Constitution.
Delegate to Congress Stacey Plaskett also delivered a keynote address to students Thursday, applauding them and the V.I. Bar Association for addressing important issues regarding the rights of residents of U.S. territories.
Margaret W. Brown, a recently retired courtroom deputy in V.I. District Court, was honored for her dedicated service to the moot court program.