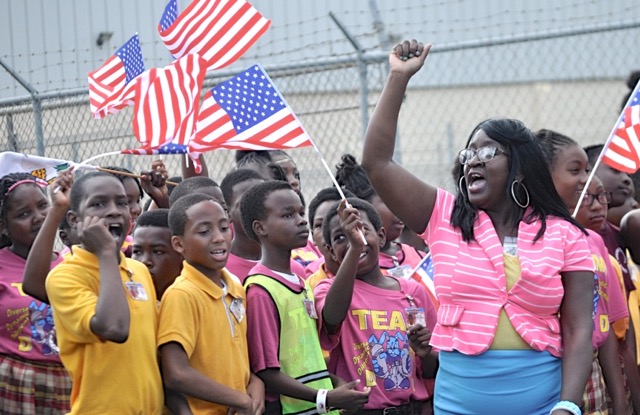 Students from Bertha C. Boschulte Middle School brought festivity to the Bovoni straightaway Tuesday morning as they marched in a parade in honor of the 110th birthday of Bertha Christine Boschulte, the V.I. "renaissance woman" for whom their school is named.
Boschulte, who passed away in 2004 at the age of 98, was a beloved educator, senator and cofounder of the V.I.'s Independent Citizens Movement political party. Many Virgin Islanders remember her as a pioneer for women in local government.
With help from the visiting Ivanna Eudora Kean High School marching band, BCB's students paraded to their campus from the Puma gas station waving U.S. and V.I. flags and colorful streamers. Some students were grouped by extracurricular activities such as cheerleading and "Book Tech Club."
Upon arrival at BCB's campus, students gathered for a brief ceremony during which they sang Happy Birthday in memory of Boschulte.
"If Bertha Boschulte were alive today, I know she would be proud of our school and all that our students accomplish," said BCB Principal Carver Farrow. Farrow said students from the school often visited Boschulte during the final years of her life to sing to her and tell her stories.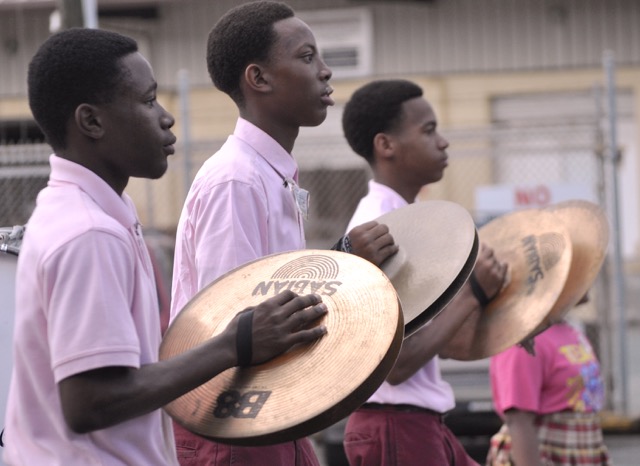 Speakers during the ceremony included historian and culture bearer Glenn "Kwabena" Davis, who gave a pep talk to students about "not taking the easy way" when it comes to education, and winner of the BCB school pageant Michi Smith, who delivered a biography of Boschulte.
BCB's popular school band, the Flambo Combo, also played a number before students filed off to attend the day's classes.