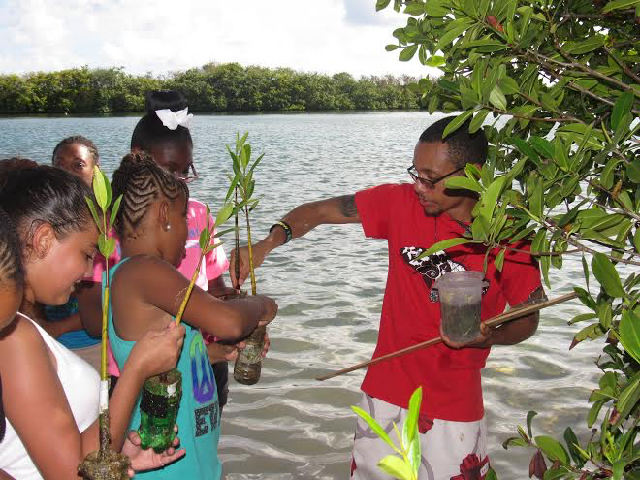 Who better to improve marine conditions by controlling land waste than students who live on an island?
That's a question Howard Forbes Jr. asked himself when he learned about the "Go Green and Think Blue" 2016 Students for Zero Waste Week, sponsored by the National Oceanic Atmospheric Administration. Forbes is the St. Thomas coordinator for the Virgin Islands Marine Advisory Service at the University of the Virgin Islands.
"I saw this notification on Facebook and I said, 'This is something UVI should be taking part in, so I signed us up.' " Forbes said.
He's enlisted students in the Ecology and the upper level Biology classes on the St. Thomas campus to participate. He also spread the word at Addelita Cancryn Junior High School, where he has volunteered with students in the past, promoting ecological awareness. Serah James, an eighth grade science teacher, is spearheading the project at Cancryn.
The NOAA campaign actually runs from March 21 through April 22; schools are asked to choose one week within that time to concentrate on reducing waste and raising awareness in their communities.
Forbes and James are still in the planning stages at their respective schools and haven't yet selected their week.
Although they haven't pinned down the "when" they have done some brainstorming on the "how," taking suggestions from NOAA and modifying them to fit their students.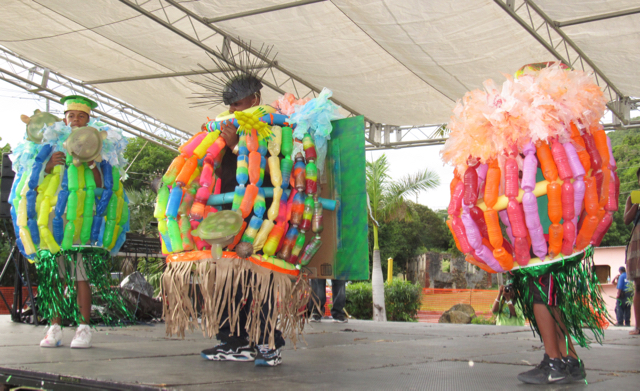 James listed several activities for seventh and eighth grade students, ranging from the academic to action-driven fun.
There will be a bulletin board on campus where students can post written pledges, promising to recycle, to reduce their use of disposal containers, to stop littering, or otherwise improve their own environmental friendliness, she said.
Students will be asked to conduct a home waste audit and also to keep an audit card, tracking types and quantities of trash on campus, James said.
She's also planning a trash-themed scavenger hunt, an art exhibit featuring works made from throw-aways, and a sorting contest in which students are timed at how fast they can separate trash items into recycle barrels. In an attempt to illustrate how animals, including marine life, are affected by man-made packaging, students will take part in a special doughnut-eating contest, eating the sweet from a paper bag, without using their hands.
At UVI, where the students are older, they'll determine their own activities. The fact that the Zero Waste campaign is student-driven is one of its most appealing features, Forbes said.
He's expecting students may do a waste audit in the school cafeteria, speak on the radio about the need to reduce waste, or write local government leaders about their concerns for reducing trash, or possibly make suggestions about managing the overstuffed Bovoni landfill.
"It's all up to the students," he said.
Forbes's interest in ecology has driven his education and his young career. A native of St. Croix, he graduated from the Educational Complex in 2006, then moved to St. Thomas to attend UVI where he earned a bachelor's degree in biology and a masters in Marine Environmental Science in 2014.
A home gardener, he's shared his tips for conserving water and raising healthy plants with Cancryrn students and encouraged them to be environmentally aware.