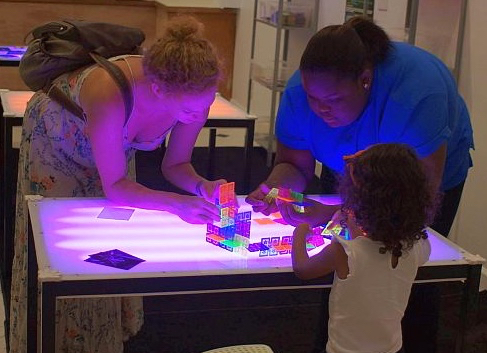 After approximately five months of construction – and almost three years in development – the V.I. Children's Museum opened Friday night to a packed crowd of parents ready to join their kids in exploring the new exhibits.
"The support we have received from the community has been the best part of the experience of building the V.I. Children's Museum," the museum's executive director, Sarah Hughes, said after the opening. "Our sponsors and volunteers made the project possible and we are so grateful for everything they have done."
Hughes called Friday's opening "a great success." Since the beginning of the project, she and partner Sarah Erikson have been holding fundraisers to support the building of the museum, and Friday the pair sold out of tickets, bringing in almost 300 guests. Tickets for the Friday event were $50 per person and $100 for a family of four, and the funds will be put back into the project as it moves forward.
"We had downtown restaurants participate in a culinary showcase of their dishes, there was live music and a special act, Flights of Fire, performed," Hughes said.
The museum is on the top floor of the Grand Galleria Hotel in Charlotte Amalie. After Friday, Sunday was the first official day that it was open to the public.
"We had so many families come to spend the day," Hughes said Sunday afternoon. "And we are thrilled to be open regularly starting to Tuesday. There is really something for everyone here, and I love seeing the joy on the children's faces as they explore and play."
The museum features a wide range of interactive exhibits for children, including a Terra Room, a Mission Mechanical room, an electronic cart section sponsored by BrisaMax Holdings, a dance room and a Music and Light Spectacular exhibit that features, among other things, light tables and a light up xylophone.
More information, including admission prices and hours, is online at http://www.vichildrensmuseum.org.
Related Link — Children's Museum Will Open in Charlotte Amalie Landmark in March
https://stthomassource.com/content/news/local-news/2015/11/15/childrens-museum-will-open-charlotte-amalie-landmark-march