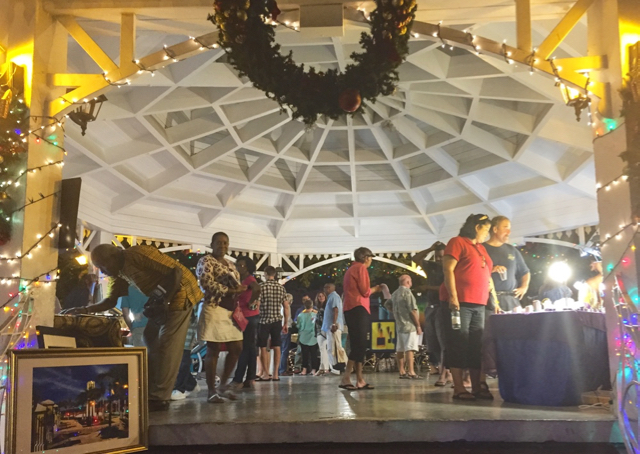 Downtown Revitalization Inc.'s first ever "Art on the Town" art walk provided a jolt to Charlotte Amalie's nightlife Friday, drawing crowds to the historic capital's galleries and exhibition spaces hours after most of Main Street's stores closed their doors for the evening.
DRI is an organization founded in 2010 with the goal of bringing about a "revitalized and energized town of Charlotte Amalie for the benefit of Virgin Islands residents and visitors alike."
One of the centerpieces of Friday's art walk was a marketplace for independent artists set up inside and around the Emancipation Park gazebo. In the glow of holiday lights, art lovers had the opportunity to buy gifts directly from some of St. Thomas's most prolific creatives.
Bill Johnson of the St. Thomas-St. John Woodworkers society displayed hand-turned vessels and bowls at the gazebo. Nearby, Augustine Holder exhibited a few of his paintings as well as a new product line of handmade bowties made from mahogany and madras cloth. He said he got the idea for wooden bowties after seeing them in New Orleans; he immediately wanted to put a V.I. twist on the idea.
"It's wearable. It's art. It's unique. It's for the cutting edge guy," Holder said.
Photographer Jared Shomo also had a striking display at the gazebo, a project called "Infrared Virgin Islands" he said he's been working on for the last four years. Created using a modified Canon camera, the project consists of a series of infrared photographs of the territory's landscapes and architecture.
Including the gazebo in Emancipation Park there were 13 stops on DRI's Friday night art walk. Attendees who visited all 13, and had their official event maps stamped, were rewarded with a gift from Gallery St. Thomas.
At Zora of St. Thomas's recently expanded art emporium were mainstays of the St. Thomas art world including Shansi Miller, featuring drawings by Diane Redfield Massie, batik paintings by Doreen Walsh, and ceramics by Jessica Rosenberg in Zora's Gallery Room. More art spilling out into the shop with works by Eunice Summer, John Chinnery, Madeline Meehan…plus rugs, Indian fabrics/clothing, jewelry, etc. And Zora's famous sandals and bags. Open 9-5 Mon-Sat.
Down the street at the Virgin Islands Council of the Arts building, a show curated by A.C. Burgess of Aubrey Artworks brought together photography, jewelry and stained glass by artists from St. Thomas, St. Croix and the mainland United States.
"A lot of this work is thematic," said Burgess. "We're talking about resilience, spirits, ancestors and strength."
As part of the show, titled "Holiday Ancestral offerings," Mabel Maduro was selling items she labeled as "a piece of V.I. history." These were fabric tote bags printed with one of her paintings of an iconic St. Thomas coal carrier woman.
On Garden Street at E's Garden Teahouse and Things, rising Crucian painter Lucien Downes had a solo show featuring his distinctive resin and raw pigment technique. Cherokee Lewis also had woven baskets and hats for sale at the teahouse.
At Gallery St. Thomas in Palm Passage owner Ruth Prager, who helped organize the art walk, said the night was an amazing success. Her only regret was that more Main Street shops had not been convinced to stay open to benefit from the event.
Prager's gallery was featuring jewelry made by local metalsmiths Monika Wendland and Elizabeth Pfordresher-LaPlace.
"They are two of the most successful artists in our gallery, so it seemed only natural to feature them," said Prager. "But we have about 30 different artists in here; David Hill, William Stoehr, Ronni Harris, Avelino Samuel, Aimee Trayser; we have some Antoine Chapon who is from St. Martin, Ahmed Alarefi, Trudi Gilliam who is from St. Croix."
The night was also an opportunity for local entrepreneurs to market their latest non-art-related projects. At the Camille Pissarro Gallery a new V.I. distilled vodka company, Arc Vodka, hosted a tasting.
"We source all of our ingredients from the Caribbean basin, that's actually where we derive our name from, from the Caribbean archipelago that we live in," said Griffin McFarlane, who founded the company with his brother Whitney. "We try to reflect flavors that are local and native to the Caribbean palate; lemongrass, ginger, bay leaf, cinnamon."
McFarlane said the distillery will be open on Dec. 18 for Miracle on Main Street so the public can take a closer look at Arc's "farm-to-bottle" process.
DRI wasn't the only organization hosting cultural events in Charlotte Amalie on Friday. Art walkers who strayed a bit beyond DRI's official event map might have found another exciting, but unaffiliated, event taking place in Frenchtown. At Frenchtown Deli, spoken word group The Rock Collective hosted critically acclaimed St. Thomian author Tiphanie Yanique at their open mike night. Yanique read from her new poetry book "Wife."
Also open Friday for the art walk were the V.I. School of Visual Arts and Careers, Natural Livity, The Pearl Lady, Bambini/Swane Art Space, Jonna White Gallery, Thomas Bay Stone Art Gallery, Just Imagine, La Belle Caribe and Okidanokh Goldcraft. The event also featured an after party at I. Levin Building on Storetvaer Gade sponsored by William Robinson.