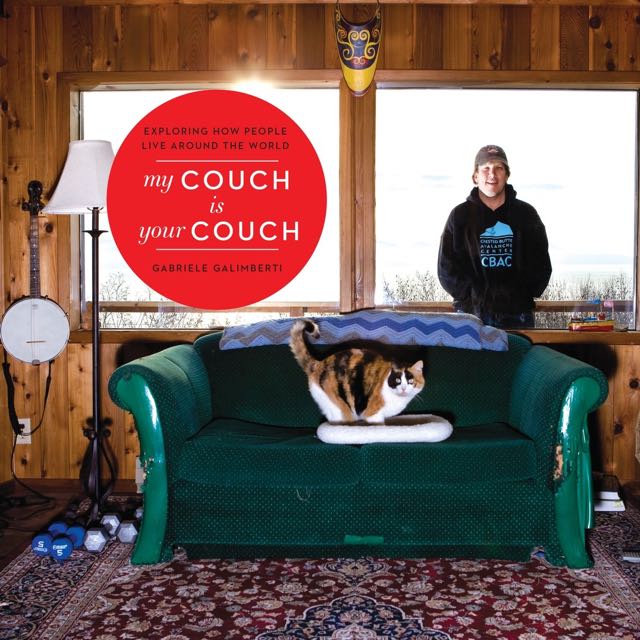 "My Couch is Your Couch: Exploring How People Live around the World" by Gabriele Galimberti
c.2015, Potter Style $22.50 176 pages
The extra chairs will never fit. Because of that, you're not sure where you'll squeeze 10 guests at a table that holds four. You could move the TV, but the bathroom door's in the way. Move the recliner to the bedroom, but that's a pain.
And yet, as you'll see in "My Couch is Your Couch" by Gabriele Galimberti, at least you have those things to move.
Five years ago, with wanderlust in his heart, Galimberti decided to travel. He'd been "thinking for a long time about using couchsurfing as a way to do so" when an Italian magazine asked to follow his journey.
"I was excited – and, at the same time, terrified," he says.
Couchsurfing, he explains, is a definite adventure. The good news: as a "basic rule," overnight accommodations are free. The catch is that you sleep on strangers' sofas, and you sometimes don't know where you'll spend the next night.
Galimberti, for instance, says he's slept in open-air lofts and he's spent his zzz's "in a private room in a princely villa" – spots chosen not for location or the look of a host's home, but on the people "who inspired me the most on a human level."
In Botswana, he stayed with a spiritual man whose "humble but dignified" home sported a satellite dish but no indoor plumbing. In Jakarta, Indonesia, he bunked with a journalist who reported on the terrorist events in her country, though "fortunately, not all serious."
A Mexican couchsurfer put Galimberti up in a neighborhood that was iffy; he stayed with an Ethiopian host in a 100-square-foot home; and in China, where language was an issue, he learned that cleanliness "required… courage."
Galimberti couchsurfed in Thailand at the home of a transgender woman and, later, with two gay men. In Germany, he stayed with a couple in their castle. Five minutes after he met his Chilean host, the host went to work; that was "blind trust," says Galimberti, but then again – "there was nothing there to steal."
In tropical Fiji, he stayed in a home made of metal sheeting with no AC, and in Colombia, he found love.
At first blush, it appears that "My Couch is Your Couch" is more of a travel book. Author Gabriele Galimberti went around the world for two years on a budget of some $45,000, and wrote about it. Yep: travel.
But I saw this lavishly illustrated treat in a different way: it's a book that will make you thankful.
There are a lot of have-nots in the world, and Galimberti, in both illustration and anecdote, introduce them in a dignified way – just as he presents the people who have enviable lifestyles. The former definitely struck me more than the latter, however, and I couldn't stop looking at those pictures.
And so yes, this is a travel book but there's something subtle in here that goes beyond globe-hopping, something you must see to understand. And if you need a reminder to be appreciative, reading "My Couch is Your Couch" definitely fits.
__
The Bookworm is Terri Schlichenmeyer. Terri has been reading since she was 3 years old and never goes anywhere without a book. Her self-syndicated book reviews appear in more than 260 newspapers.