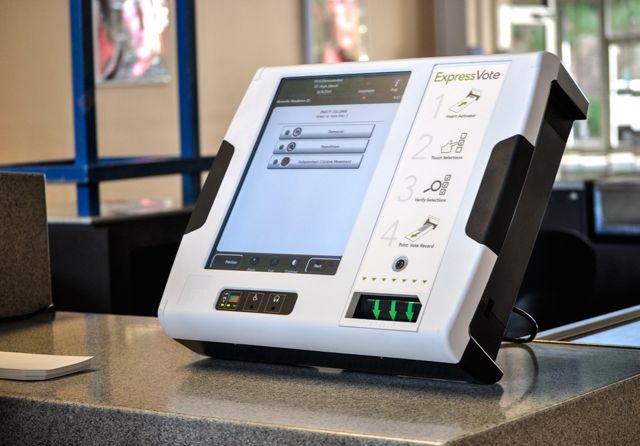 A new machine that voters will use to cast their ballots in the territory's next election will not only save the V.I. Board of Elections money on paper costs, but it will also reduce the chance of voting errors, said Willie Wesley Jr. of Omaha-based company Election Systems and Software.
"It's going to actually put the Virgin Islands on the cutting edge of technology," Wesley said. "If there's something out there more advanced than this, I want to see it."
Wesley, who has been working with Elections Supervisor Caroline Fawkes to overhaul the territory's voting technology, gave a demonstration of the new machine at Tutu Park Mall on Thursday evening.
The machine is called ExpressVote and is a touchscreen computer system that voters insert a blank ballot into before making selections.
The ExpressVote then prints barcodes on the ballot that can be read by an electronic tabulator.
The territory will continue to use the DS200 tabulators used in the 2014 election, which are also made by Elections Systems and Software.
One advantage of the ExpressVote is that it uses blank paper ballots. The Board of Elections will no longer spend money printing large color-ink ballots, which Wesley said can cost 75 cents per sheet. The unused ballots can also be used in future elections, since they are unmarked, rather than being shredded.
"ExpressVote is a very, very simple machine to use," said Wesley as he navigated the system's menus.
Three candidates appear on the screen at a time, but if a voter does not scroll through the options further, the machine will warn that they did not see all of the candidates. The machine also issues a warning if an individual overvotes or undervotes.
One of the machine's key features, explained Wesley, is that it gives voters multiple chances to review their ballots. It provides a chance for review once, prior to printing, and then a second time once the printed ballot is in hand.
Voters can insert the ballot back into the machine to check that their ballot is being read correctly, although if they want to make changes at that point they must get a new blank one.
Wesley said the Elections Board is still planning to keep some of the old paper ballots on hand for those who don't want to use the ExpressVote.
The machines have four to six hours of battery life in case of power outages.
Also attending the demonstration were St. Thomas Administrator Lawrence Boschulte, who also sits on the Board of Elections, and Elections' administrative assistant, Angel Bolques.