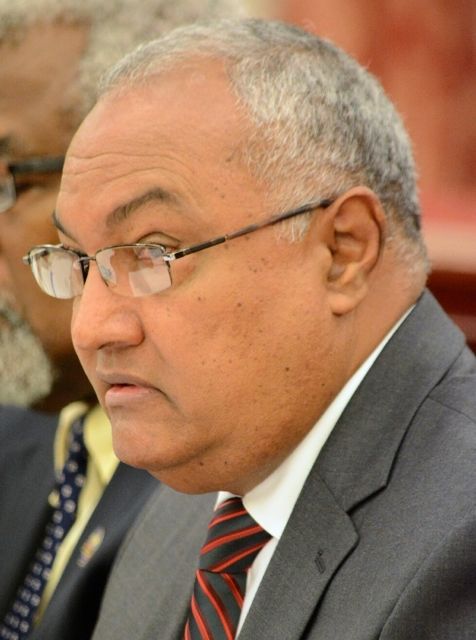 The V.I. Lottery is on track to just break even this year, thanks to slot machine-like "video lottery terminals," on St. Thomas, but it wants to keep more gambling revenues for its own operations, officials testified to the Finance Committee on Tuesday.
"We continue to hemorrhage monetarily due to the mandated transfers of funds dictated by legislative statutes, which is approximately $5 million annually," Lottery Executive Director Juan Figueroa told the committee. "We are now asking that you consider restructuring the set-aside requirements to be net of operating expenses. This would be a significant improvement over the existing requirement that applies it against our gross revenue," he said.
Figueroa took the reigns at V.I. Lottery earlier this year.
That $5 million is divided between an array of mandated government programs such as the Education Initiative Fund, Office of Veterans Affairs and the Government Employees' Retirement System's Retirees Bonus Fund, with a set percentage of revenues going to each.
Figueroa said the lottery has contributed "close to $1 million to the retirees bonus program" this year, sums that are traditionally divided up among the territory's roughly 10,000 retirees, at about $100 per retiree, as a kind of Christmas gift.
The V.I. Lottery has also contributed $1.5 million to a program to help seniors buy prescription drugs; $250,000 to the Horse Racing Commission, Agriculture Department and other organization for horse racing related efforts; and, "although it is not a requirement, we voluntarily provide $125,000 to the Office of Veterans Affairs" and $315,000 to community service programs, Figueroa said.
Total V.I. Lottery gambling revenues – from traditional lottery tickets, video lottery terminals on St. Thomas and a small amount of other fees – is projected at $19.35 million for Fiscal Year 2016, less than originally projected for FY15, but more than the $18.4 million in total revenue now projected for FY15.
The total revenues include $8.7 million from lottery ticket sales and $10.6 million from contractors, primarily Southland Gaming "video lottery" type slot machines and, to a lesser extent, Caribbean Lotto, he said.
Figueroa attributed the declining revenue mostly to a poor economy and competition from Puerto Rico lottery sales.
But despite the reduced revenues, the lottery will break even.
Figueroa said the total operating expenses for the FY16 budget is $14.7 million, $4.6 million less than its revenue. But "after accounting for mandatory transfers and other non-operating expenses, we are projecting a surplus of $28,434," he said.
While it's a thin profit margin, Figueroa said, that is an improvement over some recent years where the system saw a loss. It lost $21,812 for FY14, for example, and projects a loss of $153,874 for FY15, according to the Legislature's post audit.
Less recently, in the 1990s, the lottery had solid revenues, but lost substantial amounts.
A 2001 audit by the U.S. Interior Department's Inspector General found a lack of financial controls at the Lottery, as did subsequent audits in 2007, 2011 and 2013. (See Related Links below)
Figueroa said the traditional lottery is "operating at a deficit" but broke even because revenues are "augmented by the Caribbean Lotto and Southland Gaming revenues.
The 2013 audit, which was included with the Legislature's post audit report on the Lottery's budget, found problems with accounting for both the traditional lottery and the newer video terminals.
The audit alleges the V.I. Lottery "has continued to rely exclusively on the information provided by (Southland Gaming) in determining the revenues for the online games, with no assurance regarding the reliability of the system."
It also found a "significant deficiency" in the controls over the traditional lottery, due to "inadequate traditional game processes."
Several senators raised concerns over the ready availability of lotteries that are not legal in the USVI, such as Puerto Rico lottery tickets. Some suggested trying to license and tax Puerto Rico lottery sales.
Sen. Tregenza Roach asked, "What is the Virgin Islands Lottery doing to stop the illegal games?"
Figueroa said the V.I. Lottery "needs to partner with other entities in the professional gaming industry and the Virgin Islands Police Department to put an end to the illegal games."
Sen. Kurt Vialet asked, "Has anyone ever seen Virgin Islands Lottery tickets being sold in Puerto Rico?"
Figueroa answered no.
Vialet asked, "What is the Virgin Islands Lottery going to do to stop the sales of the Puerto Rico Lottery tickets in the territory?"
Figueroa said V.I. Lottery recently hired new enforcement officers and that the best thing to do is clamp down with enforcement, and if that does not work, to consider working with them and legalize it.
Roach asked, "Why haven't the sales of the Puerto Rico Lottery tickets been legalized already?"
Figueroa said, "We have to do an impact study to see how it will affect the territory economically and socially."
Sen. Clifford Graham, the Finance Committee chairman, said the sale of Puerto Rico Lottery tickets is a long-standing issue that must be resolved. "The revenues from those tickets don't benefit our government," Graham said.
"I will encourage the Virgin Islands Lottery to strategize on laws or recommendations that will allow us to enforce the illegal importation of the Puerto Rico Lottery tickets," he added.
No votes were taken at the budget oversight hearing.