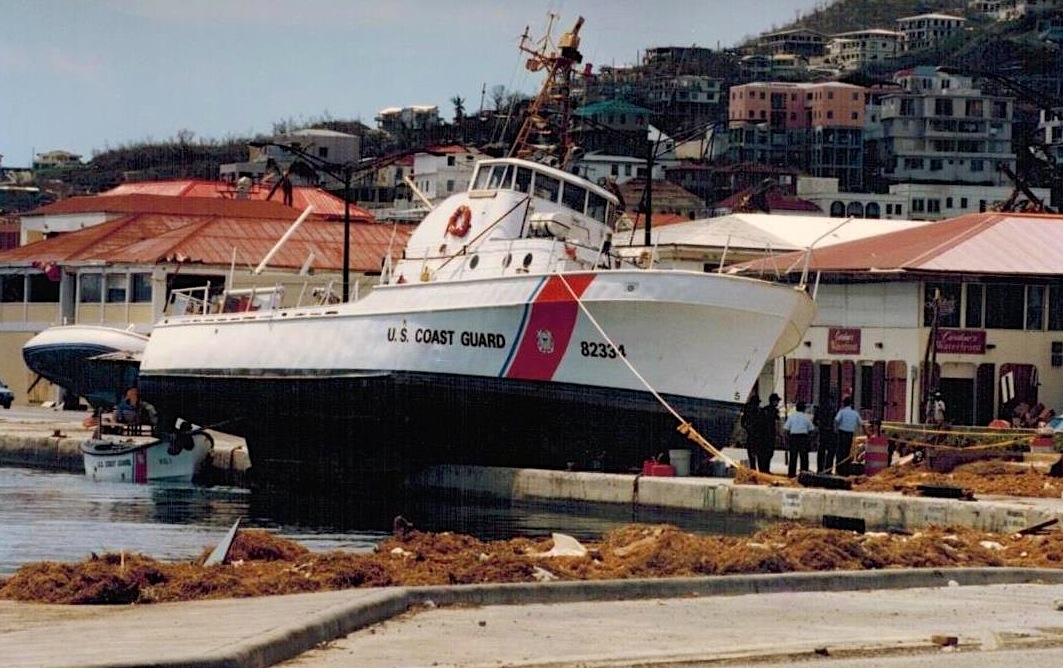 As we note the 20th anniversary of one the two most devastating hurricanes to shatter our homes and our lives over the last half century, we asked those Source writers who lived through Hurricane Marilyn on one of the U.S. Virgin Islands to remember and share what Marilyn's strike and aftermath was personally like for them.
Their stories are similar when it comes to recalling the time the wind picked up and in seeing the devastation. Yet each is very different and diverges as each person picks out this or that to home in on, some recollection that helps to encapsulate or emblemize the experience for themselves.
Bernetia Akin, author of the Source's Undercurrents series, remembers a Good Samaritan making life easier.
Bernetia Akin's story:
We had one set of friends who spent the bulk of the storm outside, in a recess of their home because it was the soundest part of the structure. The woman had had to do the same thing in Hurricane Hugo. Marilyn was too much – they moved stateside. Another couple we were close to spent the storm in their bathroom closet; neither of them were ever the same after that. There were hundreds of such tales.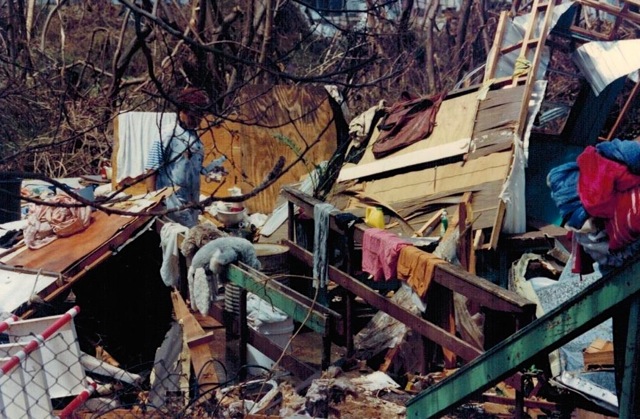 On a more positive note, I like to remember the sense of community that the hurricane emphasized. Marilyn was a great leveler in more than one way; with few exceptions, there was a general feeling that we were all in this together for all phases – preparing, surviving and then coping with the aftermath.
All line-based phone service was out for several days, and it came back gradually. Cell phones were no longer a novelty, but they still weren't quite in general use. As I recall there were two cell phone service providers on St. Thomas at the time. One of them went down in the storm. Add to that the difficulty in keeping one charged since there was almost no electricity. People were desperate to communicate with loved ones but they couldn't – not even between St. John and St. Croix, let alone down island or to the mainland.
Enter a Good Samaritan: I remember vividly waiting in line in the lobby of Frenchman's Reef for my turn with a guy who was relaying messages for people to their families off-island. Originally I think he let people talk but soon realized there were just too many people to do that. Instead he took names and numbers. He'd call your contact, tell him/her that you were okay and ask that person to let your other relatives/friends know that you were okay. It worked – although my mother-in-law was forever confused about just how someone in Idaho or Nebraska knew that Mic and I were all right in St. Thomas.
Getting that message gave me peace of mind.
It was a.m. radio that led in communications. Both WVWI and WSTA had small but courageous news crews that rode out the storm with their listeners. Unfortunately Marilyn knocked the former off the air and damaged it so badly that it was down for weeks. It was a blessing that WSTA was spared because Addie Ottley and his crew really held the islands together. We didn't have VITEMA alerts in those days. We had broadcasters relaying information from government officials to the general public, and letting people on one island tell their relatives on the other, "We're fine. God spare life" – or in some cases, send out a call for help.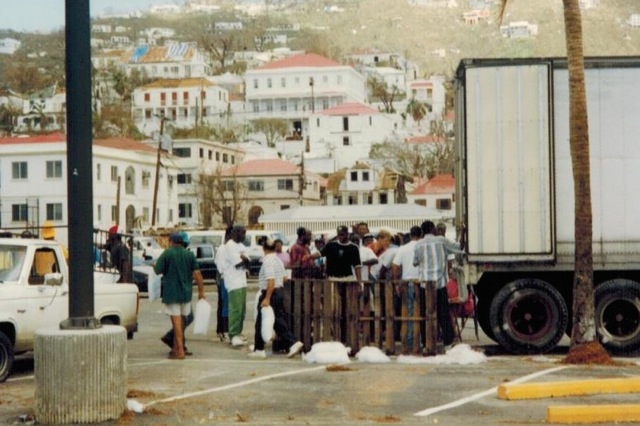 Akin, who has been a writer and journalist for a long time now, wrote about her experience at the time too. [Read her 1995 Hurricane Marilyn letter here.]
Source writer David Knight of St. Thomas recalls that Hurricane Marilyn was one of several storms that forced him to cancel a birthday as a child.
David Knight's story:
For any kid in the Caribbean, having a September birthday can feel like an unjust punishment. And 1995 was one of several years during my youth in which St. John's annual Hawksnest Beach birthday-bash for September babies was canceled due to a particularly busy storm season. On Sept. 12 of that year, on my ninth birthday, Marilyn began to organize in the Atlantic. After dodging a bullet from big and burly Hurricane Luis, whose winds peaked at 140 miles per hour, the appearance of this smaller storm system named Marilyn seemed almost a relief.
Hurricane Marilyn, of course, went on to destroy or heavily damage 80 percent of homes and business on St. Thomas. The red roofs of Charlotte Amalie would soon turn to a sea of rippling blue polyethylene tarps.
As with most events from childhood, Marilyn and its aftermath comes to me in fragments. My mother and I left our wooden home on Bordeaux Mountain, St. John, to spend the storm with neighbors who lived in a sturdier concrete house. The hours of the hurricane itself I can only recall as the furious sound of its 100-plus mph gusts drowning out the sound of our portable radio, and the taste of the dry cereal that I ate for dinner that evening straight from the box. I remember the eeriness of the silence from within Marilyn's eye. It was only then that we realized how directly we had been hit on St. Thomas and St. John.
I suspect its true for most of us that Marilyn's aftermath was more memorable than the storm itself. The devastation was incredible. My family, both on St. Thomas and St. John, was very lucky that our homes were not destroyed. Looking out across the hillsides in the days after the storm (the roads on St. John were blocked) I searched for friends' houses. Some were still standing. Others were piles of debris. Others seemed to be gone completely.
The recovery months seem now to belong to a different world, a different life. Meals Ready to Eat supplied by the National Guard, which we cooked in the sun, were novel at first. I liked the frankfurter meal. The tuna-noodle casserole I had to drown in the little bottle of Tabasco sauce that came with it in order to make it palatable. My grandmother in the States sent us a battery-powered cellular phone, the first one I remember seeing; I'm sure if I saw it now it would seem comically large. It worked – sort of.
Meanwhile, showers came from plastic jugs and buckets. We were careful to take precautions against mosquito-borne dengue fever, which a few neighbors contracted in the months after the storm. Often times we went to sleep as soon as it got dark; there was little else to do.
One thing I don't hear mentioned much when Marilyn's aftermath comes up in conversation is the presence of the tiny gnat-like bugs, indigenous to the coast of Africa, that apparently crossed the Atlantic with the storm. The swarms of them were so thick in parts of St. John that I remember my mother and I eating dinner with towels over our heads so they wouldn't fall into our food.
Perhaps what sticks with me most about those months is listening to Addie Ottley's radio broadcast every morning, the radio being our only source of entertainment and news. Each day Addie would proclaim, "Today is a little bit better than yesterday." And even if some days it didn't feel that way, that message was exactly what we all needed to hear. It is that optimistic phrase I recall most when I think of Hurricane Marilyn.
Molly Morris of St. Thomas was working at Hook Line and Sinker at the time.
Molly Morris's story: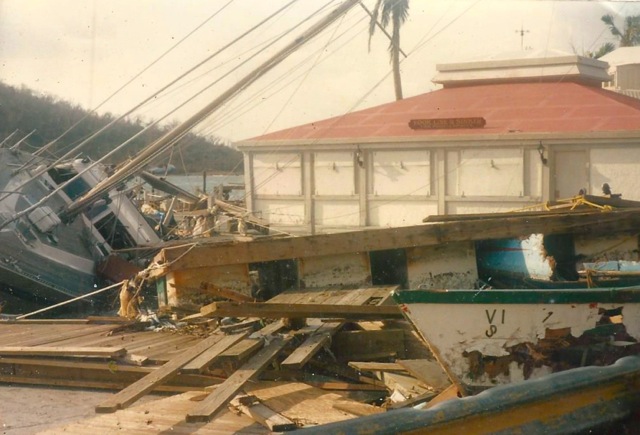 What still stands out in my memory is looking past our giant sea grape tree, which had blown over in the front yard in Frenchtown, in the spare, brown hillside. Not a green leaf to be seen on a site so familiar to me, that same hillside, dotted with unfamiliar structures now revealed in their naked semi-destroyed state.
In the middle of the night, amidst the howling winds, we heard and felt an awful crash, which turned out to be a small benevolence. It was our sea grape tree, which protected our front door, standing guard during the night. It still grows merrily along on its side, 20 years later.
I was working at Hook, Line and Sinker at the time. A 55-foot sailboat wound up on the dock on the side of the restaurant where it remained until Christmas.
The restaurant wasn't horribly damaged. Owner Ted Luscz recalls that we began serving six or seven days after the storm when Deborah and Paul Quade of GripFlix films on Water Island brought a generator.
HLS was one of the few restaurants on the island able to serve food, and it became the meeting place for swapping storm stories and passing on essential information from FEMA and other agencies. In fact, the FEMA inspectors hung out there. We helped them decipher the peculiar Frenchtown addresses, which bear no relation to reason – Estate 81 following Estate 5, for instance.
I also remember driving down Veterans Drive as federal agents in black, Kevlar vests and holding big, black guns chased looters running in to the jewelry shops.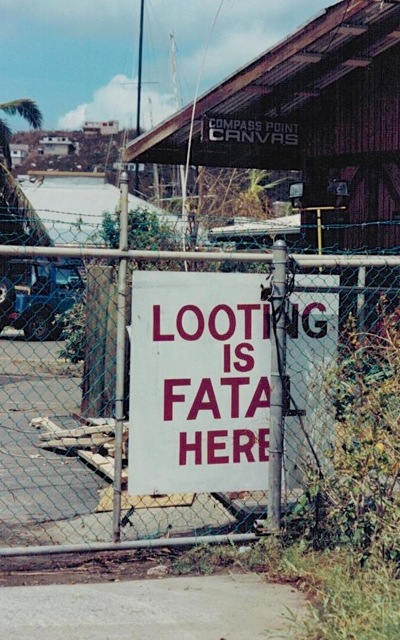 Susan Ellis of St. Croix saw damage to the big island, saying power came back two months later, around Thanksgiving, but remembers being shocked at how much worse it was on St. Thomas.
Susan Ellis's story:
Just two weeks before Marilyn was Hurricane Luis, a category five storm as it approached St. Croix and our first storm experience since moving to St. Croix.
As the storm approached, our windows were still crisscrossed with duct tape, but we were less concerned since the last storm didn't cause much damage. In preparation for Luis, we tied artwork and valuable possessions to the beds with bungee cords in case the storm surge reached us from a block away. Since Marylyn was only a category one when the power went out, we felt safe.
While the storm raged through the night, my husband slept and I cowered in the bathroom with our chocolate lab. The 80-pound dog tried to squeeze behind the toilet while I sat on the floor and plugged my ears. The sound of the wind was terrifying – like someone pounding on a church organ at full volume. Metallic screeching sounds that punctuated the wind turned out to be the roof being stripped from the house next door.
In the morning, we ventured outdoors and discovered all the leaves had been stripped from the trees and a large flamboyant tree covered the driveway. Pieces of galvanized roofing lay scattered around the area. Two neighbors who hid in their car during the worst of the storm were climbing into their house from the roof that had been had been in tact the day before. Another neighbor was looking for his cat that disappeared. They found it alive a few days later; the poor animal was traumatized and couldn't stand the sound of the least breeze.
The first time I saw St. Thomas I was stunned at the destruction – rubble and appliances still littered the hillside weeks later.
I accompanied the director of Lutheran Social Services to see about the residents of Ginger Thomas – a home for developmentally disabled adults who huddled in the bathroom throughout the storm – wheelchairs and all. The facility was completely destroyed and the clients and staff were move to St. Croix.
Since the LSS administrative offices in Frederiksted were without power, the staff moved into Queen Louise Home for Children along with the residents of Ginger Thomas. The staff moved back into the office after a few weeks, but most of the residents and some staff remained on St. Croix after a new facility was built.
On Thanksgiving Day, power was restored to our neighborhood, but before then, we learned to appreciate small luxuries like ice and a generator powered fan and lamp for an hour each night thanks to a generous neighbor.
We also learned to appreciate the various ways of preparing Spam, thanks to the cook at Queen Louise Home.
Source founder Shaun Pennington remembers being weary with preparing for storms and wanting to skip preparing again.
Shaun Pennington's story:
I had always been cavalier about storms. I had been through Klaus alone in my mother's condo on the East End in 1984. Some boats got beached and the power was out for a few days. Not that impressive, really.
By September 1995, we had already been through Luis and had a half dozen storm warnings that season. We were exhausted and inclined to ignore Marilyn, since super storm Luis had amounted to almost nothing in the U.S. Virgin Islands.
We dutifully brought in the plants from the gallery and battened down the hatches expecting to sleep through it.
One of our cats could not be convinced to come inside before we turned off the lights that night. We weren't particularly worried.
By 2 a.m. the wind was howling in a way I will never forget. It is amazing that we heard the yowl of cat Chi above it. We got her in only to have Magic bolt out when we opened the door. Now I was worried. (He found a hiding place and showed up the next morning wetter than anyone could imagine a cat could be.)
We took refuge in the bathroom with the two dogs and Chi as things crashed, screeched and banged around us. I couldn't imagine it getting worse. And then it did.
Something crashed very close to where we were huddled in the shower.
My husband, a wise man, put on the hard hat he had brought into the bathroom with him and gingerly made his way out of our haven.
A two-by-four from a neighbor's trash pile had pierced our roof, severing a beam in our ceiling. With hammer in hand my husband climbed up on a step stool, hammered the errant two-by-four to the two pieces of broken beam before the wind could lift the roof off and carry it away.
We hunkered down through the rest of the night in silence, praying for morning.
But when it came, there was little relief. Looking out over the devastation brought me to my knees. I was off-island when Hugo struck. People had described the scene they met after that super storm as what the aftermath of a nuclear war must look like. That was accurate.
Thank God for Mother Nature. She did repair herself. We can only hope we never face such devastation again.