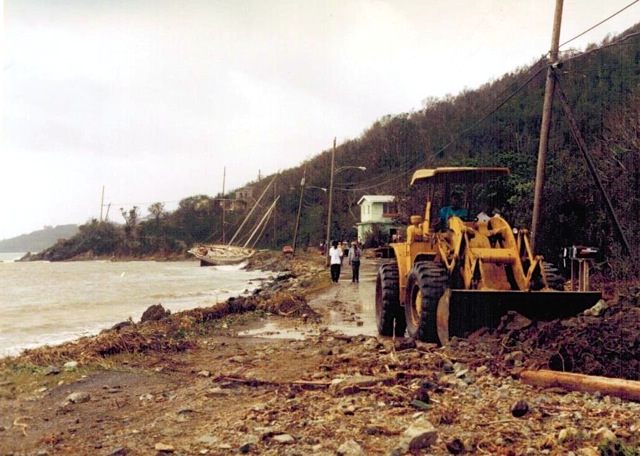 When Hurricane Marilyn swept through on Sept. 15 and 16, 1995, it left behind a path of death and destruction.
Except for one 107-year-old woman who died of natural causes in a St. Croix shelter, all the other seven deaths were boaters who opted to stay aboard during the hurricane. One hailed from St. Croix, one from St. John and the rest from St. Thomas. All but one drowned, and that person died of head trauma.
Except for a 48-year-old woman boater on St. John, whose body was found in the Coral Bay mangroves, all their bodies washed up on shore. The others were all men in 40s, 50s and 60s. Other boaters were missing and their bodies never recovered.
The National Hurricane Center's official report shows that Marilyn hit St. Croix first with winds of 98 mph. The eye passed over St. Croix, but the strongest winds passed just off shore. The eastern and northeastern eye-wall of the strengthening hurricane blasted St. Thomas with winds close to 109 mph and gusts above 128 mph. Ten inches of rain fell.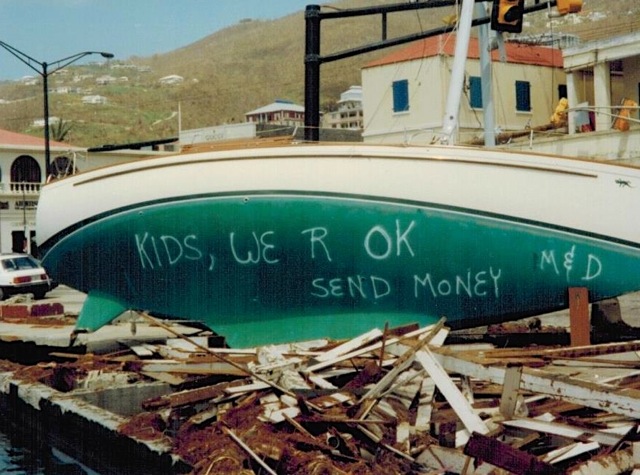 On St. Thomas, an estimated 80 percent of homes and businesses were destroyed and at least 10,000 people were left homeless. On St. John, 30 percent of the homes were destroyed and 60 percent were roofless. On both St. Thomas and St. John, shorelines were littered with boats.
On St. Croix, which had suffered the most when Hurricane Hugo hit on Sept. 17 and 18, 1989, about 20 to 30 percent of homes on St. Croix received damage.
The V.I. Bureau of Economic Development estimated the economic loss at $3 billion. The Federal Emergency Management Agency said it spent $1 billion on programs in the Virgin Islands.
The official figures don't tell the bigger story. Residents were already hurricane weary when Marilyn hit. They had barely recovered from the havoc caused by Hugo six years before. The less destructive but still problematic Hurricane Luis had visited just nine days before Marilyn. And in late August, Tropical Storm Iris brushed the territory with heavy rains and gusty winds.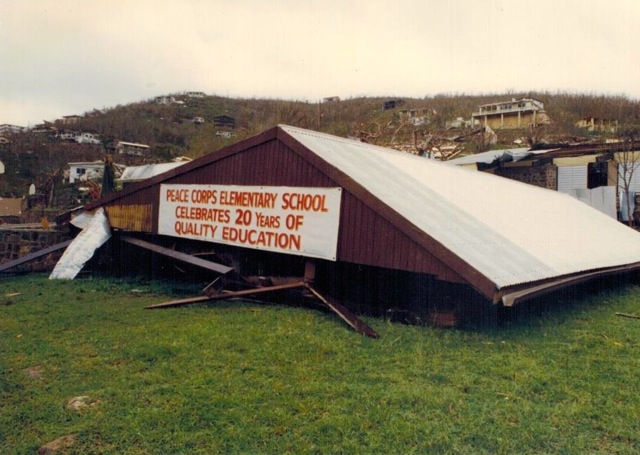 Marilyn, however, was another story. Forecasters predicted a small storm doing moderate damage. Instead, the storm strengthened as it made its way across open waters, plowing into the territory with a devastating force.
It was tough living through the storm. Winds howled, roofs ripped off, buildings collapsed, trees flew through the air to pierce vulnerable walls, residents took shelter under mattresses, and those who could, remained glued to the airwaves as they sat in the dark because the electricity had gone off.
The radio was the link to the rest of the Virgin Islands, but radio station WSTA on St. Thomas went silent at 11:30 p.m. on Sept. 15, returning to the airwaves at 3 p.m. the next day.
At daylight on Sept. 16, residents emerged from their homes to scenes of utter devastation, particularly on hardest hit St. Thomas. Trees were bare of their leaves. The Grand Union supermarket, located in Lockhart Plaza, collapsed and looters made off with what was salvageable. Looters did the same at Charlotte Amalie shops. Hotel guests were stranded for days before they could be evacuated. And most shockingly, the U.S. Coast Guard cutter Point Ledge had washed up on the Charlotte Amalie waterfront.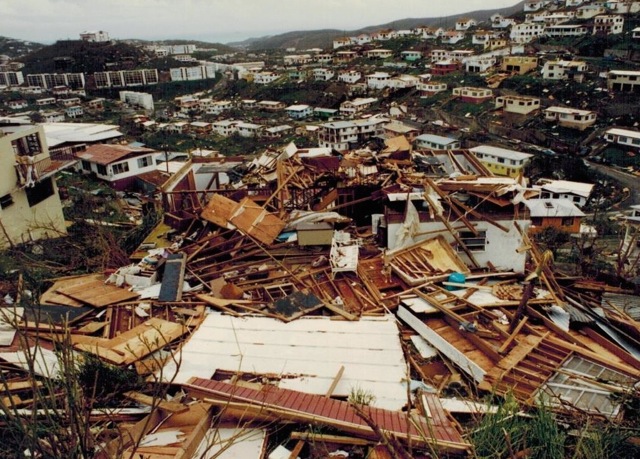 In the hours following the storm, St. John was cut off from its St. Thomas lifeline, and injured residents were taken by barge to St. Thomas. One who was trapped for hours under a collapsed Fish Bay house was airlifted by helicopter to Puerto Rico.
Communication was also out between St. Thomas and St. Croix.
In the long months that followed, residents stood in lengthy lines for ice to keep their food from rotting, for gas to keep their generators going, for emergency food and water distributions, for limited cash at banks, to buy cell phones since they were still a rarity and most land-line phone service was out, and for those ubiquitous blue FEMA tarps needed to cover missing roofs.
Many spent weeks in shelters because their homes were destroyed. St. Thomas Hospital set up shop in tents in the parking lot.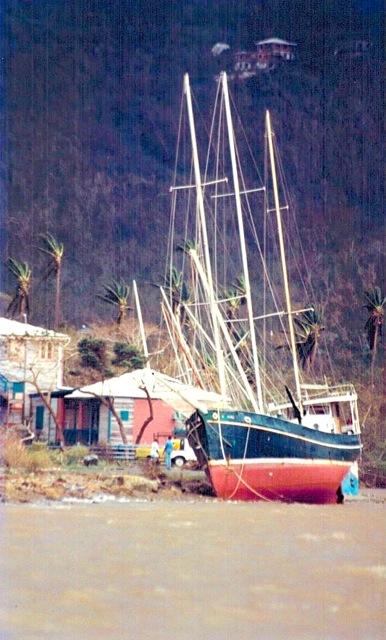 Students were left with nothing to do because schools closed. They began reopening in October, with those on St. Thomas accepting students later than St. Croix.
Many residents, particularly those who worked in the tourism industry, lost their jobs because there were no tourists.
And residents stayed home because the islands were under a curfew.
The months passed and life slowly got back to normal. However, the remnants of Marilyn remain in the occasional building still roofless 20 years later and in the hearts and minds of residents who survived those darkest days.