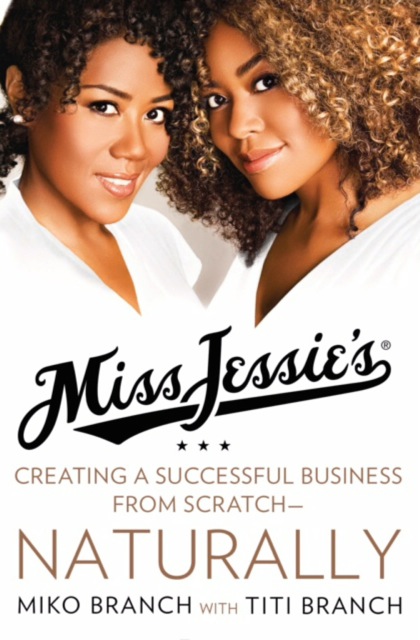 "Miss Jessie's: Creating a Successful Business from Scratch – Naturally" by Miko Branch
c.2015, Atria $24.99 256 pages
Starting a business is not for the faint of heart. It takes brains and guts enough to step out of a comfort zone. It requires going against the grain, letting go of pride and a dash of innocence.
Starting a business is the worst, most difficult, wonderful, magnificent thing you'll ever do – but as in the new book "Miss Jessie's" by Miko Branch, sometimes it's also quite hair-raising.
Jessie Mae Pittman was born in 1919 to a sharecropper family in North Carolina and grew up hating fieldwork. To avoid picking cotton, she taught herself to cook and later became renowned for her skills. That independent self-sufficiency impressed her granddaughters; Miko Branch and her sister, Titi, were raised knowing that they'd someday be businesswomen.
Throughout their childhood, the Branch sisters learned and dreamed. They also toiled long hours with their father at various family businesses, which was work they did for free. That eventually taught Branch the value of her labor and gave her a sense of what owning her own business might entail.
When it was time to enroll in college, Branch decided on a career in fashion but her schooling taught her what she didn't want. Upon graduating from Fashion Institute of Technology, she'd realized that she needed to work with hair; specifically, she wanted to work in a high-end salon that catered to a certain kind of clientele.
"There is a long, rich… complex history surrounding African-American women's hair that ties to … self-image," Branch says. As a woman with curls, she knew she could make a better product than what was available. She experimented with gels, crèmes and technique before she and her sister opened a salon that ultimately grew into a full-fledged, hip and trendy mini-empire with products named after their grandmother.
But like many fledgling entrepreneurs, the sisters made mistakes – one of which led to a split, lawyers and a months-long parting that hurt Branch in more ways than one. It took two years, two moves and too much money to fix what broke.
Business book or memoir? Though it may appear more the latter, the answer is that "Miss Jessie's" is both.
Sometimes, of course, the story of a business is the story of its creators, and author Miko Branch takes her readers back nearly 100 years to see where the very roots of her company began. That's a very interesting tale but if it's not what you read a business book for, well, Branch has that part covered too.
She subtly includes business advice for entrepreneurs in nearly each chapter and a nicely succinct epilogue as a final takeaway. That serves to entertain and inform readers on one hand, while steadily encouraging entrepreneurship on the other.
Though I thought there was a bit too much repetition here, I did enjoy this by-the-bootstraps story of a growing company, and I think you will too – especially if you're up for the unique format of it.
Still, business book or memoir, "Miss Jessie's" is something you won't mind curling up with.
__
The Bookworm is Terri Schlichenmeyer. Terri has been reading since she was 3 years old and never goes anywhere without a book. She lives on a hill in Wisconsin with two dogs and 12,000 books. Her self-syndicated book reviews appear in more than 260 newspapers.