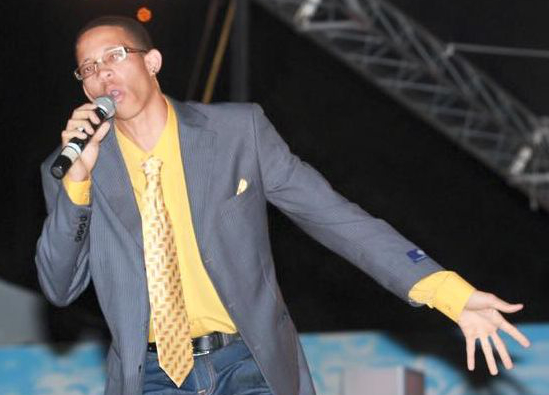 After years spent lighting up the Junior Calypso stage, Jalen "King YellowMan" Fredericks proved his mettle with the big men Saturday night as he swooped in to beat out a field of nine seasoned contestants and take the 2015 Calypso Competition crown.
The annual Calypso Competition usually gives residents a musical breakdown of some of the tough issues facing the territory and Fredericks moved through the first round Saturday with the "No More Party Song," which asked local leaders to get to work fixing troubled areas such as education and crime instead of spending tax dollars on swearing in ceremonies.
"There's a problem in education, our test scores almost last in the land, the children can't pass the basics, where's the funds and resources," Fredericks sang. "How can we know the road to success, if our roads are in a great mess, country running good they saying, but every day we keep complaining."
The song continued to reference everything from the "broken down" Charles Wesley Turnbull Regional Library to former Attorney General Vincent Frazer's domestic violence arrest, with Frederick's saying that there are "no more parties" for him until the problems are solved.
Fredericks flipped the switch in round two with a song entitled "Tonight," which urged residents to forget about their troubles – including V.I. Water and Power Authority blackouts, rising gas prices and an increase in gun crimes – by enjoying the Carnival season.
"Tonight, tonight leh we party, leh we feel irie, forget your troubles, let's be happy, it's Carnival here, Rock City," he sang. "Everywhere that I go, can't take it no more, they're complaining here and there, so much problems everywhere. But forget your troubles and let's dance, this is your only chance, so come sing this sweet simple melody."
Many of this year's calypsonians also focused on what the new administration could bring to the table, while also sending clear messages to the new governor and lieutenant governor to "build a better Virgin Islands."
Competition veteran Mighty Pat, second runner up this year, got the crowd at Lionel Roberts Stadium rocking with a song entitled "Potter and I," which was meant to remind Gov. Kenneth Mapp and Lt. Gov. Osbert Potter about some of the promises they made on the campaign trail.
Speaking as if he were Mapp, the Mighty Pat referenced many of the new governor's 2014 campaign speeches when singing about helping local children, the needy and small businesses in the territory
"After I get in office and assess the damage ahead, Lord I say the Virgin Islands is dead," Pat sang. "But as your governor and lieutenant governor, we got to stand firm and face the challenge ahead. Potter and I, we have decided we can work together as one, Potter and I, we have decided we can build a better Virgin Islands. How? Help the children. How? Help the needy, help the small businesses in the territory. Help the bums in the street, poverty and crime we can defeat, if we can come together, work together as one, we know we can build the Virgin Islands."
First-time competitor Temisha "Caribbean Queen" Libert took first runner up this year, knocking out the judges in the first round with a song entitled "Calypso Licks." Coming on stage in a pink and black boxing robe, Libert sang about the need for women to return to the calypso spotlight.
"I want them old man to know, they can terminate calypso, it's time that they retire, right now I come to take over," she sang. "They going down, I coming to wear the crown, 'cause right now it's about woman, it's time for woman to take the crown."
Other competitors this year included veterans Cedric "King Spade" Brooks (the reigning Crucian Calypso Monarch,) Jacqueline "Singing Jackie" Leader, Myrel "Super T" Tonge and Campbell "King Kan" Barnes.