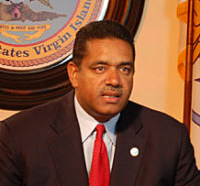 A little over four months after completing his second term in office, former Gov. John deJongh Jr. announced Saturday that he had paid to the Government of the Virgin Islands the sum of $202,831.60 for the security measures that remain at his home after he completed his term.
In the statement issued Saturday, he also warned that the circumstances that led to partisan controversy over his living and security arrangements existed for previous governors, exist for current Gov. Kenneth Mapp, and will continue to be a problem until a political solution is found.
DeJongh was the seventh elected governor of the territory from Jan. 1 2007, through Jan. 5, 2015.
Early in his administration, deJongh vowed that he would not benefit from any of the security measures installed by the government on his private property after he left office. In Saturday's statement, he recounted how the decision to install the security measures was arrived at.
"I was advised that to renovate Estate Catharineberg for a family would require well over a year of construction at an estimated cost in excess of $1.5 million … I also was informed that the estimated annual housing expenses to be incurred at Catharineberg would be $80,000 per year, which over the course of my eight year tenure .. would have cost upwards of $640,000," he said. "Simply put, the costs associated with moving my family into Catharineberg would have meant an expenditure in excess of $2.1 million of taxpayer money. I did not consider the cost for such major renovations to the property, or the additional annual costs associated to be appropriate. And so I decided to remain at my personal residence."
DeJongh said as he approached the end of his second term, the Department of Property and Procurement got appraisals for the value of the security installation done on his property.
"The amount reimbursed was based on the averaging of the appraised values presented by three independent, licensed appraisers commissioned by the Department of Property and Procurement," deJongh said, adding that he had no say in selecting any of the appraisers.
The value of the security measures was determined to be $222,631.60, the amount deJongh paid the government of the Virgin Islands.
The amount represents the fair market value of the security measures that remain at his home, reduced by the cost of removing a now no-longer required guard house from the property. The cost to remove the guard house was provided by an estimate from the Department of Public Works.
But just because he has paid for the security installations, the problem is not going away, he said. The same housing dilemma that confronted his family eight years ago also challenged his predecessors as well as the current governor, he said.
"This will also confront future governors unless a solution is attained through the political process," he said. "How and where the community decides it wishes to house and protect our governor is a matter of public policy. Whether to house the governor at a government-owned residence or have the decision made on a case-by-case basis following each election, the decision should not be a matter of partisan politics for anyone elected to serve as governor. I trust that the community will soon determine a housing policy for the future."