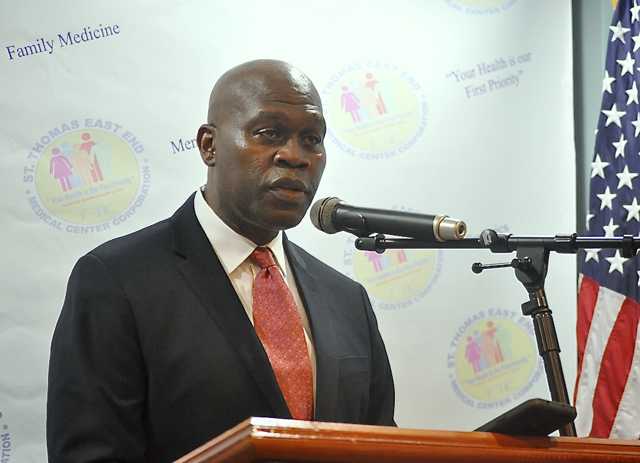 The St. Thomas East End Medical Center Corporationhas partnered with the University of the Virgin Islands to conduct research that aims to strengthen the health center's outreach and effectiveness, STEEMC Executive Director Moleto A. Smith Jr. announced at a Tuesday news conference.
STEEMCC, located in Tutu Park Mall, is one of two federally-qualified health centers in the territory. It's healthcare services are targeted primarily towards low-income, uninsured and underserved populations, particularly residents of East End, Tutu, Southside and St. John sub-districts.
Smith said that in 2014, STEEMCC received approximately 20,000 patient visits, up from slightly more than 4,000 visits five years ago. Many of these patients, he said, are school-age children.
STEEMCC was awarded a $200,000 grant from the U.S. Department of the Interior to conduct research on the needs of populations in the territory who are "uninsured, underinsured, or otherwise lack access to healthcare," Smith said.
"There hasn't really been a comprehensive needs assessment for healthcare [in the territory] in about 30 years," he said.
Smith said that research funded by the Department of Interior's Technical Assistance Program grant will be conducted by the Caribbean Exploratory Research Center, part of UVI's School or Nursing, and the Eastern Caribbean Center, UVI's primary survey and census-taking institute.
Noreen Michael, research director of CERC, said that the center will work under the leadership of Director Gloria B. Callwood and research coordinator Janis Valmond to organize focus groups and town hall meetings, and to conduct school-based surveys in the East End sub-district of St. Thomas. She said that home-visit surveys in the area's public housing communities will be conducted by the ECC.
Michael said the CERCS's comprehensive assessment will begin this month and will continue through September.
Archie Jennings, Virgin Islands president of the American Association of Retired Persons, said at Tuesday's news conference that AARP will also conduct research this month to collect information regarding the community's health service needs. He said the aim of AARP's research will be to determine the state of at-home care-giving in the territory.
"Not all care-givers are given the essential information or training they need to give the best care they can to their loved ones. To make matters worse, some of the care-giving needs are really medical or nursing tasks which they are not trained to perform, like management of complex medications." Jennings said.
Jennings said AARP hopes to identify the number of full-time care-givers in the Virgin Islands and determine what services would help relieve some of the burden that care-giving places on them and their families. He said the research will be conducted through phone surveys and will begin April 8.
At Tuesday's news conference, Smith also announced that STEEMCC has received a $564,000 Department of the Interior grant to increase the physical space it uses to provide its dentistry services.