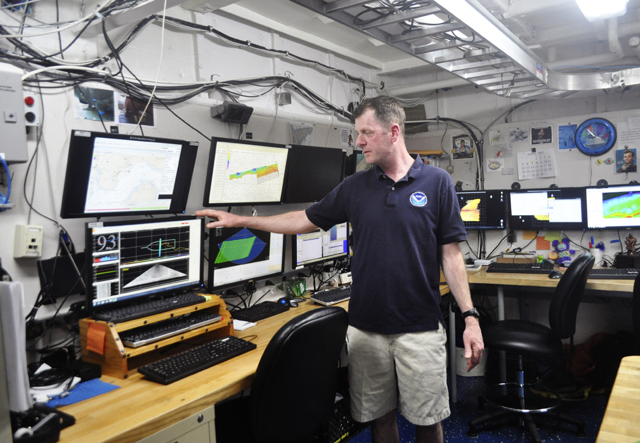 A host of new data for the study and management of the Virgin Islands' extensive marine resources will soon be available, thanks to scientists aboard the National Oceanic and Atmospheric Administration's ship Nancy Foster, which made its 12th annual visit to the territory this month.
NOAA is partnering with agencies, including the V.I. Department of Planning and Natural Resources and the National Park Service, to map previously unexplored areas of the territory's seafloor, both to the south of St. Croix and to the northwest of St. Thomas, using state-of-the-art equipment.
"We work very close with the islands' resource managers, the universities, the folks on the ground doing the science day to day," said oceanographer and lead researcher Tim Battista. "We offer a technological capability that just doesn't exist here, so we are able to bring that here, work closely with [local agencies], and pinpoint high priority locations that they need more information about."
Nancy Foster, a repurposed Navy torpedo test ship that NOAA began using for scientific expeditions in 2004, is equipped with several features that allow it to accurately map not only the geography of the seafloor, but also the distribution of marine life in areas important to both commerce and conservation, said Battista.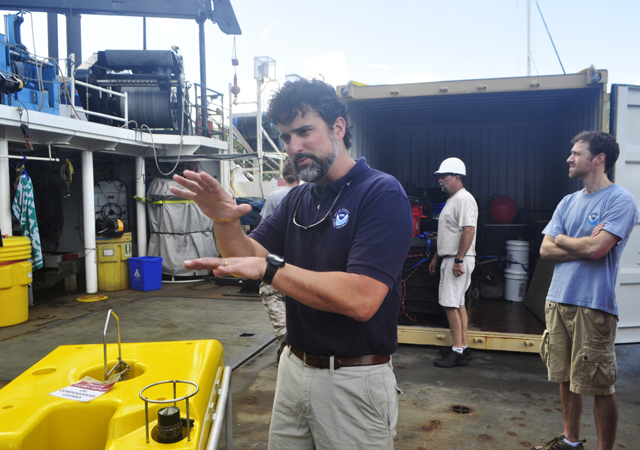 Battista and ecologist Chris Taylor, who both work for NOAA's National Centers for Coastal Ocean Science, explained that among the ships features are high-resolution sonar systems, acoustic and visual tools to measure fish distribution and density, and a remotely operated vehicle – called an ROV – that captures high quality video and images.
"We're collecting data at a very high resolution, providing amazing pictures of the ocean floor," Battista said.
"We're also remotely tracking an underwater glider, an autonomous vehicle that's been sailing by itself around the island of St. Croix. We get emails from it about every three hours," added Taylor.
Battista said that some of the "evolving" technology being used by the research team aboard Nancy Foster was developed by the U.S. Department of Defense, but it is now being used for oceanography. He said the data this technology allows them to to collect is useful to better understand marine ecosystems. It also allows them to measure the depth and physical properties of the sea floor around the coasts of the Virgin Islands at the same time, he said.
"One of NOAA's primary missions is, of course, nautical charts; safe navigation of commerce and transportation," said Battista. "We're collecting not only updates for nautical charts but simultaneously collecting information that supports marine ecosystem understanding. We're able to tackle both."
Battista said data collected by Nancy Foster over the course of its 12 years visiting the V.I. has contributed many insights into the islands' coastal habitats, but it would be difficult to use it to identify any long-term ecological trends. He explained that this is due to the fact that NOAA's missions often explore new sections of the territory's seafloor, rather than returning to previously visited areas to collect comparative data.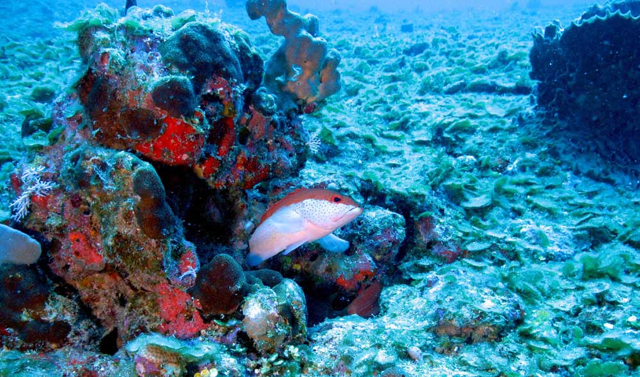 "There's been a well documented decline in coral reef habitat over time by many researchers working throughout the U.S. Caribbean," Battista said.
"Publications show about a 50 percent decline in reef habitat since the 1970s. We certainly see that in [NOAA's] diver-based activities. The difficulty with us on the ship is that we are only in one location at any given moment of time. It's really a snapshot," he said.
"Unfortunately, as you can imagine, we're seeing a lot of lionfish out there," said Taylor. "We did not see a great number of snapper and grouper species. Either we're not searching the right types of habitats for them or it's a sign of the decline of certain Caribbean reef fish."
Data collected during the NOAA's latest mission to the Virgin Islands will be utilized by entities including the University of the Virgin Islands, the Caribbean Fishery Management Council and DPNR.