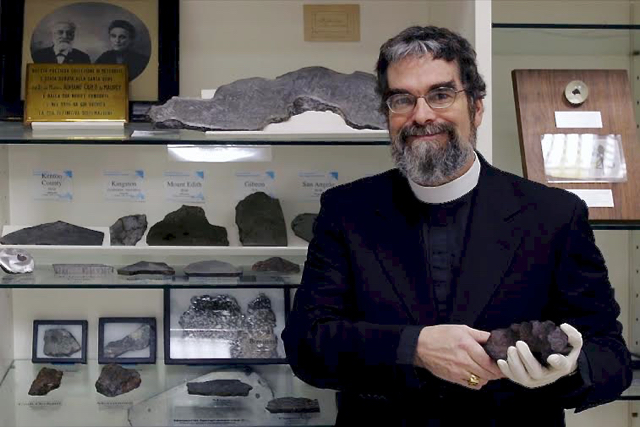 Like a meteorite hurling towards earth, gaining speed as it comes, science is on a collision course with religion. At least, that's one view. But what Brother Guy Consolmagno sees is more of a merger.
Both an acclaimed astronomer and a Catholic Jesuit brother, Consolmagno is a leader in preaching compatibility. He is also recognized for his ability to make cosmic concepts understandable to the general public.
He has edited or written six books, including "Turn Left at Orion," "The Way to the Dwelling of Light" and "God's Mechanics." He hosted a radio show on BBC entitled "A Brief History of the End of Everything" and is a frequent public lecturer. He is also both an active researcher and the spokesman for the Vatican Observatory which has a presence in Rome and in Arizona.
Last year, the American Astronomical Society awarded him the Carl Sagan Medal for his success in making planetary science accessible. The International Astronomical Union, the leading professional organization of astronomy in the world, has honored his work with meteorites and asteroids by naming one of the heavenly figures "asteroid 4597 Consolmagno."
Thursday night he will be on St. Thomas as this year's presenter for The Forum's ongoing lecture series. His topic title is "Are Asteroids Fluffy?"
A native of Detroit, Consolmagno earned his bachelor's and master's degrees at the Massachusetts Institute of Technology and his doctorate at the University of Arizona. He was a lecturer at MIT and Harvard before serving two years with the Peace Corps in Kenya, teaching physics and astronomy. A few years later, in 1991, he took vows to be a Jesuit brother and in 1993 he was assigned to the Vatican Observatory.
In an email interview with the Source, Consolmagno said his lecture will concentrate on science, adding, "I am first and foremost a scientist."
However, he readily acknowledged that he plays a dual role.
"Doing the science gives me the credibility to speak on science and religion issues. And also, simply by being a Jesuit and a scientist I can demonstrate that science and religion get along just fine!"
Last September, he took on additional duties as chief fundraiser for the Vatican Observatory Foundation and he said that work has taken him from Rome, where he used to spend most of his time, to the U.S.
"I am still keeping up with my scientific research however," he said. "I am mostly interested in the small bodies of the solar system – asteroids, comets, the bodies out beyond Neptune – and the meteorites in our collections here on Earth that have sampled those bodies in space.
"Our laboratory in Rome specializes in making measurements of meteorite physical properties, like density and thermal and magnetic properties. These data are essential for the scientists trying to interpret data about the asteroid themselves."
Following is more of the interview:
Q. What do you find so interesting about asteroids?
A. Asteroids are the building blocks of the solar system; we have to understand how these small bodies are put together before we can understand how the planets themselves were put together. Besides, I like to think of them as little places where someday astronauts may have adventures! Because they are relatively easy to get to — and get from, having little gravity of their own — it's clear to me that asteroids will be the first places of our solar system to be thoroughly explored by humans, even before Mars or the Moon. They also have a significant amount of mineral wealth!
Q. Why do you think people are drawn to the stars, or to astronomy? Why were you?
A. Wonder, delight, beauty – the stars help us keep our human worries in perspective, and remind us that we are part of a much grander universe. When we say, with the psalmist, that "the heavens proclaim the grandeur of God," we are also reminded the God who created the stars also created us, and also cares for us. And the stars are beautiful; this is something that all people and cultures and religions and nations can agree on!
Q. You made a series of broadcasts about how the universe will end. What's your own theory?
A. I have no pet theory. To me, all these theories are science fiction — we have no data from the future to test them! But that's not to say that it is wrong to make such theories. I love science fiction! It is a wonderful way of playing with the unknown, and thinking about possibilities. The important thing, though, is to keep straight what is the stuff we know, and what is the stuff of speculation. Both are fun; one shouldn't be confused for the other.
Q. Have you written any science fiction, or would you?
A. Not intentionally!
I have many friends who are science fiction writers. Their skills are very different from mine.
Q. A recent interview-based article on you in the Religion News Service says your main job now "is to ease the fears of fellow believers who worry that science undermines faith." Is that a fair assessment? And how do you do that?
A. Actually, my main job is doing science – and raising money to support the science we do with our telescope in Arizona. But the reason why the Church supports us in this work is precisely to encourage the faithful to embrace science and recall that, in the words of St. Paul, in his letter to the Romans, since the beginning of time, God has revealed himself in the things he has created.
There is a small group of noisy atheists who would have you believe that you have to be an atheist to be a scientist, or that science proves there is no God. That's what we're here to debunk.
The first idea is demonstrably false – the history of science, to this day, is filled with religious believers who were excellent scientists. (And atheists who were mediocre scientists.) There is no correlation between religious belief and the ability to do science.
The second idea is ridiculous to anyone who has studied philosophy. For one thing, science doesn't claim to prove anything – it's a description of the universe, nothing more. When you try to derive some theological point from the way science views the universe, you are doing theology, not science. And what they are doing is usually pretty naive, unsophisticated theology.
But worse than that, by trying to keep all religious believers from of the fun of doing science, these people are doing immeasurable damage to science – and hurting those of us who would love to engage God's universe through science.
Consolmagno's lecture will be at 7p.m. Thursday at Prior-Jollek Hall at Antilles School. Tickets are $20 for the general public, $10 for teachers and $5 for students. They are available at www.instantseats.com, Chelsea Drug Store, Frenchtown Deli, Interiors and Medicine Shoppe,and at the door.