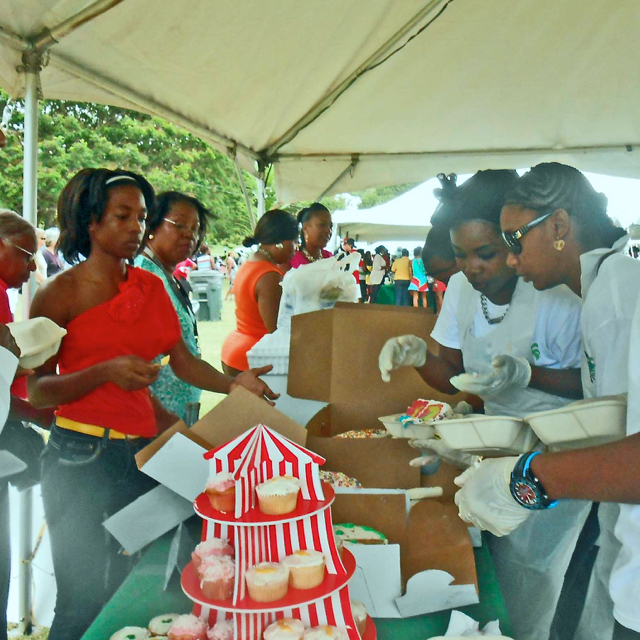 The University of the Virgin Islands' golf course was transformed as if by magic once again Sunday into the island's largest and likely most lively picnic as it hosted the annual celebration that this year was called "It's a Cultural Scene at Afternoon on the Green."
Actually, there was no alchemy involved; just lots of hard work and organizing to create the transformation of the Herman E. Moore Golf Course into an outdoor wonderland. The planning has preceded the event by months.
"The Afternoon on the Green is a one-of-a-kind fun event," said Liza Margolis, UVI senior coordinator of donor relations and special events. "There is nothing like it in the Virgin Islands and it changes every year."
And it does. It just gets better.
This year the campus was filled with what seemed like more energy than ever. Youngsters from the Upward Bound program in their T-shirts that "UB ask me" walked through the area answering questions. Upward Bound helps youngsters prepare for college, but Sunday the youngsters were helpful with directions and hints on what's good to eat.
Yes, the food, oh the food. And the food, oh, the food. If anyone went away hungry, shame on them.
That's what the afternoon's all about. Folks from around the island and a few catering companies prepare their best dishes, displayed under two huge tents. Tickets are $3 for a "taste," which is a very generous helping of everything from green papaya salad with shrimp to Puerto Rican roast pork, seafood kallaloo, and for the vegetarians in the crowd, sweet potato burgers with black beans and a tasty tofu dish.
This is to say nothing of the deserts.
Cheesecakes galore, loads of carrot cakes, a banana rum caramel cake and pretty little cupcakes. The cupcakes, which quickly drew a crowd, were made by Dorian Hairston, a Charlotte Amalie High School ninth grader. Where did he pick up such skill at his tender age? His sister, Briana, who couldn't be here this year, taught him, he admits. Briana has won several awards for her artfully presented baking.
Entertainment was provided by Cool Sessions, Flip Switch, Flambo Combo, the EBO Steel Owls, and the Mungo Niles Cultural Dancers.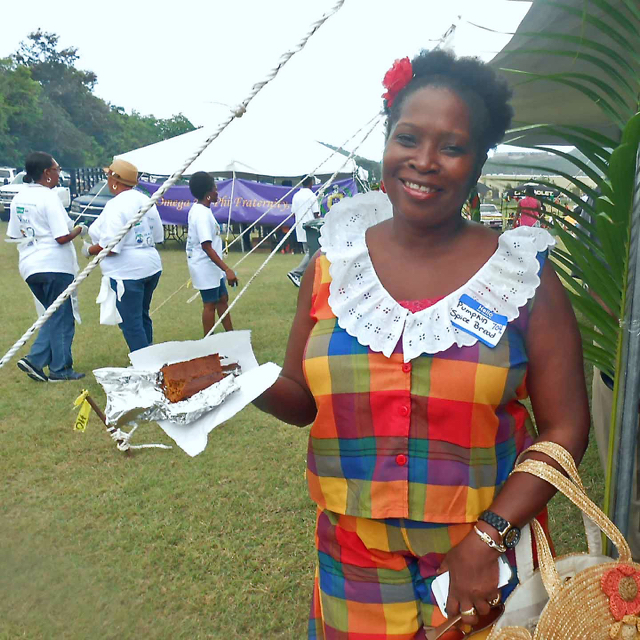 Vivian St. Juste, director of the Family Resource Center and one of the busiest ladies on the island, brought her pumpkin spice bread, over which she was preening.
"I put it in the oven about 10 this morning," St. Juste said, "in between returning some friends to the airport and picking up others."
Doreen Walsh was gobbling up the tofu primavera, which she said was wonderful, while Jill Anderson couldn't take her eyes off the bakery items, settling on a cheesecake (or two.)
Charleen and Doug Dick were chatting with singer and guitarist Patti DeRosa. She has been performing at Hull Bay Hideaway, and she's no stranger to the island.
"I've been visiting here for 25 years," she said, "and I love to come to this. It's always such fun."
Folks carried their tastes to the shade of the false Tamarind trees, and while munching away, compared notes while listening to the music, watching the dancing and just having a relaxed afternoon.
Not everybody was that relaxed though. Dancing their way through Flipswitch were Alana and Paul Davis and Megan Godfrey, while Rita Aguila belted out tune after tune. The entertainment just didn't quit. The Mungo Niles Cultural Dancers twirled their quadrille as everyone tapped their feet, the BCB Flambo Combo from Bertha C. Boschulte Junior High School and E. Benjamin Oliver elementary school's Steel Owls and the Cool Sessions Brass.
It looked like the whole island was at the picnic, from infants to older folks crowded around a particularly shady tree, while the kiddies had their own tent complete with balloons and face-painting.
Choice Communications provided voting through texting and will donate several prizes to the winners. The prizes will be announced later. However, news flash: St. Juste sent an email Sunday night saying her pumpkin spice bread won first place again.
"Three times entered, three times won – 2010, 2011 and 2015," she wrote.
The event is sponsored by West Indian Company Limited, First Bank, St. Thomas Federal Credit Union, the V.I. Housing Authority – Youth Build, V.I. Waste Management Authority, Thrive Chiropractic, Pro Solar, VI Auto Club, MSI, Merchants Bank, Paint Depot, the West Indies Company, Choice Communications, Seaborne Airlines and 104.3 The Buzz.