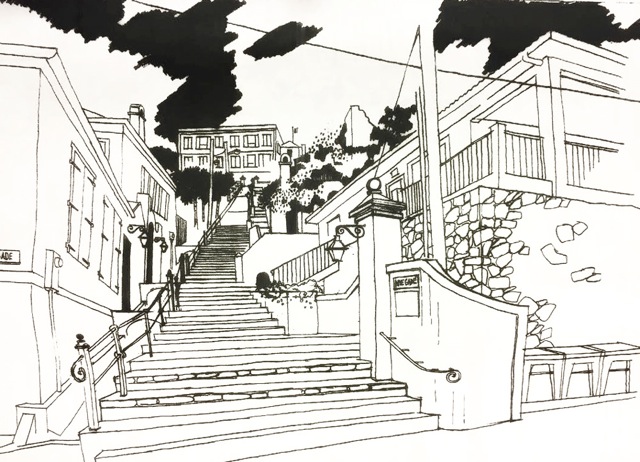 New designs for the renovation of Charlotte Amalie's historic Bred Gade step street were shared with members of the St. Thomas Historical Trust on Thursday at the organization's annual meeting at the Johansen House in Tutu. The designs, which the Trust says are period correct, were designed by local architect Jon Euwema.
Board member Malcolm Schweizer, who is currently in charge of the Trust's efforts to renovate Charlotte Amalie's neglected step streets, said that construction will soon begin on the entrance to Bred Gade at its intersection with Nye Gade. New conduits will be laid for lighting and existing ones will be buried to keep power lines from obstructing views. He said the entrance to the step street has already been excavated.
"We live in a place that has so much history that we almost can't even fathom it," said Schweizer, who owns a historic property on Crystal Gade. "And one of the things that we've overlooked is our historic step streets."
One aspect of Euwema's designs that was praised by Trust members is an alcove and visual barrier for trash cans at the bottom of the step street. Since Bred Gade remains residential it was important that trash disposal be accessible but not in a way that interfered with the historic character of the street.
Trust President Ronnie Lockhart said at Thursday's meeting that Charlotte Amalie has 45 historic step streets, which he explained were an adaption of Danish urban planning to the hilly landscape of St. Thomas. The Trust plans to complete a registry of all step streets, develop community outreach to involve citizens in their renovation, and raise funds to support their upkeep.
Schweizer said that community organizations and businesses will be encouraged to "adopt a step street" to further the renovation project. The Trust anticipates that the Bred Gade renovation alone will cost approximately $75,000.
Schweizer can be contacted for more information regarding the Step Street Project at 340-643-4248 or mmschweizer@vipowernet.net.