This is the second in a series of articles I intend to present that are my various impressions and awakenings that came from seven days spent in a country I knew almost nothing about before landing at its airport in February. These musings are not intended to represent anything other than that experience.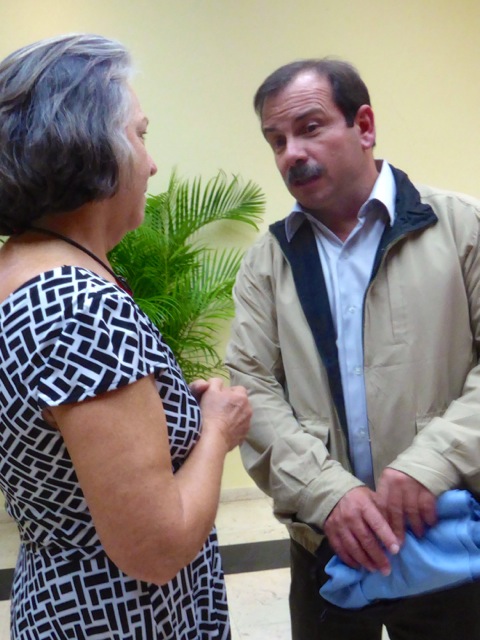 Full disclosure: One of the people we traveled with is author and Cuban and Latin American expert Peter Kornbluh, co-author of "Back Channel to Cuba." Peter, who went through volumes of declassified documents and interviewed scores of people from Jimmy Carter to Fidel Castro in chronicling the 50 year history of back channel negotiations between Castro and every single American president since the revolution, provided deep background and insight for those of us lucky enough to travel with him on this first such trip since President Obama's announcement.
It is a widely held belief that Peter's book was influential in Obama finally making the move toward meaningful reconciliation with the Cuban people he had been considering before he was even elected.
Before we can talk about Cuba opening up – as we Americans euphemistically call the easier access United States citizens could have to Cuba as a result of Obama's Dec. 17 statement of policy changes regarding Cuba – the "embargo" that Cubans call "el bolqueo" (the blockade) must be addressed. Estimates of the damage done to Cuba because of the five decade-long economic, commercial and financial embargo top out at $1 trillion – the result of ideological differences. And that's just the money. The toll on Cuban people is immeasurable. But there's also been a toll on Americans.
On the way into Havana from the airport someone sees a sign written in Spanish. "That says genocide, right?" They ask what that means in the context of where we are.
Zoe Gonzalez, our astute, energetic guide for the week, is at first reluctant to answer. She's just met the 30-some people traveling from the United States to take part in The Nation magazine's person-to-person cultural and educational tour of Havana and some neighboring countryside towns.
Finally she admits that Cubans sometimes refer to the American embargo as a "genocide."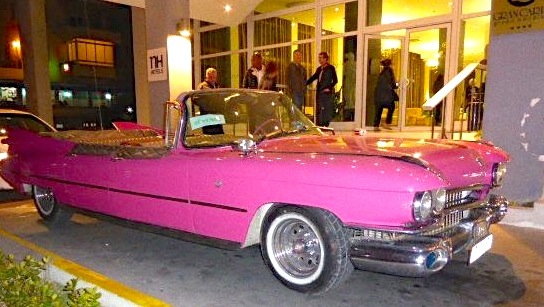 And why not? If you refuse medicine, food and other life support for 50 years to a country of 11 million already struggling people that lies a mere 90 miles from your shores, causing God only knows what hardship to those people, it's not an unreasonable description.
But the embargo works both ways. Cubans, among other things, have developed a drug to treat diabetic foot ulcers that has been highly touted and tested as an effective means to avoid amputation. Heberprot-P, a biological treatment, is not available to Americans whose biggest public health issue is diabetes.
One of the things that Cuba has done, since even access to Advil has been blocked, is develop a biotech industry that is making notable advances in medicine.
They have also learned to remanufacture auto parts for the old cars they have to drive because the average Cuban has no access to new ones. The old beauties that have come to symbolize Cuba, though lovely to look at, show only part of the story. Most Cubans who are lucky enough to have a car spend much of their meager incomes just trying to keep them on the roads. Many of them are Russian-made and imported before 1989, "the special period " when the Soviet Union fell apart, leaving Cuba floating alone here in the Caribbean with no subsidies, oil imports or reliable market for Cuban goods and therefore no food, no gas and the list goes on.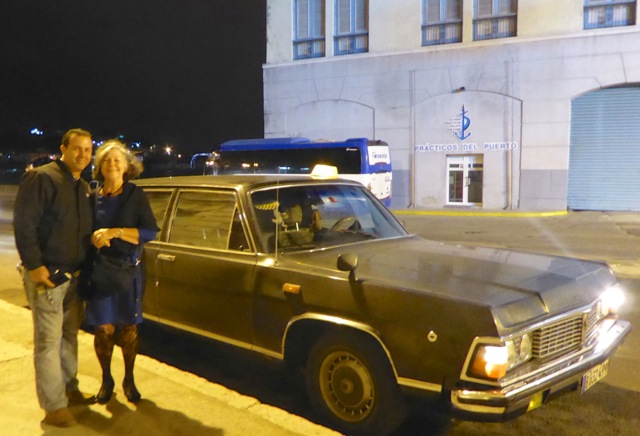 As a semi quasi tourist, I never did get a ride in one of those iconic Caddies, but I did ride in an old Datsun or something that strongly resembled one. When I got in, I kind of fell backwards into the trunk and had to suck diesel fumes from point A to point B. I do not say this to complain, only to provide a more realistic picture of what life is like behind the glossy magazine images.
The absence of bicycles in Havana and in the countryside today, we are told, harkens back to that bleak era when the state purchased million Chinese bicycles because there was no gas or diesel or any petroleum products, which Cuba had relied upon the Soviet Union for, and therefore no reliable bus service, cars or other transport. It may take awhile before bicycles cease to symbolize hunger for Cubans who lived through that time.
A friend of mine who traveled for two months in 1992 in Cuba during the worst of "the special period," which lasted from 1989 through the 90s, recalls that it took three days hitchhiking, walking and bartering with the few truckers who were still functioning to get from Havana to Varadero, a trip that took our group three hours by air-conditioned bus. My friend also remembers buying a head of broccoli for $7 and having to make it last for a day.
The adage "What doesn't kill you will make you stronger" certainly applies to Cubans. They didn't starve, but they did lose weight – an average of 20 pounds per person. They were always hungry. And because they could not access petroleum to make pesticides, they turned to organic farming. And without the ability to sell sugar to the Russians at subsidized prices, they turned the cane fields into gardens of fruits and vegetables.
But more than the physical survival of the Cuban people in Cuba over the last half century, what I found most astonishing is their ability to see what the United States government has brought down on their heads has nothing to do with the average person in either country.
Everywhere we went, we were welcomed and celebrated in the wake of the hope for a refreshed relationship between individuals from both countries.
People spoke openly about the changes and welcomed us specifically as Americans.
But there was one occasion above all others that exemplified the grace of the Cubans I met. We shared a couple of hours with a Cuban hero who might have every reason to not be so welcoming of Americans – and yet he was.
On our very last evening in Havana, we met one of the Cuban Five, Fernando Gonzalez. In 1998, Gonzalez was charged with and quickly convicted of conspiracy to commit espionage in a trial held quietly and eerily absent from the watchful eye of the media, and in the middle of Miami. One commentator likened the Miami trial to holding a trial for an Israeli intelligence agent in Tehran.
Gonzalez was released Feb. 27, 2014, after serving his full sentence in U.S. prisons, some of it in solitary confinement. Three more of his colleagues, who he said never lost faith with each other, were released in December in exchange for American Allen Gross. A fifth, having served a 13-year sentence, had been released to attend his father's funeral in October 2011. With three years left to serve, Rene Gonzalez opted to stay in Cuba and America agreed – in exchange for his American passport.
The truth, which was finally disclosed by the Cuban government, was the five had been sent to Miami to keep an eye on suspected terrorist activities alleged to have been planned by disgruntled groups of Cuban exiles.
Despite being held in different prisons while incarcerated for more than a decade, the five had a bond that was never broken, Fernando Gonzales says. "They are like brothers to me."
A handsome, soft-spoken man, Gonzales told us he never took any of the judicial railroading he experienced personally.
"I don't hate America," he said. "I knew it wasn't about me. It was about Cuba."
Gonzales says he is happy. "I am back in Cuba with my brothers," he added. "The most important part is that Cuba can be living in peace."