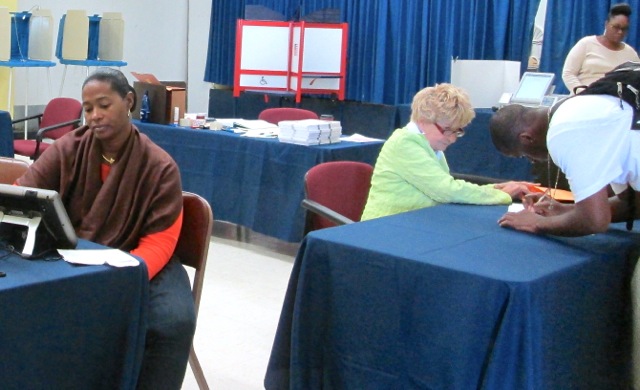 The runoff election to determine who will be the next governor got off to a late start on St. John because the technician with the key to unlock the voting equipment didn't get there from St. Thomas in time for the 7 a.m. planned opening.
Voters were able to cast their ballots starting at 7:05 a.m. at the Julius E. Sprauve School polling place in Cruz Bay, but it was 8:19 a.m. before those who wanted to vote at Guy Benjamin School polling place in Coral Bay were able to.
"Our constitutional rights are being screwed over once again by the Board of Elections," Gary Emmons said by phone at 7:40 a.m. from outside the closed Guy Benjamin polling site.
Others who called the Source to complain used words like "disenfranchised" and "the steam is coming out of my head."
A similar situation happened in the Nov. 4 general election because the technician with the keys had to come from St. Thomas.
Yvonne Wells, the polling station judge in charge of voting at Guy Benjamin, said 13 people left because they couldn't wait for the poll to open.
"I don't know if I'm going to get a chance to come back later because I have appointments all day," Mary Ann Giovanna said by phone at around the same time as Emmons.
Wells said that she told those people headed to Cruz Bay for work that they could vote at Sprauve using a provisional ballot, the same as workers such as firefighters and police officers who are registered to vote on St. Thomas but work on St. John must do.
Gwen Hyndman, the Sprauve elections judge, said no one left in the five minutes it took to get the poll open.
Neither polling place had the cartridges that go into the electronic signature machines used for voters to sign in before voting. Hyndman said a Board of Elections member brought it to Sprauve School from St. Thomas. Residents who voted before it arrived at 8:20 a.m. signed in on a piece of paper. However, Hyndman said this means the number on the electronic signature machine will be different than the number of people who actually voted.
At Guy Benjamin, Wells said the scanner where voters fed their ballots was locked but not sealed.
"I'm not saying people tampered with it but it's the principle," Yvonne Wells said.
The late start was disturbing to candidates and their supporters. Candidate Kenneth Mapp was at Guy Benjamin just after 9 a.m.
"It affects voter access. I'm very upset about the whole Elections System of the Virgin Islands," Mapp said.
Alvis Christian, a Donna Christensen supporter at Guy Benjamin, said it seemed to be business as usual when it comes to Coral Bay.
"They act like people here in Coral Bay don't pay taxes. It's got to stop," he said.
He said the technician should be on hand by 6 or 6:30 a.m. to get the polls open on time.
That seems unlikely to happen because Alecia M. Wells, chairwoman of the Joint Board of Elections, said that unless someone provides a place for the technician to sleep the night before, he wouldn't be able to get to St. John from St. Thomas in time to get the polls open by 7 a.m.
And she said that since the government couldn't provide a vehicle to transport the technician to Guy Benjamin, someone at the Fire Service gave him a lift in both the runoff and general elections.
Alecia Wells, a St. John resident who was on hand at Sprauve, said that there is room for improvement.
"It's something we need to discuss and plan better for 2016," she said.
Yvonne Wells said it was a big help allowing voters to scan their ballots in directly, instead of depositing them in a locked receptacle for poll workers to do later as they did in the general election. She said that voters knew right away if they spoiled the ballot by marking it with an x, for example, instead of filling in the circle. The scanner spits the ballot back out if there's an error so they can fix their mistakes.
"Some people had to have help," Wells said.
Later in the day, Wells said that on Saturday, when she was at the Elections office in Cruz Bay, seven people applied to vote by email. She said she heard from some of them Tuesday that they didn't receive their ballots.
"It's questionable as to what happened to them," Yvonne Wells said.
After Sen. Craig Barshinger complained during the general election that poll workers stood too close to him in the small classroom used as the polling place at Guy Benjamin, Wells said that this time poll workers are making a point to put space between them and the voter.
The Board of Elections also failed to order food for the poll workers. Both Wells and Hyndman said that someone forgot to call the caterer. In previous elections, food was on hand to feed those workers.
Several poll watchers and supporters said the turn out appeared to be lower than in the general election. At Sprauve, 208 people had voted by 10 a.m. A total of 47 people voted by 9:25 a.m. at Guy Benjamin.
Wells said she has worked elections since 1968 when she was a clerk and said she's never experienced an election with as many problems as those this year. She said she's considering making this her last election to work the polls.
"We feel like stepchildren," Yvonne Wells said.
Alecia Wells summed up the entire 2014 election season that saw numerous court challenges, a general election count that spanned more than a week, the late poll starts on St. John, and other issues. "There's never been an election like this," Alecia Wells said.