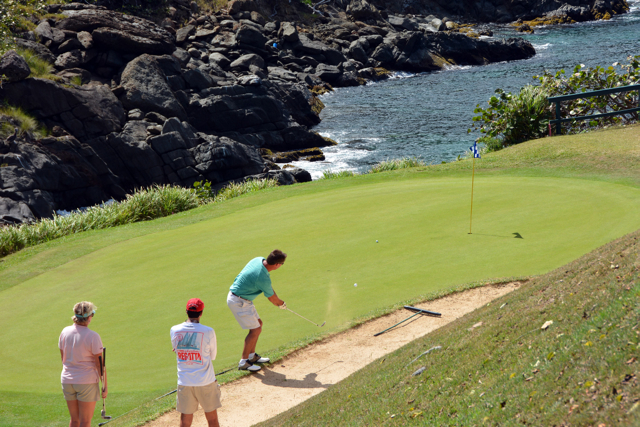 Sailors came to the Virgin Islands this week to race their yachts in the St. Thomas International Regatta, but they showed their competitive side on land Wednesday at the first Captain Morgan Golf Scramble.
Six teams teed off at 10 a.m. on the greens of the 18-hole, par 70 Mahogany Run Golf Course, design by George and Tom Fazio.
"We've taken an innovative approach this year by hosting a golf tournament as a new addition to the regatta," said JP Montegut, commodore of the St. Thomas Yacht Club which hosts the regatta. "It offers visiting sailors a chance to interact on a different level and enjoy more of what St. Thomas has to offer, plus there's an opportunity for local residents to come out and play. In the future, we hope sailors will come down with their families a day early to get in a round of golf before the traditional regatta starts."
Also new this year will be the Captain Morgan Yacht Haven Grande Party from 6:30 to 11 p.m. Saturday. Spectrum Band will be live on stage and the public is invited, according to regfatta organizers.
Almost 80 yachts from around the world will take to the seas on Friday for the race to Charlotte Amalie Harbor. Racing is scheduled to continue Saturday off the southeast side of St. Thomas, and concludes Sunday with racing in Pillsbury Sound and northwest to the waters off Coral World.
The public is invited to the Awards Ceremony at 6:30 p.m. Sunday and "Final Fling" after-party at the yacht club.
Weather Routing Inc. will provide the official weather forecasts by 6 a.m. daily during the regatta. These forecasts are available at www.wriwx.com/clientproduct.php?id=4759. Weather maps and products specifically created for this event are also available at this link.
More information about the St. Thomas International Regatta is available online at www.stthomasinternationalregatta.com, or by following on Facebook www.facebook.com/rolexregatta, Instagram #IRRSTYC and Twitter @IRRSTYC
The St. Thomas International Regatta is sponsored by Captain Morgan and Heineken, distributed by Bellows International, Little Switzerland, and the U.S. Virgin Islands Department of Tourism.