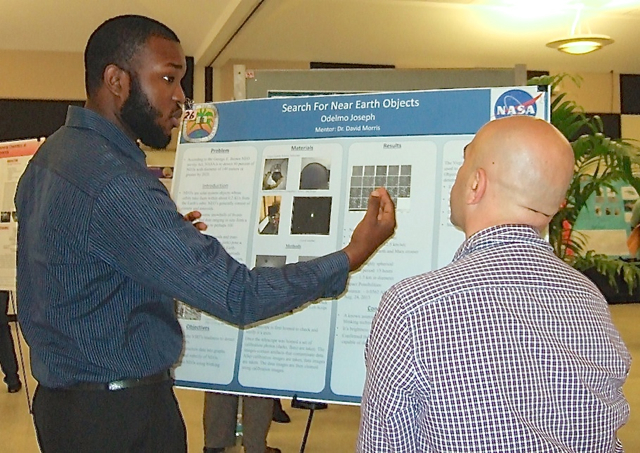 College students, many dressed in professional business attire, eloquently and eagerly explained their research projects Saturday at the annual Student Research Symposium at the University of the Virgin Islands.
There were 37 projects entered in the Emerging Caribbean Scientists symposium in the Great Hall of UVI's St. Croix campus. Each research project involved at least one student and a mentor. Topics ran the gamut of scientific subjects, from deep sea to deep space, including water quality, local fruit, plants, coral and marine life, sheep and deer, outer space, math models and the structure of protein.
All of the projects were underwritten by national or local grants and several students conducted research at such highly respected facilities as Brookhaven National Laboratory and Notre Dame University.
"It benefits the community. People can come see the quality of work and high school students can feel what it means to do scientific research," said Velma Tyson, symposium coordinator and math professor.
Nathan Gubser, a junior, conducted research for his study of "Perfluorocarbon Tracer Data Analysis Enhancement" last summer through an internship at the Brookhaven National Laboratory in New York. Gubser said perflourocarbon gases can be used to trace and monitor airflow to detect odors and nuclear leaks. The project included air samples taken and analyzed above and below the New York City subway. Gubser's job was to develop macro programs to study the data.
Gubser talked enthusiastically about his internship and electrical engineering and math courses but said he has not determined what he wants to do after graduation.
"Something I like about electrical engineering is the vastness. The more education I get the more I expect to see new applications," he said.
Tasha Corneille and Shanan Emmanuel extracted DNA from ticks collected from white-tailed deer to determine if they carry diseases that could infect people. Corneille, a senior studying biology, said one purpose of their project was to learn if tick-borne diseases could affect tourism. She hasn't determined her career path, yet, but said as a scientist she won't forget her work affects peoples' lives.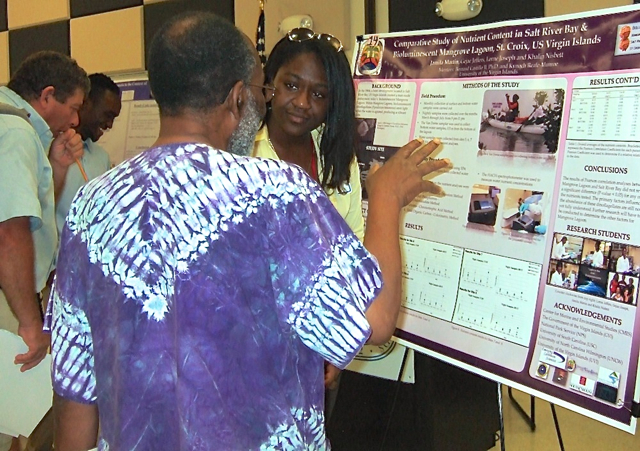 Two locally focused and practical projects were the study of sorrel hybrids and the viability of papaya seed at various ages. Sophomore Kalunda Cuffy said because sorrel, a pod like fruit used to create a popular holiday drink, is a big crop, it was important "to see what crossings give better characteristics in the next generations."
Jomanni Bernier and Carlos Montilla tested papaya seeds to determine if air drying or dehydrating the seeds produces a bigger crop. Bernier said that air drying after removing a gel-like substance that surrounds the seed produces the most plants if the seeds are planted within six years. This was the teams' first experiment, suggested by their UVI mentor Thomas Zimmerman, and was presented in Trinidad, previously.
A panel of 39 judges will announce one or two symposium winners in the next few weeks. Prizes include travel awards to compete at national scientific competitions.
To compete in the symposium, students submitted an abstract with a summary of results. Projects were judged on the poster with visuals supporting the research, oral presentations and the results of the research. Donald Bailey, UVI research specialist and symposium judge, said he paid attention to the answers students gave to his questions to determine the depth of their knowledge.
The symposiums began more than a dozen years ago on St. Thomas and then expanded to the St. Croix campus. Tyson said one reason for the event is to encourage students to "go beyond just going to school to get a job,"
"We want them to be in a situation where they can make a valuable contribution to the community. Students involved in research are one step ahead (of other students), more competitive," she said.