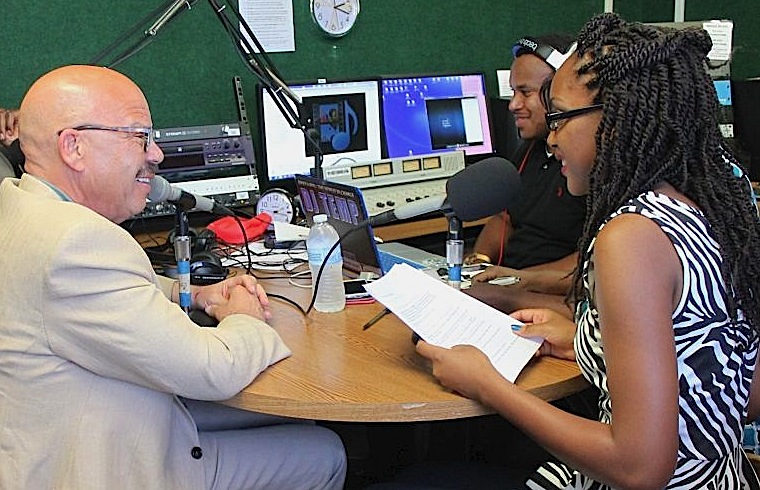 At 6 a.m. every weekday morning, communication major Manefa O'Connor sits at the console of WUVI AM 1090, the University of the Virgin Islands' student-run radio station, all prepped to host the Tom Joyner Morning Show. At 9 a.m., Marisha Jno-Lewis, another communication major, joins O'Connor to read the local headlines. The two normally carry on with what would sound like on-air banter with Tom Joyner – only Tom is usually 2,200 miles away in Dallas.
So when "The Fly Jock" himself walked through the doors of WUVI's St. Thomas studios on Wednesday, O'Connor and Jno-Lewis could barely contain themselves.
"He is such a humble guy," said Jno-Lewis. "I felt so comfortable around him – as if I had known him all my life. I finally matched a face to the famous voice."
"At first I was nervous," said O'Connor, "but when he walked into the studio and greeted me with a hug, I was at ease."
Joyner's visit was part of his annual Fantastic Voyage Cruise, the fundraising "party with a purpose" that takes Joyner's fans on a cruise through several Caribbean islands.
According to Joyner, the idea for the cruise, which benefits college students, came when he was on St. Thomas. Fifteen years later, Joyner's St. Thomas stop took an interesting turn with visit to UVI, starting with a guest DJ spot at the small college station that carries his show.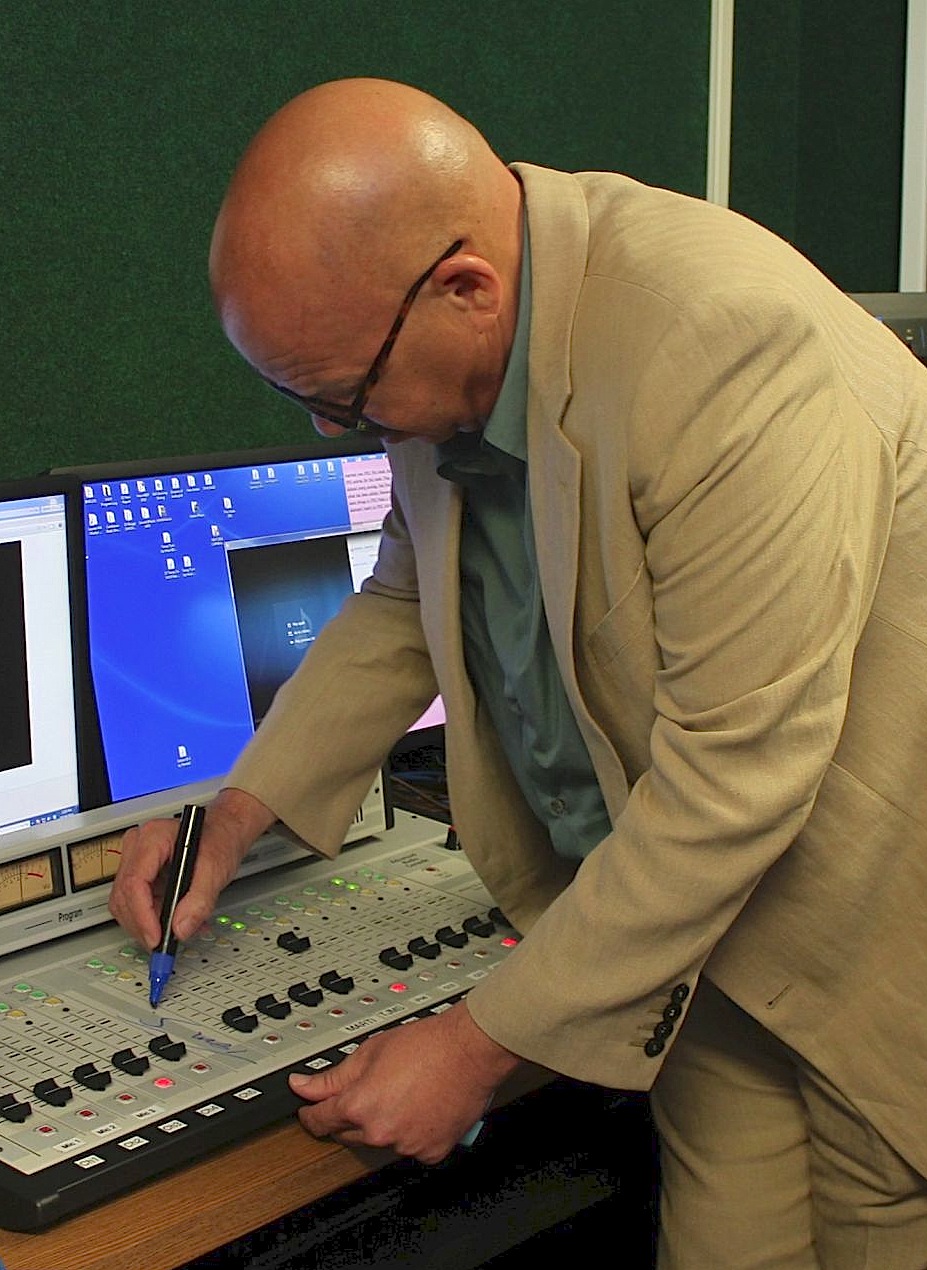 For half an hour, O'Connor and Jno-Lewis engaged the affable, self-deprecating Joyner in a live on-air interview, while UVI President David Hall looked on proudly and joined the conversation. For WUVI's student staff, having Joyner in the studios took their learning experience to another level.
"To have a figure like him live in our studio is so inspirational," said Jno-Lewis. "It shows us that he really cares about the young students he is helping."
The Tom Joyner Foundation has raised and donated more than $70 million to help students stay in Historically Black Colleges and Universities since the foundation was founded in 1998. Joyner revealed why he had a soft spot for predominantly black campuses like UVI.
"I am from a black college town," Joyner said, referring to Tuskegee, Ala., where his mother worked on a college campus and his father at a VA hospital.
"One thing that black schools have always done is take people and try to mold them and shape them," he said. "At a mainstream institution, you're more of a number. At an HBCU, you're family."
UVI was put in the Joyner map when, in May 2013, a few months after the station was launched, WUVI became the only HBCU to currently air The Tom Joyner Morning Show, one of the most syndicated radio talk shows in the nation. Hall remembered the day when another local station that aired announced that it was closing, leaving the show without an outlet in the Virgin Islands.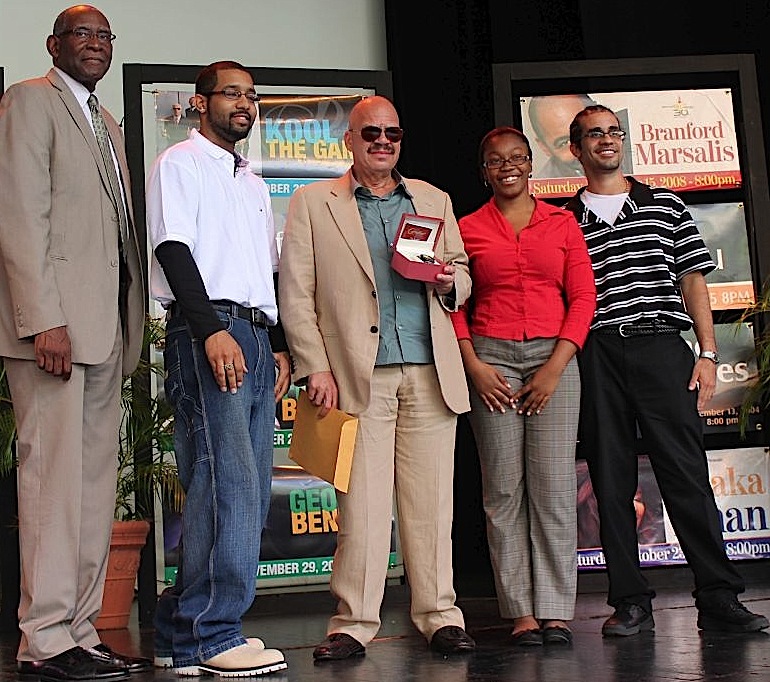 "As soon as I heard that, I called Professor Alex Randall and said, 'We gotta get it,'" shared Hall, referring to UVI's chair of communication, art and theatre. "He got right on the job, reached out to Tom Joyner's organization, pleaded our case and, in a very short period, we found out that we will be able to carry TJMS."
According to Hall, when WUVI came into existence, he knew that it needed "a magnet, an anchor to draw the people to the station." The plan seems to be working, as the students got feedback from local residents who are slowly tuning in to the new Tom Joyner station.
"Thank goodness we have a fan in Dr. Hall," said Joyner.
To Hall, however, it's not only the show that is important but also the example set forth by Joyner.
"The reason that I think it is important to have someone like him here is that he represents the best of what we want our students to do," said Hall, "and that is to take whatever talent that you have, to not limit yourself to what you presently know but to expand your horizons … to take those talents and transform them into something that even you may not fully understand."
Joyner's UVI visit also took him to a modest reception at the Reichhold Center, where he shook hands with the 2014 Tom Joyner scholarship recipients and danced to Pharrell Williams' "Happy" with UVI students and staff.
At the end of the day, Joyner seemed to have made the impact on the students that Hall hoped for.
O'Connor said the fact that Joyner started at his own college's radio station was inspirational. "So many times we want to do great things and think that we have to start out great, but Mr. Joyner started in his home town with familiar things and today he is making an impact nationally."