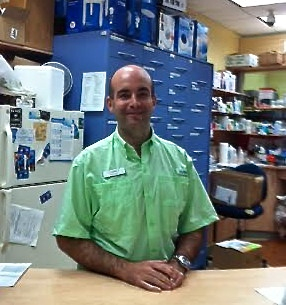 Pharmacist Corey Caillouet said it's not uncommon for his regular customers to turn into friends.
There was the man with chronic back pain who came to pick up a package of pain patches. Noting it was a new treatment for the man, Caillouet checked to be sure he knew how to apply them. Sure, said the man, the doctor said to put them on his chest, his shoulder and his back. Actually, as Caillouet knew, that would have given the man an overdose that could have killed him; the man had apparently misunderstood the doctor whose instructions were to apply a patch on any one of the three sites, not all three.
Then there was the girl who suffered from a number of illnesses. On top of her autoimmune disease, she developed cancer and needed chemotherapy. The pharmacist recognized that her underlying issues left her particularly vulnerable to side effects, and that she needed specialized treatment to deal with it.
"Between us and the doctor's office, we made it work for her," Caillouet said. Her family was impressed and "from then on they came to us." Eventually, the family became personal friends.
Originally from Louisiana, Caillouet earned his bachelor's degree in chemical engineering from Louisiana Tech University. He said he worked for several years for DuPont and Monsanto overseeing aspects of manufacturing at the drug companies. The work was fine, but "I missed the connection with people."
It had always been his long term goal to become a pharmacist, ever since he had worked in a drug store during high school and been impressed by the relationship the owners built with their customers, so he entered the four-year doctoral program at the University of Tennessee and earned his degree in pharmacy. He worked for Walgreens for 10 years, about half of that time while still in school.
Then an opportunity arose and he and his wife, Leah Kingery, who is also a pharmacist, decided to make the Big Move to their favorite vacation spot: St. Thomas.
That was a year ago.
Both work at the Chelsea Drug Store in Red Hook, which seems to fit Caillouet's work philosophy perfectly.
"It's a community pharmacy," said owner Don Porter. Besides pharmaceuticals, the store carries an array of notions and gift items. "We have a passion for finding things and stocking things that other people don't have."
But the heart of the business is health. Chelsea relies primarily on commercial pharmaceuticals, but Caillouet said he can compound medicines in special cases. Besides dispensing medicines, the drug store offers blood pressure screenings.
Caillouet said his mission as a pharmacist is to ensure the patient gets the right medicine, to maximize the benefits of the medicine and "to make sure you know how to use it."
That means he needs to know what medications a patient is taking and the possible side effects of each one. How do various drugs help? How do they hurt? How do they interact with one another? It's also important to remember that each person is unique; a medicine may act one way in some people, but quite differently in another.
"It's a real challenge to keep the big picture in mind," he said.
"That's primarily what we're trained for … We have a good understanding of how the whole body works."
Caillouet said the first two years of medical training for medical doctors and for pharmacists is similar; then it diverges. A pharmacist is trained in treatment. A medical doctor can make diagnoses.
He spends much of his day fielding questions about cough and cold remedies, vitamins, ear problems associated with swimming, and muscle aches and pains, and giving "an honest, qualified, educated answer." Sometimes the answer is to wait it out or to use a remedy already in the home, sometimes to buy an over-the-counter product, sometimes it's "at this point, you need to see a doctor."
Whatever the case, Caillouet said it's "unbiased advice" he offers.
"We want you to have the best solution, not necessarily one that's going to sell something today."
Noting that Medicare encourages people to build relationships with their pharmacists, Caillouet said it's all part of a trend.
"We don't have that wall around us. We're the most accessible health care resource that's out there."