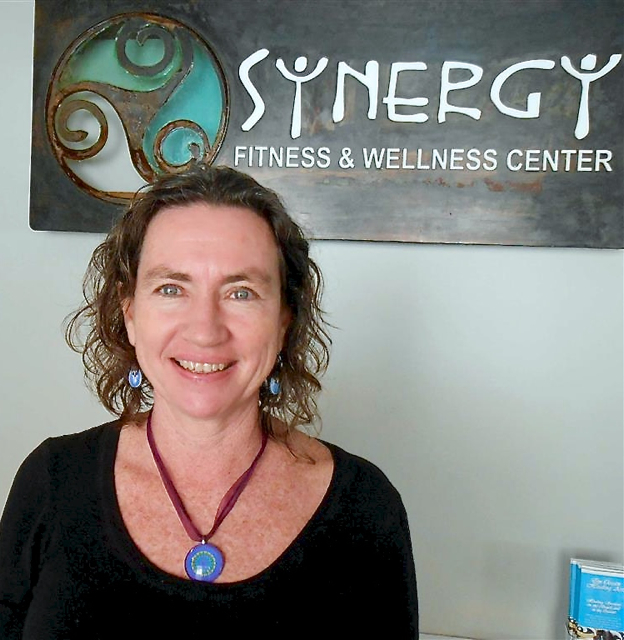 Carmen Cintron said the spirit of the hummingbird directed her to Synergy Fitness and Wellness Center.
Cintron, a doctor of internal medicine, shaman and osteopath, is one of the newest members of the facility, which celebrated its one-year anniversary Saturday with a Wellness Fair.
Synergy owners – Eileen Short and Bonnie O'Rourke-Barr – are active in the Therapy and Disability Advocates (TADA), which has regularly hosted the Wellness Fairs at Magens Bay, introducing people to alternative therapies available on the island, including yoga, massage and reflexology, along with an introduction to healthy eating. Saturday's fair offered a much broader range of therapies.
Synergy, on the second floor of East End Plaza, is beautifully appointed, overlooking the Mangrove lagoon. Haitian art decorates the walls, setting the tone for the venue. It is roomy and welcoming, with a large gym and many rooms for individual therapeutic treatments.
Saturday was actually a bit more than the center's first anniversary, since it opened in October 2012. The center is the first of its kind in the territory, offering holistic, complimentary health and fitness services gathered together under one umbrella, one the owners said "bridges the gap between healthcare and wellness."
Short, in between craniosacral therapy sessions Saturday and herding guests to respective workshops and seminars, was characteristically bubbly and brief."Being able to show people the way to wellness is my joy, my passion," she said. "I am just so happy to do that."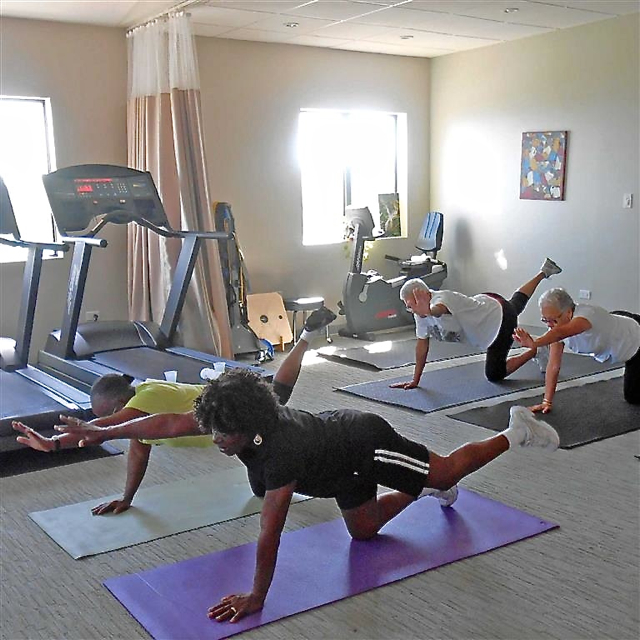 The treatments include on-site integrative medicine, clinical psychology, physical and occupational therapies, therapeutic massage, personal training, physical therapy, yoga, mindful meditation, the services of licensed psychologist Sheena Walker, Shore Prosthetics & Orthotics with John Yanke, the only certified prosthetist and orthotist on island, and most recently, the services of Dr. Cintron.
Actually, it wasn't technically the hummingbird which guided Cintron to Synergy.
"My daughter had come home from the finishing college in the states," Cintron said, "and I was scanning the want-ads for her when I saw Synergy's ad for a healer of my background. From then on, it was the hummingbird."
Cintron met with Short and O'Rourke-Barr.
"She filled exactly what we were looking for," O'Rourke-Barr said. "It is not easy to find someone of her experience."
Indeed, there is no one in the territory who combines Cintron's background. She described her healing sessions as beginning by creating a"sacred space," by cleansing an area with sage to begin with.
"I am the conduit, a shaman," she says. "I wear dark clothing, and I try to be invisible, awaiting the spirits, to come in. It is the person's own energy alive. It is the oldest healing tradition in the world."
She said her knowledge of traditional medicine, which allows the use of diagnostics and medications in treating the human body, can be useful in her energy work which realigns the energy of the body with the energy field of the universe.
Cintron is a native of St. Croix. She received her undergraduate degree at Pace University, where she majored in biology. She completed residency training at Eastern Virginia Medical School, returning to St. Croix in 1996.
She practices at Acute Alternative Medical Group. She is also a doctor of Osteopathic medicine and is trained to treat the patient as a whole, rather than focusing on one system or body part. Consistent with this healing approach, Cintron received her master's degree in shaman energy medicine.
She held a group of about 20 people spellbound Saturday afternoon as she explained energy healing. Cintron is a commanding personality; her own energy appeared boundless as the moved about the room alternatively appearing about to take off, then returning to make a point with a sound thud.
She will commute from St. Croix.
On a more earthly level, John McDonald guided a workout session, "Butts and Guts," encouraging a group of women between about ages 25 and 50 to flex and stretch. Asked after the session how she liked it, McDonald's aunt Judith McDonald Richardson said, "Ask me after I'm able to stand upright again … Actually, it was great exercise. Usually, I walk on the beach."
All the women emerged from the half -hour session with grins, so it must have been worth it.
Free workshops and seminars were also offered Saturday in craniosacral therapy with Eileen Short, Yin Yang Yoga with Elise McCutcheon, Mindful Meditation with Anne Naylor, therapeutic yoga with Lorraine Worth, postural training for back and neck pain with O'Rourke, and chair massages with Meredith Bleier.