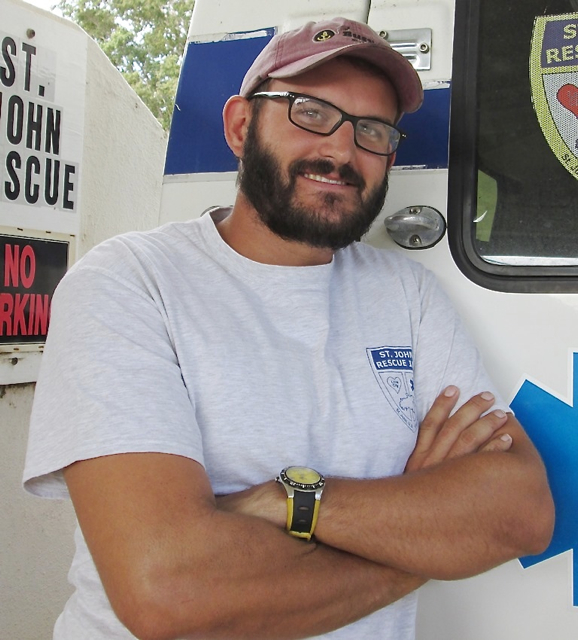 When his job as assistant maintenance manager at the now-closed Maho Bay Camps ended last May, Bryan Barnes, 29, wanted a way to get involved in the community he had come to call home.
St. John Rescue beckoned, and he joined up in April 2013.
"I had some skills and they needed them," he said.
Barnes is a first responder, which allows him to provide basic treatment.
In addition to enjoying the chance to help the community, he said he likes the camaraderie the organization provides. He said he's met some people whose paths he wouldn't otherwise cross through St. John Rescue.
St. John Rescue training officer Bob Malacarne said the organization was lucky to have Barnes as a member.
"Bryan is very low key. He has so many skills but doesn't show off. He repaired our rescue boat last week and helped us obtain the electric generator for our rescue building," Malacarne said.
Life at Maho was somewhat insular, with most of the workers living side-by-side in tents on the property. Barnes said he was ready to venture out on his own when Maho closed, and moved on to open his own charter boat business last summer. He skippers the Busy Bee, a 26-foot power boat, out of Coral Bay.
"I like snorkeling and taking people out snorkeling," he said, adding that he also makes stops around the nearby British Virgin Islands at places like the Soggy Dollar Bar on Jost Van Dyke and the William Thornton bar and restaurant at Norman Island.
While he enjoys living in a house rather than a tent, he said he does miss some of the conveniences Maho provided, such as running down to the dining room for dinner when the day was over.
"And paying rent was a bit of a shock," he said.
Additionally, he's a freelance maintenance man, working for villa management companies as well as doing vehicle repairs.
On the vehicle repair front, he's busy rebuilding his 1993 Dodge Dakota in his driveway.
Barnes, who was living in Rochester, N.Y., landed the job at Maho because his girlfriend, Margaret Pokorny, got a job there. While in college, she was a four-hour worker, a program in which people get housing and a food discount in exchange for a tent to stay. She got a full-time job and Barnes followed.
"I haven't missed the winter," he said, referring to the frigid temperatures that occur in the northeast.
In Rochester, he worked as a Zamboni driver at an area ice rink, keeping the ice in shape for skaters. He said he also repaired Zambonis at other ice rinks in the area.
He was born in West Virginia before moving around the country and to Hungary as his father relocated for his job with General Electric.
Barnes said he's adjusted nicely to living on St. John, and he and Pokorny plan to call it home. They hope to buy land and build a house.
"I like it because it's a small community and I'm getting to know people here," he said.
Information on Busy Bee charters is available online at www.busybeevi.com.