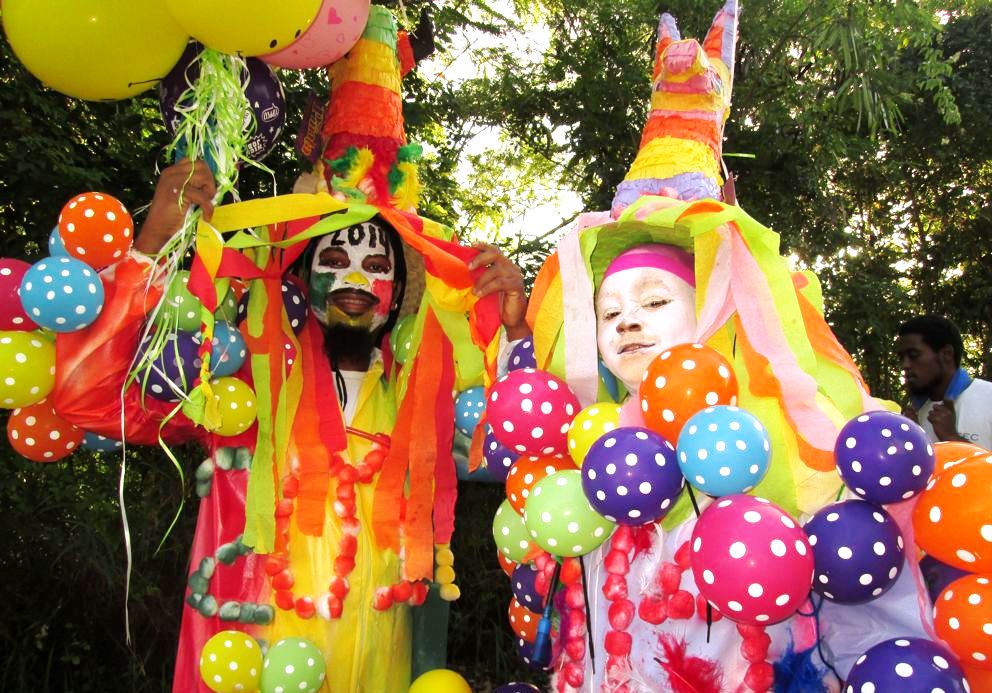 St. Croix's 61st J'Ouvert early Wednesday morning was, as always, a thumping, good-time, dancing street party. By 6:30 a.m. people were slowly filing from their homes and cars into the streets of Frederiksted. As the minutes passed, the trickle grew to a stream.
Skies were sunny, the air breezy and cool, and faces were smiling as people flowed slowly up Emancipation Drive toward Hannah's Rest to meet the band trucks as they started, rivulets of three and four people streaming from every side road into the growing throng of revelers.
The march began close to 8 a.m. from Hannah's Rest, the first band truck preceded by a police car with blue lights flashing, moving at one-sixteenth of a mile an hour toward Frederiksted.
As the revelers met the parade and the driving beat of soca grew to fill the air from the bank of speakers atop the KSS Promotions truck at the head of the parade, the anaconda of people turned around and began tramping, dancing, winding and jumping up and down. For part of the tramp, Fusion Band's "Hands Up" blasted from the speakers, exhorting the crowd to raise their hands and dance.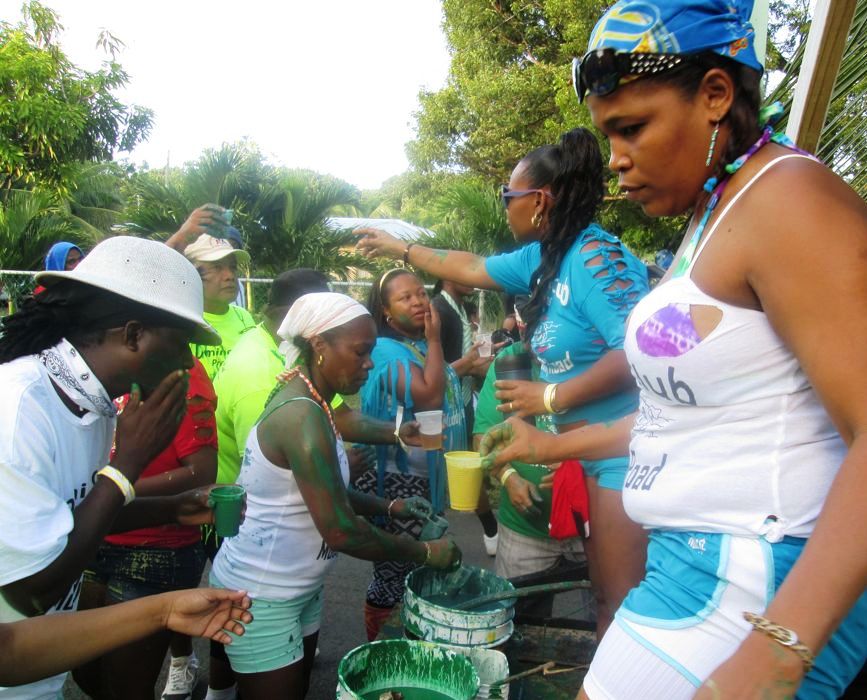 UMB Soldier's got the crowd jumping with "Don't Stop Wukkin."
Norma's Domino Club truck bore a huge banner announcing their "muddy road" theme. Behind, three ladies were handing out cups of colored mud and others are dipping their hands into buckets, smearing each other's clothes and faces with bright splashes of color. "It's mud and color, it's an old Caribbean tradition," said Janet, who only gave her first name.
People were spraying big super soaker squirt guns all over the place, flinging water out of bottles, and someone started waving a talcum powder bottle, ejecting jets of white powder into the air. More than half the crowd was dressed in something at least a little unusual for the day.
Some were in pajamas. Bright colored tights, tops, shorts and leggings adorned women of all shapes sizes and ages, all dancing in the street and following the bands. All of these variations on old J'Ouvert traditions from Trinidad and around the Caribbean date back to colonial and slave times.
Men and women wore cut-up T-shirts and white T-shirts with colorful magic marker designs, sayings and phrases on them. Some younger girls wore garishly mismatched clothes on purpose, calling it "clashin.'"
Many groups of young women wore matching or outfits with similar themes. An entire group of ladies wore matching "got bread?" shirts.
Some wore much more elaborate outfits, like Jackie and Johnny Hughes of Frederiksted, who wore costumes created with hundreds of balloons. "We are going to fly in 2014," Jackie Hughes said, by way of explanation. They come out every year, with a different elaborate costume, said Johnny Hughes. Last year they were covered in aluminum cans, and the year before, it was a jungle outfit with coconuts and palm fronds, he said.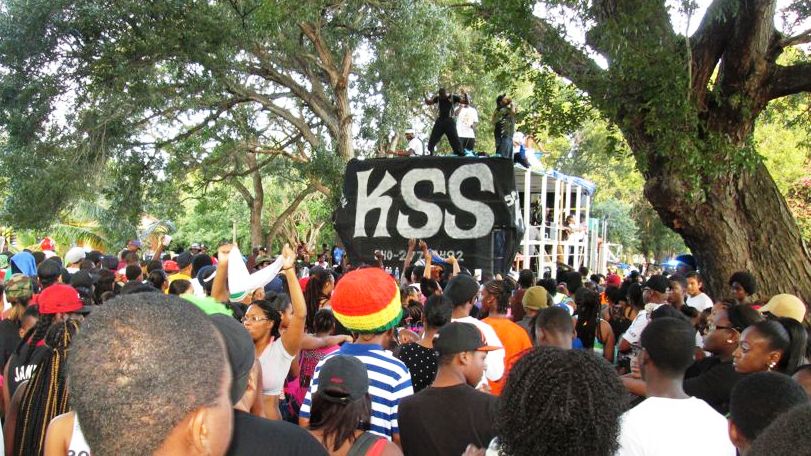 Akil Thomas came out airbrushed into comic and movie character Hellboy, complete with horns and disturbing white contact lenses. Thomas puts his heart into it every year.
The crowd was at its peak at the corner of Fisher and Emancipation where the bands turned into Frederiksted and began the final stretch through town. As the last band reached the end, the crowded street, tired revelers began dispersing. People came around cleaning up behind and a half hour later it was almost a quiet morning again in Frederiksted.
There are plenty of festivities still to come, including the Children's Parade, Calypso Finals and Adult Parade. For detailed information, go to www.stxcarnival.com.