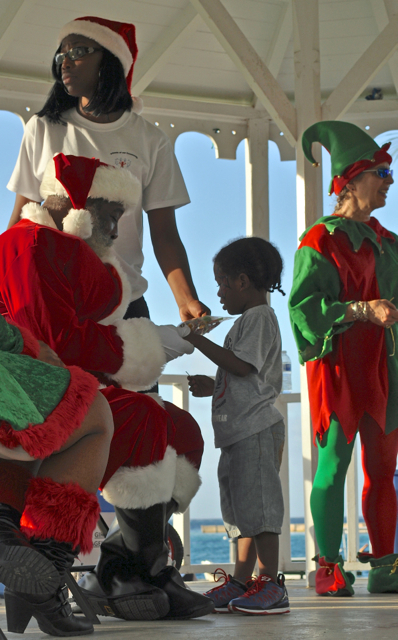 Hundreds of Crucian families brought their children to Fort Christiansvaern's bandstand Saturday for a chance to meet Santa Claus, a revival of an old St. Croix custom.
With the Christmas winds blowing fiercely off the Christiansted Harbor and the Soca music blaring from the loudspeakers, the children ended up getting a lot more than that.
Besides just a chance to walk up the bandstand's stairs and shake St. Nick's hand, those in attendance also received candies, sweet breads, cupcakes, juices, toys and a host of other activities to take part in, all because of the event sponsored by the young, nonprofit Friends of Our Community.
According to its president, Kafi Miller, who got into the Christmas spirit by donning her own Santa suit, after last year's successful Christmas celebration, the group wanted to go even bigger and better this year.
"I wanted to bring back old traditions from when I was growing up," Miller said.
The big tradition, she said, and her favorite, was Santa Claus at the bandstand greeting kids and giving them "candies, sweet breads and Island Dairies juice."
The Friends of Our Community's biggest break in tradition came with its decision to add giving toys to the youth as well.
"I guess they didn't do that because they couldn't afford it," she said. "We wanted to because we know some of the kids who come won't have a good Christmas because their parents can't afford it."
She said most of the funds to purchase the hundreds of toys came out of pocket, but she was also very thankful to Tip Top Construction for its generous contribution.
"They really helped us get more stuff and gifts for the kids," she said. "We're very grateful."
Besides seeing Santa Claus, children took part in face painting, donkey rides and treats from the cupcake and sweet bread table. There was also the chance to visit the toy table and retrieve one from their age group, with the chance to win one of a few bicycles the group was giving away as well.
To start the festivities, St. Mary's Quadrille Dancing Ensemble treated patrons to an old tradition, which even got Santa up off his feet to dance with one of his elves.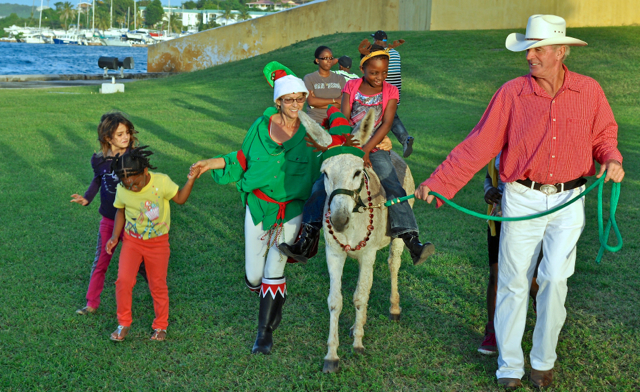 Miller said targeting kids when they're young and providing them with positive, "fulfilling" experiences like Saturday's, was one of the organization's goals, because in her opinion, that helps them stay nonviolent later.
"A lot of the violence on the island is with teenagers," she said. "And we're tired of seeing them die for no reason. "
Al Pikey was visiting St. Croix from Chicago with his wife, spending the holiday visiting their daughter and grandchildren. He said Saturday's Santa Claus visit reminded him of when he was young.
"I remember the Elks doing things like this and my dad taking me," Pikey said. "It's nice."
More information on the nonprofit Friends of Our Community can be obtained by calling Miller at 1-340-226-3441.